ACDSee Pro is a feature-rich photo-management and photo-processing app aimed at serious photographers. ACDSee Pro for Windows, now at version 6, is fast and flexible, and competes with other big-league programs such as Adobe Lightroom. The much newer Mac version, ACDSee Pro 2 ($100), resembles its older Windows sibling in many positive ways, but it's not as mature.
Manage mode
ACDSee Pro 2 has three modes: Manage, View, and Develop. With its easy-to-use tools for "tagging" (rating), labeling, and applying keywords to images, ACDSee Pro's Manage mode is definitely the program's strong suit.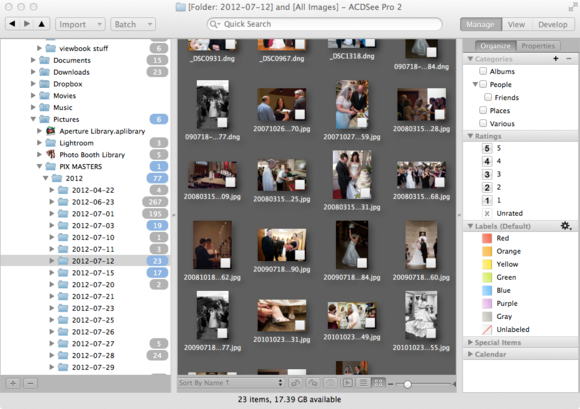 Like similar modes in iPhoto, Aperture, and Lightroom, ACDSee Pro 2's Manage mode lets you view thumbnails, find images in almost any way you can think of, select images and edit metadata, and, of course, delete images. But like Google's freeware app Picasa, ACDSee Pro does not require you to import images in order to view them. Instead, it relies on your computer's native file system for basic organization; to view images, you simply navigate your way through the folder pane on the left and click a folder that contains images.
Because ACDSee Pro 2's batch-processing feature provides access both to image-adjustment presets and to file-manipulation commands such as copy, move, and resize, ACDSee makes it possible to do in one step a series of actions that most other Mac programs—including Lightroom and Aperture—do in two. Admittedly, the user interface for ACDSee Pro's batch-processing feature is a bit geeky. It's more like the Mac OS X Automator utility than Aperture's lift and stamp commands—that is, the user interface makes you think like a programmer rather than like an artist. And the batch-processing user interface is the closest thing ACDSee Pro has to an export option, something I found hard to get used to. Still, once you figure it all out, the batch workflow can be flexible and powerful.
The program is particularly useful to people who regularly need to perform the same processing actions on large quantities of images and then want to export those files to the same place, always with the same settings for dimension and image quality.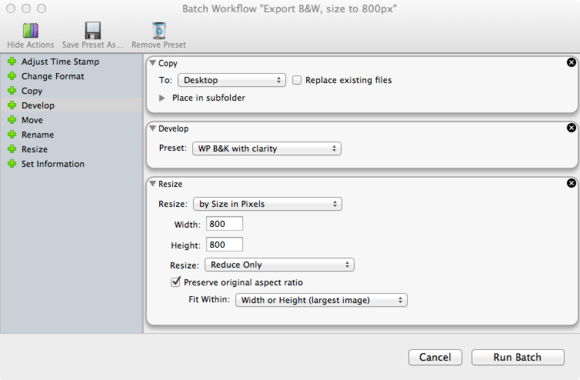 Develop mode
The program's Develop mode shares certain advanced features with high-end programs such as Aperture and Lightroom (tools to correct lens or perspectival distortion, chromatic aberration, or fringing). It also lacks a number of useful advanced features found in those other programs—as well as in its counterpart, ACDSee Pro 6 for Windows—such as selective editing. It even lacks some basic features found in Google's free Picasa (automatic toning like Picasa's "I feel lucky" tool, automatic white balance, one-touch black and white). And overall, the more time I spent developing photos in ACDSee Pro, the more I missed Lightroom (or Aperture, or PhotoNinja).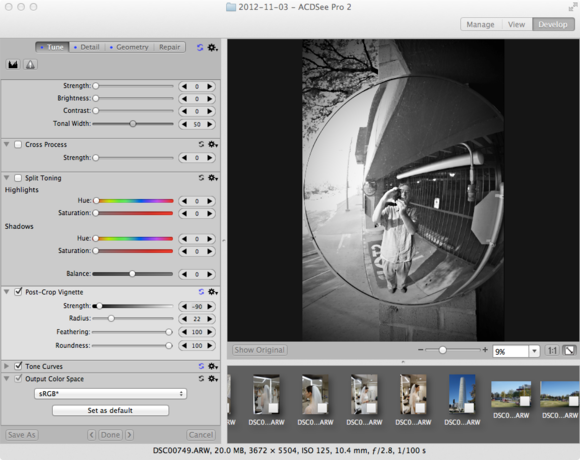 Although the program offers no auto white balance button, you can click the White Balance pane and then use the mouse to click a neutral color in the image; this is like using the eyedropper tool in many other programs. It works, but I found the way you activate this tool odd. In most other Mac programs, you click an eyedropper icon to activate the tool, and then click the image to use it; to deselect the tool, you click anywhere outside the image. In ACDSee Pro, however, you click the White Balance pane in the Tune panel.
I worked with the program for a little while before I noticed that this action turned the cursor into a color-matching tool. But the strangest thing is, you can't really surrender the tool, except by clicking on another pane. If you go back to the White Balance pane to continue tweaking the sliders, the color-matching cursor is still active, and if you're sloppy with your pointer, you might click the picture and change the white balance accidentally.
The Lighting pane in ACDSee Pro 2 deserves special comment as representing the best and worst of this mixed bag of a program. This pane actually consists of three tools: Basic, Light EQ, and Advanced Options. They accomplish similar goals with different degrees of finesse. The intriguing choice is Advanced—when this portion of the Lighting pane is active, you can move sliders or drag inside the graph to make adjustments to the exposure of parts of the photos. A photographer friend of mine who loves ACDSee Pro for Windows is very enthusiastic about the control the graph gives him. I'm less enamored; the graph and the sliders are just a little too left-brain for me. The good news is that you don't have to use the graph or the sliders: You can click directly on an area in the photo and drag up or down to lighten or darken that tone. It's one of the best features of the program.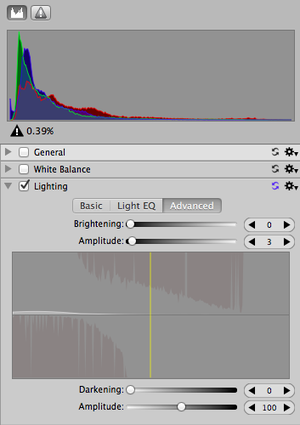 I find it difficult to zoom in and out in ACDSee Pro. There's no loupe or magnifying glass tool that lets you magnify a part of a photo and view it in one step. And you can't view an image full-screen in Develop mode; you have to exit to View mode, which causes your edits to that point to be saved.
Speed
That brings me to one of my biggest complaints about this release: It's slow. ACDSee for Windows has a reputation as a speed demon, and I can attest from personal experience that the reputation is deserved. It hasn't achieved speed-demon status on the Mac yet. It's a 64-bit program now, but even so, saving an edited image routinely takes about 10 seconds on my MacBook Air, or 5 to 6 seconds on my iMac.
Bottom line
ACDSee Pro 2 is clearly designed to compete with Adobe Lightroom and Apple Aperture, and its Windows counterpart truly succeeds in doing that, but on the Mac side, it's not there yet. In some respects it doesn't even compare favorably to iPhoto or Picasa, with no upload to Facebook or Google+, no book-making feature, and no face tagging. ACDSee Pro does provide 10GB of online storage free to licensees, but everybody's giving away online storage these days.
Because the Manage mode is so strong, I can see using this version of ACDSee Pro as a digital asset management program with some light editing functions, although Picasa does a lot of what ACDSee Pro can do on the management side for free.
ACDSee Pro has a great pedigree, and even if version 2 isn't everything you might want, it shows a lot of promise. But while you're thinking about it, you might also take a look at Corel AfterShot Pro, formerly known as Bibble Pro 5. It's priced about the same as ACDSee Pro, but it's a real, grown-up program.