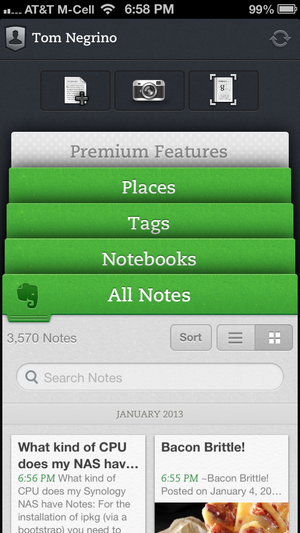 Evernote, the note and snippet managing service, recently updated its desktop clients (see my review of Evernote 5 for Mac), and at the same time refreshed its mobile clients, unifying all clients at version 5 (version 5.1.2 for this review). The new iOS clients sport an all-new interface that simplifies the process of capturing new notes and improves the visibility of Evernote's organizational tools.
To begin creating a note, you use one of the three new (and prominent) Quick Notes buttons. All versions of Evernote permit you to type text notes and to take photo notes with your device's camera. A new mode for iOS clients, Page Camera, premasks images to take pictures of pages with handwritten notes from special Moleskine paper notebooks, dubbed Evernote Smart Notebooks.
After you capture a note, Evernote automatically uploads everything that you put into it to the company's servers, where your notes are indexed for easy search and retrieval, and become available for syncing to all your devices. If your new item is a picture containing words (even handwriting), Evernote runs optical character recognition on its servers to make the picture's text searchable.
Making organization easy
The previous versions of Evernote for iOS used a standard iOS interface. For example, on the iPad, Evernote had a scrollable list of notes on the left side, flanked by a large area to the right for displaying the selected note, and with toolbars at the top and bottom. Evernote 5 has completely refreshed the interface—successfully, for the most part. Notes now appear in four different views: All Notes, Notebooks, Tags, and Places. Tapping a tab header expands the tab to take up most of the screen and to display its contents. Tapping or swiping down on the tab's header closes it.
The All Notes tab shows all of your notes, without further organization. If you would prefer to use Evernote's organization tools, you can find them in the Notebooks or Tags tabs. The new Places tab, which is the same as the desktop version's Atlas view, shows notes (most often, photos) that have geolocation tags on a zoomable map; flags show the locations associated with the notes. You can tap a flag to see the notes from that place. I found this feature flashy but not especially useful—but I would probably feel differently if I shot a lot of pictures. I can imagine that it would be quite handy for realtors or people who work at many different job sites, creating notes with pictures of their work.
On the iPad, with its extra screen real estate, you get a horizontally scrolling view of your recent notes when you don't have one of the tabs open. The larger screen also makes using the Notebooks and Tags tabs on the iPad considerably easier than on the iPhone.
The new interface does have a few annoyances. If you swipe, rather than tap, to close an expanded tab, you can easily invoke Notification Manager by accident. And on the iPad, the Card view of your notes isn't as information-dense as the simple list view in the older versions was. I would like to be able to choose between the Card and List views on the iPad, as I can on the iPhone.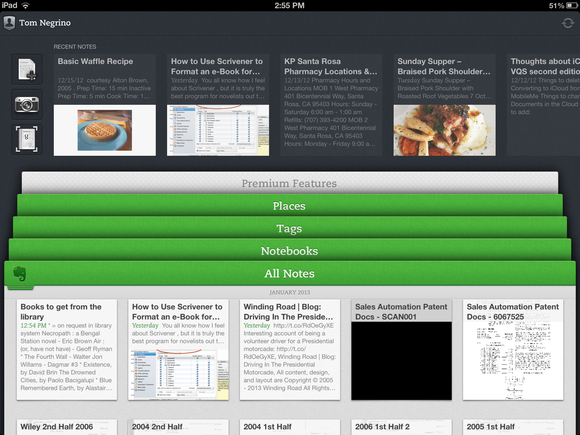 Bottom line
Whether you are new to Evernote or are just getting around to upgrading to the latest version, you'll find that the new iOS versions of Evernote make the experience of capturing and retrieving your notes faster and smoother.