At a Glance
Expert's Rating
Pros
Small size
USB powered
Incomplete documentation
Cons
Complicated configuration
Outdated security and wireless standards
Our Verdict
Kanex's $60 MySpot aims to let you easily create a secure Wi-Fi network in a hotel room or any other location where you have an ethernet port that provides automatically assigned IP addresses. This seems like a marvelous idea, but the MySpot doesn't quite live up to the promise on scrutiny.
The MySpot weighs just a few ounces and is tiny, at just three inches long by a bit over one inch square. The MySpot is powered by USB, but doesn't use USB for data transfer or configuration. You connect its built-in USB cable (which snaps into the body of the device when not in use) to a USB port on a computer or to a USB-to-AC adapter (not supplied) for power, and then connect an ethernet cable to the other end of the MySpot for data. You supply the ethernet cable—some hotels may have an ethernet stub or cable in the room, while others provide just a jack.
I tested the MySpot while traveling, plugging it into a hotel room's ethernet jack during a conference in which the facility's Wi-Fi was regularly overwhelmed by the quantity of attendees trying to connect. The MySpot gave me quasi-private access to the fast, wired Internet connection through a separate Wi-Fi channel. I also performed similar tests elsewhere, with the same effect. The unit powers up rapidly, as well.
As one would expect from a compact device using an outdated Wi-Fi standard (see below), the MySpot's network isn't strong enough to be usable from rooms away. Within a single room, coverage is fair to good, and in most circumstances where the MySpot makes more sense than the larger and heavier $99 Apple AirPort Express, you'll be within line of sight anyway. I didn't exhaustively test speed, but the MySpot keeps up fine with high-speed cable broadband compared to directly wired and other Wi-Fi connections.
The MySpot, however, has a number of compromises that make it potentially insecure and less of a value. For example, Kanex has equipped it with a single 2.4GHz radio that uses the old 802.11g protocol and broken WEP (Wired Equivalent Privacy) security. The choices to use 802.11g, which has been gradually superseded by the much faster 802.11n (which debuted in 2007), and a single frequency band make sense from a cost standpoint given the intended uses of the MySpot: 802.11g can deliver 20 to 25 Mbps of net throughput over short distances, and most hotels and similar venues won't offer data rates faster than that.
But offering just WEP, instead of the now-standard WPA2 (Wi-Fi Protected Access version 2) method, is peculiar at any point after 2004, when WPA2 started appearing in hardware. A WEP key can be easily cracked using free software, sometimes in a matter of minutes, making it a poor choice for any fixed installation in a home or office. Although it's far less likely WEP would be broken when using a temporary hotspot like the MySpot, WEP is still a 13-year-old technology that was replaced 9 years ago with a much-improved version.
The MySpot comes preconfigured to accept a DHCP-provided address over ethernet, and to allow Wi-Fi access without any password. Configuring the device is a bit convoluted, and the printed directions included in the box at the time of this review didn't actually work. The company provided me with updated information that was correct; a representative told me Kanex will update its website with newer screen captures, and will later update the printed details included with the MySpot.
With a MySpot connected via ethernet to an active network, the device can't be configured, even by pointing your Web browser to the address assigned by the network—a method used by many non-Apple wireless access points. Rather, one has to unplug the ethernet cable, connect your computer or mobile device to the MySpot via Wi-Fi, and then configure TCP/IP.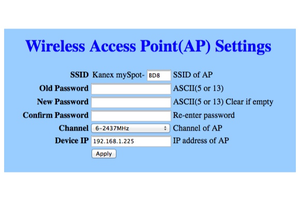 For example, using a Mac, I had to open System Preferences' Network pane, choose the MySpot-created Wi-Fi network, click Advanced, click the TCP/IP tab, choose Using DHCP with Manual Address from the Configure IPv4 pop-up menu, and then enter the address 192.168.1.224. I then clicked OK and then Apply. This let me connect to the MySpot via a Web browser (using 192.168.1.225 as the address) to view an abbreviated configuration page where I could set a WEP key (only using text or ASCII characters in the password), change part of the MySpot's network name, or set an IP address.
Changes don't take place immediately, and you may need to unplug the MySpot from power and then plug it back in again to get a new network name or password to work. Given that once you set a password, you may never need to modify it again, you might only go through this set of steps one time. But it could be far easier. (Once I was done, I had to switch my Mac's network settings back to Using DHCP.)
Bottom line
It's difficult to review the $60 MySpot without comparing it to Apple's $99 2012 AirPort Express, which sports simultaneous dual 2.4GHz/5GHz 802.11n networking and WPA2 security. The Express is a bit larger at 4 inches square by an inch tall, is a bit heavier at 9 ounces, and requires AC power, but it also has 802.11n throughput and the advantage of range and coverage that come with multiple antennas and greater power. If your main concern is size and weight, and you want to save $40, the MySpot fits the bill, but the AirPort Express offers modern standards and easier configuration.