If a picture is worth a thousand words, a slideshow is a great way to tie together multiple pictures to tell a story. The popularity of slideshows has constantly increased in the past few years, spurred by their effective use by a number of filmmakers—most notably documentary director Ken Burns, after which the homonymous zoom-and-pan technique is named—and aided by software programs that make creating sophisticated slideshows easier and easier every year.
This brings me to Aquafadas's PulpMotion for OS X, which takes the art and craft of slideshows very seriously, indeed. The app requires Snow Leopard or above, and comes in two versions, Standard ($49) and Advanced ($129), with free trials available for both; the latter supports a wider range of effects and capabilities, as well as professional-grade features like additional motion blur settings and interoperation with Apple's Aperture.
The Advanced version of PulpMotion comes with roughly 150 templates, whereas the Standard edition comes with 130 or so. As in other apps of the same type, these templates can be used as a sort of blank canvas to which you can add your own pictures and music to create a slideshow. Having so many of them seemed a little gimmicky at first, and, therefore, I spent some time picking-and-choosing my way through the available selection; as it turns out, the templates that come with the app are quite advanced, with visual effects that take full advantage of OS X's ability to generate complex 3D animations and lighting.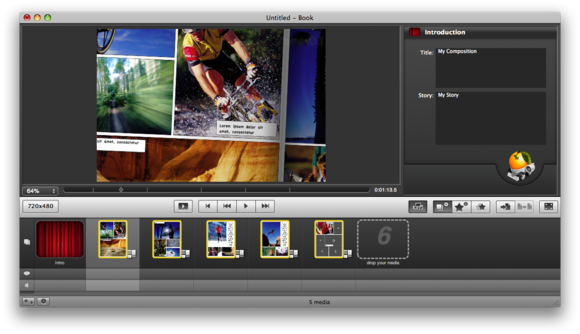 Kickin' up your photos
The user interface is simple to use—in most cases, generating a slideshow is a matter of picking media items, such as images or videos, from your hard drive or iPhoto album and dropping them directly on the slideshow's timeline. PulpMotion takes care of positioning them appropriately and transitioning from one to the other according to whatever rules the template calls for.
Once you've picked something to display, you can add a multitude of effects to it, from the aforementioned Ken Burns to one of several other filters provided by the app. Because PulpMotion bases its effect system on Apple's Quartz technology, you can also use third-party filters built using utilities like Quartz Composer, which means that the range of possibilities is essentially unlimited.
In addition to filters, the Advanced version of the app also lets you specify one or more "zones of interest," which are areas of a media item that are to be given additional consideration during a slideshow. For example, a particular template could choose to highlight or zoom in on them, or perhaps display them as separate items alongside the full photo on the same "wall" in a virtual art gallery.
Naturally, a slideshow is a sad affair without some accompanying audio, and this is one area where PulpMotion really excels. In recognition of the fact that OS X doesn't come with default audio editing software that is within the reach of the average consumer, the app includes its own, and allows you to mix several tracks, as well as adding sound effects—and even your own commentary, which can be recorded directly from a microphone connected to your Mac.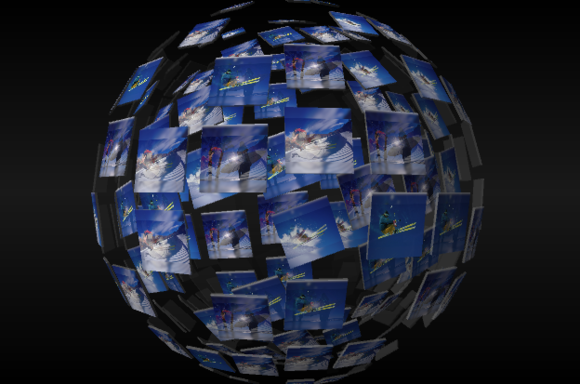 Be your own Ken Burns
In general, the app does a really good job of hiding the complexity that goes into building advanced slideshows without limiting the user's options in any significant way. Unless you happen to be Ken Burns, it's unlikely that you will find yourself hamstrung because some detail or other cannot be manually edited. (For those who like to master their apps, though, Aquafadas has published a series of tutorials that explain the app's main features in great detail.)
PulpMotion's user interface is fairly intuitive and easy to use; it reflects good judgment on the developers' part of the approach that the wet-behind-the-ears user like yours truly is likely to take when building their first slideshow. There are, to be sure, a few quirks here and there; for example, in my experiments, the undo mechanism didn't quite work the way I expected, particularly when it came to filters; still, this is not a huge problem, because potentially destructive operations are handled properly.
Also, the system that handles zones of interests didn't always work well in my tests; in some cases, the picture that I was trying to manipulate only started displaying properly after a fair amount of manual panning and resizing.
Bottom line
All things considered, PulpMotion is a great app for anyone who wants to add a kick to their photo collection. The template selection alone—compared to the dozen or so themes that come with iPhoto—is worth the price of admission, and the resulting slideshows, which can exported up to full-1080p resolution, have a quality that rivals purpose-built videos handcrafted by professionals.