It's tough to beat old-fashioned arts and crafts: There's something magical about being able to make something out of nothing more than paper, paste, and scissors. Except for the ensuing cleanup—seemingly endless and somehow futile—they're still among the best activities for kids of all ages.
Still, these days kids sometimes want to set aside old-fashioned tools and explore their creativity using the family Mac. The results are often amazing and satisfying—and much easier to clean up.
Enter Aquafadas's $25 KidsMotion ( Mac App Store link), an OS X app that helps kids use their photos, videos, and music to create high-quality slideshows with minimal effort. KidsMotion takes many cues from its more-advanced cousin, PulpMotion, but features a simpler interface that's designed to minimize the frustration that goes into building a complex slideshow.
The app comes with a selection of fifty templates designed specifically for a young audience, with themes that range from sports to cartoons, from holiday cheer to artistic landscapes. Cute animations accompany the transitions between slides and photos. Thanks to the simplified design of the app, templates can be swapped in and out at any time, making the process fun and stress-free—something that, frankly, is not all that bad for adults, too.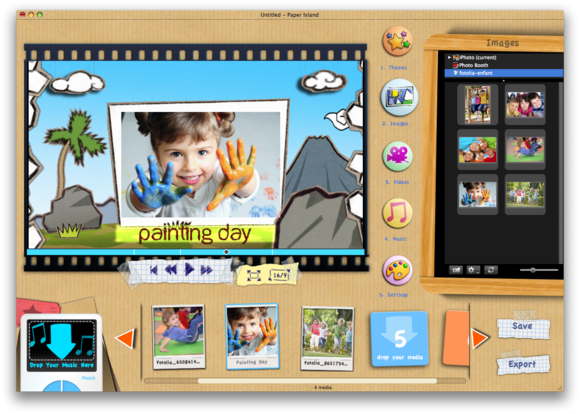 A simple editing interface allows you to position, crop, and rotate images; you add those images by simply dragging them onto the KidsMotion window from the Finder or your iPhoto library. You add videos using a similar process.
You can likewise add music from your iTunes library or from any location on your hard drive. KidsMotion automatically plays that music alongside the slideshow, taking care to fade in and out as appropriate.
You can export your resulting slideshows in a variety of formats suitable for different devices, or you can upload directly to YouTube or Facebook.
KidsMotion is a fun and easy-to-use app that lets kids be creative while introducing them to the concepts of animated presentations.