Notifications—the banners and blue alerts that announce the arrival of new iMessages, emails, Twitter mentions, game turns, and more—are a common occurrence for active iOS device owners. The introduction of the subtler, less interruptive banner notifications in iOS 5 made such incoming alerts far less annoying than they'd become in the heyday of iOS 4. But iOS 5 also dropped an important control that had existed in iOS 4: a switch to turn notifications off.
Sometimes, you don't want notifications to interrupt you—even subtly—when you're using your iPhone, iPad, or iPod touch. But Apple offers no way to silence banners and alerts in such cases.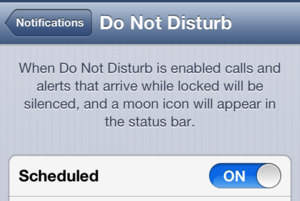 You'd be forgiven if you thought that iOS 6 righted that wrong with its introduction of Do Not Disturb (at least, when Do Not Disturb works). But you'd be wrong. Do Not Disturb can mute incoming notifications—but only when your iOS device is locked. That is, Apple offers Do Not Disturb as a way to keep your sleeping iPhone silent when you, too, are asleep; a locked iPhone with Do Not Disturb enabled won't illuminate the screen, vibrate, or make a sound when notifications arrive.
That's a great feature. But it's not enough.
Stream of consciousness
Suppose you want to use your iPad to watch a video of some sort. And suppose further that the video isn't resident on your device; rather, you intend to stream it from Netflix, HBO Go, Hulu, or any other streaming service with an iOS app for just that purpose. iOS currently offers no straightforward way to ensure that your viewing of The West Wing or American Reunion remains uninterrupted by notifications. (This is less of a problem if you're watching a video already downloaded to your device, since in that case, you can use Airplane Mode as a mechanism for temporarily silencing alerts.)
Do Not Disturb's no help, since your iPad will be awake and in-use, meaning such alerts will continue to sound as normal regardless of your Do Not Disturb setting.
And despite the improved subtlety of banner notifications compared to the alert popups of yesteryear, they're supremely annoying during attentive video watching: Those banners don't just occlude the top sliver of the video, which would be a manageable offense; far more obnoxiously, they also mute the audio of the currently playing video for several seconds.
There are painful workarounds: You can go into the Settings app, tap on Notifications, and then tap into each and every app you have installed that receives alerts, and disable Sounds (or the entire notification) for each.
But that's not what I want! I want Twitter mentions to beep, Letterpress turns to bloop, and iMessages to ding. I just don't want them to do that if I'm watching a movie.
Highway to the danger zone
Alerts interrupting my video watching experience are an annoyance. Notifications mucking about with my turn-by-turn directions when I'm behind the wheel are simply unsafe.
I use my iPhone as a GPS with some frequency, using either Apple's Maps app, Google Maps, or Navigon. Whichever app I'm using, incoming push notifications can cause troublesome problems.
I don't want to see incoming messages of any sort when I'm driving my car. If my eyes shift to my dash-mounted iPhone to check the map before resettling on the road again, I don't want incoming banner notifications competing for my attention. I'm human; if an email from my boss arrives while I'm driving the car, I must fight the urge to try to study that transient alert when I should be, you know, watching the road.
Certainly, keeping my eyes on the road is my job. But I take pains to minimize distractions when I'm driving. If I'm not using my iPhone for directions, I turn on Do Not Disturb when I get into the car, so that it won't light up or ding and momentarily capture my focus. It's unacceptable that there's no way I can tell my iPhone to silence every incoming alert in this situation.
Even if you possess the ability to ignore any notification that might pop-up while you're using your iPhone as a GPS, it's worth noting that notification sounds can overpower (and briefly dial down the volume of) spoken navigational instructions from your GPS. When "Turn [something] onto [some street]" is overpowered by a friend's play in Words With Friends, that's a significant problem.
Again, I could of course disable notifications for more, even all apps, one by one. I don't want to, though, because I appreciate those notifications most of the time—just not while using specific apps.
If I could indeed mute all notifications while I was using a navigation app, there is admittedly a risk that I might then miss a text message from the person I'm headed to meet, saying that he'd prefer to meet at the other Starbucks instead. I'm okay with that. On the whole, I'd rather see that text late, when the car is parked, then score that instant update while I'm driving.
The silence of the chimes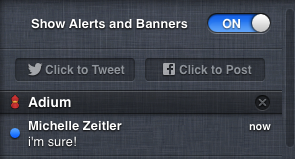 There's an easy way for Apple to solve this problem. After all, the systemwide mute switch I crave is already implemented—in Mountain Lion. Enter Notification Center on your Mac, and scroll up past the top, and there's a simple On/Off switch marked Show Alerts and Banners. Turn it off, and until the next day (or until you manually switch it back on again), the banners that typically slide into view on Mountain Lion won't appear at all.
A similar switch on iOS, like the one that once existed in iOS 4, would be an okay solution to this problem for me. But it wouldn't be the best one.
That's because I always want notifications muted when I'm in Netflix, HBO Go, or Google Maps. When I'm running those apps, I want peace and quiet from everything else. Constant manual management of a systemwide alert mute switch would be worlds better than what we have now, but it wouldn't be ideal.
Thus, what I'd like to see is the ability to silence notifications permanently in specific apps. I can envision a few ways configuring such a setting might work: The mute switch could appear in Notification Center, perhaps only if—as on Mountain Lion—you scrolled up past the visible top of the list; if you're in an app when you visit that switch, it could optionally be a setting limited only to the current app itself. Another option might be a listing of all your apps tucked away in the Notifications section of the Settings app; you could select the specific apps on that list in which you never want alerts to appear.
This isn't a complicated feature to implement. That's proved in part by the existence of an analogous feature in earlier versions of iOS, and the current feature in Mountain Lion. Apple's failure to offer such a feature in iOS 5 was frustrating enough. Its continued absence in iOS 6 is more upsetting still. Here's hoping a systemwide mute arrives before iOS 7.