Black Pixel on Thursday released Kaleidoscope 2, a significant update to its app for identifying differences between images and text. New features include an overhauled interface, the ability to compare and merge folders, and support for source-control technology Perforce.
Kaleidoscope, acquired by Black Pixel from developer Sofa back in October 2011, allows developers, designers, photographers, writers, and other users to compare two or more versions of similar documents (and now, in version two, folders).
When you drag two text documents into Kaleidoscope, the app shows highlighted diffs between them, and allows you to copy changes from one document to the other. Drag in a couple versions of an image, and Kaleidoscope offers up multiple ways to view the differences between the two. And new in version two, you can also drag in a pair of folders, with deleted, added, and changed files and subfolders highlighted in different colors.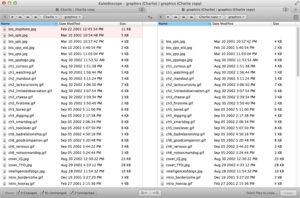 While you're limited to comparing just two versions of a file at a time, Kaleidoscope allows you to drag more files into a single window; you just pick which two you want to compare at any given time. And regardless of which kind of media you're comparing, the app offers up multiple views: You can see text comparisons side by side or stacked atop each other. You can compare image differences side by side, or compare them with a movable, adjustable slider, or superimpose the images atop each other with different spots highlighted. And folder comparisons can optionally include or exclude unchanged files, changed ones, or unmatched ones.
Kaleidoscope offers integrations with a variety of source control tools, and a few other Mac apps as well. In addition to the newly-added Perforce support, the software can integrate with Subversion, Git, Bazaar, and Mercurial, and apps like Black Pixel's own Versions and the now open source TextMate.
From now through January 30, Kaleidoscope 2 will cost $35; after that, it will revert to its regular, $70 price tag. It's available sandboxed on the Mac App Store, and directly from Black Pixel. The app requires Mac OS X 10.7.3 or later.
Updated at 9:11 a.m. ET to correct the date when the $35 rate expires.