I knew that cord-cutting's time had come when I visited my wife's parents in Arkansas over the New Year's holiday. My father-in-law has always been one of the techiest people I know—he's got a giant flat-screen high-definition television connected to a killer stereo system, making his home theater experience feel quite a bit like an actual theater.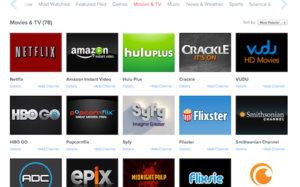 On this visit, however, his cable box was gone: It had been replaced by a Roku, and the cable service replaced by subscriptions to Netflix, Hulu Plus, and Amazon Prime. That works out to a savings of at least $30 a month—well worth it, my father-in-law says, even though he can't watch CBS shows or live golf anymore. Instead, he's been exploring the Criterion Collection on Hulu Plus.
"The quality is as good as cable and satellite and in some programming areas better," he told me last week. He gushed: "Hulu Criterion is a treasure vault."
So it was no surprise, then, when Paid Content ran this chart last week, revealing that the number of cable subscribers declined for the "first time in history," down from 100.9 million in 2011 to 100.8 million in 2012. That's a minor dip, in the scheme of things, but also portentous.
It's one thing when youngish people in their 20s and 30s decide to leave cable behind—my wife and I cut the cord after Hulu first appeared and while Netflix's streaming service was still loaded mostly with second-tier movies from the 1970s. But it's another thing entirely when you start losing people in their 50s and 60s: To the extent that the newspaper industry has survived, it's because older readers have stuck with print-reading habits formed in their youth; it's possible that the cable industry won't be able to depend on baby boomers to quite the same extent.
And here's a shocker: Apple—which has anticipated this very moment for so long—still doesn't seem quite ready for it.
Apple's fallen far from the cord-cutting tree
Yes, the Apple TV has been around since 2006. And yes, the Apple TV has slowly grown its sales during that time. And yes again: Apple CEO Tim Cook recently upgraded the Apple TV's role in the company from a "hobby" product to an area of "intense interest." The truth is: It still doesn't feel like there's much there there.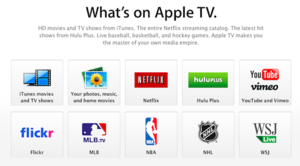 Cost is a big reason viewers cut the cord: It's cheaper to subscribe to a few video services online than it is to pay for the entirety of offerings on cable television. But for many people, cost effectiveness is the point: Viewers have long fantasized about an "à la carte" version of cable that would let them subscribe to ESPN, say, without having to also pay for Lifetime. The economics of cable haven't really let that option emerge. The closest thing? Online video on demand services like Netflix and Hulu Plus—which not only let you choose when you want to watch, but also effectively let you control the range of content you regularly choose from.
And Roku, at the moment, seems far better positioned to offer a variety of choices. What's more, it seems like it's more interested in offering a variety of choices.
For example: Last week, Roku announced a deal with Time Warner Cable that will let the cable company's subscribers stream up to 300 live channels through the Roku box. And Roku also added several new channels—including Fox Now, PBS, and PBS kids—to its 700-channel lineup.
Meanwhile, the last big content news for the Apple TV came five months ago, when Apple (somewhat belatedly) added Hulu Plus to its much more limited channel lineup. And the Apple TV can't stream content from Amazon Instant Video, HBO Go, or numerous other services that Roku offers.
Apple's between a Roku and a hard place
The message is clear: If you want the service that's more adept at providing a variety of viewing options, you go with Roku. If you want the company that looks for all the world like it's working to bring you the best variety of viewing options a year from now, you go with … Roku. The thing that the Apple TV has going for it? It doesn't seem nearly as lame as Google TV, but that assessment may depend entirely on your point of view.
This isn't entirely Apple's fault: The company is still wading through the weeds of legacy media companies that don't want to change to meet the expectations of 21st century viewers. And maybe we're spoiled: We saw Apple getting its way in the music sector and expected more of the same in other media—though books, like video, have proven a tougher nut to crack for the company. All of this could change overnight, though, if Apple suddenly signed a few deals with video providers and started really competing.
The problem is that there's already a company out there meeting viewer expectations, and doing it at the point when even my parents-in-law are ready to make the leap into a new way of watching TV. For the first time in a decade, it's not Apple leading the way. Who can blame viewers who make the Roku choice?