As we lurch through life, we acquire habits difficult to break. And I don't mean those frowned upon by 9,999 out of 10,000 physicians—smoking, drinking, and philately. I'm referring to the not-quite-so-pernicious-but-just-as-sticky simpler stuff: Sleeping only on the right side of the bed. Slathering mayonnaise and mustard on separate pieces of bread rather than mixing the two together. And, for the technically inclined, holding fast to a particular email client, even when the thing routinely explodes.
Breaking the email habit is hard, particularly for those who used email as their primary means of communication in the pre-text/tweet/Facebook era. Having spent long days tweaking your client to correctly connect to your various accounts, configuring its views, futzing with fonts, and constructing rules and filters, what's the likelihood that you'll end your labored relationship simply to take up with some flashy floozy that, while promising you a sleek form, fails to deliver deep and flexible features?
Believe me, I've tried. And failed.
Outlook good (not great)
I've had an ongoing relationship with Microsoft's email clients, Entourage and Outlook, since Entourage emerged from the ashes of Claris Emailer. And I've maintained that relationship largely because of a single workflow, which goes something like this:
I receive a lot of messages from public relations firms, and I prefer to not clutter my Inbox with them. So, I've devised a scheme where I can easily tag the sender of a message as a PR representative. I then build a rule around that tag so that any subsequent messages from that person (or any contact bearing the PR tag) are automatically placed in a PR Messages mailbox. It's hardly Inbox Zero, but it does organize a lot of my email client's clutter.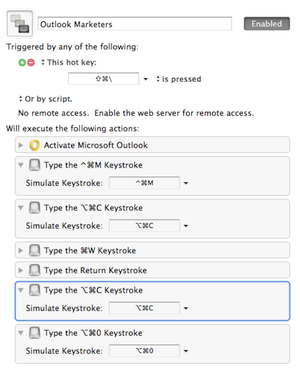 With Outlook, I manage this by assigning keyboard shortcuts to a variety of commands (Add to Contacts, Mark Sender as Category: Marketing, Move Message to PR Marketing) and then fire off this gangling mess with a macro I've created with Keyboard Maestro. A subsequent Outlook rule automatically files future messages from those marked as PR reps to my marketing mailbox.
It's tedious to set up, but it works.
Unless Outlook doesn't.
And that's the issue.
Much as I love the application's flexibility, I've found Outlook to be one of the most unstable programs I've used in the last several years. The thing constantly croaks, and when it does, it often demands that I rebuild its database (which can take well over an hour, as I've burdened the thing with endless email). And when a corrupt database isn't the problem, you must toss out any preference files associated with Outlook (and, sometimes, Office) and pray that one of them was the cause of the application's jim-jams. Tossing preferences means that you have to reconfigure all your view settings, which is a bother.
Power diverted
You'd think that there would be solid alternatives, but you'd be wrong. And you'd be wrong because email clients are no longer focused on the power user.
That shouldn't be surprising. Purchase any new computer or iOS or Android device and you get a free email client that satisfies the needs of the vast majority of users who demand little more than to send and retrieve messages through common email services. What sort of market does that leave for someone wishing to build a truly powerful email client (something, I understand, that is both difficult and time consuming)? For that answer you might wish to speak with those who developed and owned Eudora over its lifetime.
I don't wish to shortchange those third-party email clients that do exist, but the focus of many is to make Gmail easier to use (a perfectly laudable goal considering the mess that is the Gmail web interface). And those clients that are more democratic in their support of other email services lack the flexibility to duplicate the Outlook workflow that keeps me tied to Microsoft's client, despite its doddering deportment.
There's little hope to be had from updates to the free clients. Look, for example, at the changes brought to Apple's Mail. Over the years, we've gained stationery, a VIP mailbox (a smart mailbox for those who don't understand smart mailboxes), grouping, and a cleaner interface. These are fine features for many people, but pity the power user—filtering options haven't been expanded, communication between mail and contacts hasn't improved, junk mail features are no more effective than they ever were, and RSS is gone. And iOS's Mail? Don't get me started.
Is there no hope? I could certainly wish that Apple's Mail team updates the next version to include an "Add Contact to Group" command that might make my workflow possible. Or Microsoft could, once-and-for-all, fix Outlook so the thing stands up to a gentle breeze. Or the fine minds behind Postbox could do me a solid and implement the Chris Breen feature.
But more likely is that I'll have to break a few habits and realize that email has changed—that Gmail and its like rule the roost and the need for powerful clients is lessening with each passing day. In the meantime, may I suggest that my many PR pals try another avenue? Feel free to telegraph me at -.-. -… .-. . . -. .- – — .- -.-. .– — .-. .-.. -.. -.. — – -.-. — — Operators are on duty.