At a Glance
Expert's Rating
Pros
Significant speed boost over predecessors
Reduced screen glare
User-accessible RAM slots
Improved speakers
Fusion Drive upgrade available
Cons
No SuperDrive
No FireWire
User access to internals more difficult than ever
Our Verdict
Apple recently updated its largest all-in-one desktop computer, the 27-inch iMac, with a long list of under-the-hood changes, but the first thing people notice is its strikingly thin design. And while the new iMac's 5mm edge is certainly impressive, I can't help but wonder whether the tradeoffs Apple made for the new design are worth it.
The specifics
Apple has two standard configurations for its new 27-inch iMacs. Both use Intel's quad-core Ivy Bridge processors: The high-end $1999 model sports a 3.2GHz Core i5 processor, while the low-end $1799 model uses a 2.9GHz Core i5. Our tests showed that the 3.2GHz model was between 5 and 7 percent faster than the 2.9GHz model in handling processor-intensive tasks. Both CPUs can use Turbo Boost to run at speeds of 3.6GHz for brief periods of time. For $200 more, you can get the high-end model configured to order (CTO) with a 3.4GHz quad-core Core i7 processor that supports Turbo Boost up to 3.9GHz. The optional Core i7 also supports Intel's Hyper-Threading technology, which allows two virtual processing cores to run on each physical core, so applications that can take advantage of multiple cores can address eight virtual cores instead of the four physical ones.
All 2012 iMacs ship with 8GB of RAM, up from 4GB in the previous generation. The 27-inch iMacs both ship with 7200-rpm, 1TB hard drives as standard equipment—just as the 2011 27-inch iMac did.
Unlike the new 21.5-inch iMacs, the larger models still have user-configurable memory. An interesting trap-door mechanism on the back of both versions of the 27-inch iMac, just above the power cord input, gives access to the system's four memory slots. The 27-inch iMac's 8GB of RAM takes the form of two 4GB SO-DIMMs, leaving two slots open. If you want to increase the RAM to 16GB, Apple will handle the upgrade for you for $200 at the time of purchase. But since two RAM slots are open and installation is easy, I'd recommend looking at a third-party supplier for a more-economical RAM upgrade. For example, OWC offers two compatible 4GB SO-DIMMS for $60, and Crucial sells two 8GB SO-DIMMS for $86.
Like the 2011 model, the new 27-inch iMac has four USB ports, but Apple has updated those ports to USB 3. The new iMac still has a gigabit ethernet port and a headphone/audio-out port on the back, but the audio-in port is gone. FireWire is absent from the new iMac, too, meaning that you'll need to purchase a Thunderbolt-to-FireWire adapter. The new model does have two Thunderbolt ports, which is convenient if you want to connect multiple Thunderbolt devices such as displays and hard drives. The handy SDXC card slot has moved from the side of the iMac to a less convenient spot on the back, near the ports. If you want to burn, rip, watch, listen to, or back up to CDs or DVDs, you'll have to buy an external optical drive, such as Apple's $79 USB SuperDrive, because the new iMacs follow Apple's trend away from internal optical drives.
Apple has also updated the iMac's graphics processors, opting for Nvidia over AMD this year. The $1799 model uses the Nvidia GeForce GTX 660M with 512MB of GDDR5 memory, while the $1999 iMac uses an Nvidia GeForce GTX 675MX with 1GB of GDDR5 memory. The extra graphics RAM in the higher-end iMac helped it post higher frame rates in games like Portal 2 than the $1799 model, but only marginally so. For an extra $150, you can upgrade the high-end iMac to the Nvidia GeForce GTX 680MX with 2GB of GDDR5 memory. The new graphics were faster than the 2011 AMD graphics in games like Portal 2, but were slower in our tests using Cinebench's OpenGL benchmark.
2012 27-inch iMacs: Speedmark scores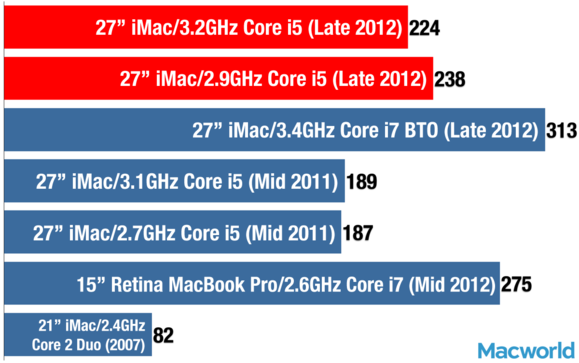 No reflection on you
As part of the iMac's physical redesign, Apple eliminated the 2mm air gap that used to separate the iMac's glass cover from the LCD panel. Now the glass adheres directly to the panel, which helps reduce glare and reflection but makes replacing the front glass more expensive: If the glass breaks, you have to replace the whole display. Already, in the past, only the bravest of souls dared to open an iMac, but the new design's use of adhesive instead of magnets to connect the screen to the case basically locks the iMac down to all but certified repair folk.
One positive benefit of this major design change—in cooperation with a new antiglare coating process—is a noticeable reduction in screen reflection. Apple claims to have reduced glare by 75 percent. When I stood in front of a 2011 iMac and a 2012 model, gazing at the older system was almost like staring into a mirror; but my reflection virtually disappeared when I looked at the screen of the 2012 model.
Colors on the new iMacs still look vibrant and photographic images still pop, with dark blacks adding the appearance of depth. The iMac's LED backlit IPS display, with a native resolution of 2560 by 1440 pixels, offers a wide range of good viewing angles, so you and several others can view content on the iMac screen with very little loss of contrast and few color shifts as you move from directly in front of the center of the screen.
The iMacs' integrated speakers also received an upgrade. Music sounded noticeably warmer and fuller on the new system's stereo speakers. Increasing the resolution of the built-in FaceTime camera to 720p and adding a second microphone (to help eliminate background noise and improve audio quality) enhances videoconferencing.
Drive issues
As mentioned in our review of the new 21.5-inch iMac, those models switched from using 7200-rpm hard drives to slower 5400-rpm drives. The 27-inch iMacs retained their predecessors' (relatively) speedy 7200-rpm drives, and thus avoided suffering a performance hit.
We did, however, find an unexpected difference between the hard drives used in the two iMacs. Although not a specification quoted by Apple, one of the hard drives had twice as much on-board cache as the other and performed significantly better. Unfortunately, the faster hard drive (a Seagate Barracuda ST1000DM003 with 64MB of cache) was inside the low-end $1799 iMac. A slower drive (a Western Digital WD10EALX Caviar Blue with 32MB of cache) shipped in our high-end iMac.
This doesn't seem to be a case of Apple choosing a slower drive for the high-end model. It's just that the Seagate drive is really fast. The Seagate-equipped 2.9GHz iMac took 96 seconds to copy a 6GB file from one part of the drive to another, while the WD drive in the 3.2GHz iMac took 146 seconds—as did the high-end 2011 27-inch iMac.
Since Apple doesn't specify hard drive brands or offer detailed drive specifications beyond capacity and rotational speed, you can't predict which drive will arrive in your iMac. When we bought a customized 27-inch iMac with a 3.4GHz Core i7, it shipped with the faster Seagate drive installed as part of its Fusion Drive. Owing to its faster drive (presumably), our low-end iMac outperformed our high-end system on 9 of the 15 tests that make up Speedmark 8, and the 2.9GHz iMac's overall Speedmark 8 score was 6 percent higher than the 3.2GHz iMac's score. (See our recent 27-inch iMac benchmark article for more detailed performance results.)
Configure-to-order storage options include a 3TB hard drive (for an additional $150), a 1TB Fusion Drive ($250), a 3TB Fusion Drive ($400), or 768GB of flash storage (a whopping $1300 premium). We've covered Fusion Drive quite extensively, but in brief, this Apple innovation marries a roomy 1TB or 3TB standard hard drive with 100GB of zippy flash storage. The Fusion Drive looks and acts like a single drive to the end user; but in everyday use, it performs like an SSD.
Bottom line
The new, thinner, 27-inch iMacs are strikingly designed, but the loss of two convenient features—internal optical drives and built-in FireWire ports—dampens my enthusiasm for the makeover. The new iMac's drastically reduced glare and generous 8GB of RAM will benefit every user. Enhanced FaceTime cameras, better-sounding speakers, and faster processors sweeten the deal, and the optional Fusion Drive's ability to offer an SSD's speed with a hard drive's capacity represents a breakthrough in storage. With only subtle differences in processor and graphics performance between the high- and low-end models, consider buying the $1799 iMac and putting the savings toward the optional 1TB Fusion Drive. That may offer the best bang for your buck.
Editor's note: Updated 1/16/13 at 11:40 a.m. PT with a photo of the glare on the old and new iMac.