On Tuesday, I shared my frustration with iOS 6's lack of a systemwide mute switch for notifications that silences such alerts even when your iOS device is in use. As I complained about then, I find it annoying when incoming notifications interrupt streaming video or turn-by-turn directions, and Do Not Disturb is no help in those situations. I don't want to disable those notifications entirely; I just want to silence them when I'm using certain apps.
Since then, I've discovered two workarounds. To be clear, neither of these workarounds is ideal or resolves all the concerns I laid out in my original piece. At the same time, they're distinctly better than nothing.
Oh, and if you're thinking that the answer is Airplane Mode, note that—as I mentioned in the original piece—I'm specifically looking to silence incoming notifications when my iOS device still needs an active connection to the Internet.
The mute switch
One incomplete solution that I neglected to mention is iOS's mute switch. On the iPhone, that's the switch that shuts off your ringer. On the iPad, it might be the hardware switch—but that depends on your preference in Settings > General > Hardware switch; that switch can also work as an orientation lock that prevents your iPad's screen from rotating (ideal for if you're using the tablet while, say, lying down).

(If your hardware switch controls orientation and not mute, you instead mute the iPad by double-pressing the Home button, swiping on the multitasking bar from left to right, and then tapping the Mute icon at the left-hand side.)
So a huge benefit of the hardware mute switch is that it will silence the sound of incoming alerts. Normally, such audio notifications briefly duck down the volume of whatever else you're listening to—movie dialogue, say, or spoken directions. With the mute option enabled, you'll still get the visual interruption of incoming notifications, but without the audio interference that otherwise comes with them.
I was mad when Apple initially switched the iPad's hardware switch's functionality from an orientation lock to a mute control, and cheered when the company eventually added the preference for controlling its function. But I realized recently that, since I've returned to a Kindle for in-bed reading, I almost never use orientation lock these days—and I use streaming options like Netflix more frequently. So I've now set the slide switch on my iPad to mute again, since it does a fine job of minimizing the annoyance of alerts sounding while I'm trying to enjoy a movie.
That said, the visual interruptions don't stop. And worse, some apps—including some third-party navigation apps—actually silence their own audio when you use the mute control—making this solution a no-go in those cases.
Guided access
Convenient though the mute option is, it doesn't solve the issue of banners and alerts appearing when I don't want to see them. As Federico Viticci at MacStories pointed out, sometimes you might want to mute notifications because you're playing a game in which you don't want to tap on a banner accidentally. And as I pointed out in my original complaint about the lack of a system wide notification silencer, notifications folding into view when I'm using my iPhone as a GPS are an added distraction I don't need when I'm behind the wheel.
Developer Greg Pierce pointed out on his blog that a new feature in iOS 6 called Guided Access can act a hack notification muter. Guided Access is meant to provide assistance for iOS users with disabilities; parents can also use it to prevent younger iPhone devotees from messing up (or prematurely quitting) apps.
But Guided Access has a hidden perk: It mutes both the sound and visual effects of incoming notifications.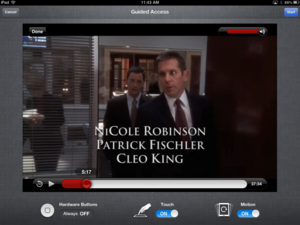 To enable Guided Access as an option on your device, head over to the Settings app, choose General, tap on Accessibility, and then scroll down to Guided Access and tap to turn it on. While you're there, set a passcode to use in conjunction with Guided Access; otherwise, you'll be prompted to set one every time you attempt to use the feature.
With Guided Access enabled, launch the app in which you'd like to experience some quietude—in my case, Netflix. After it's launched completely (Guided Access can have trouble enabling properly if an app is still on its loading screen), triple-click the Home button on your device.
That scales down your app and presents the Guided Access setup screen. In this case, you don't need to worry about disabling touch or motion detection; you just want to launch Guided Access, so you simply press the Start button at the upper right.
That returns your app to full-screen size, and mutes all those notifications and alerts you don't want to hear from at the moment. (Every once in a while, I find that my iPad or iPhone can get confused, and do the temporary sound cut-out that accompanies an incoming notification—even though that notification isn't visible. But it's clearly a bug, and a rather rare one at that.)
To exit the app again, you'll first need to exit Guided Access, which your device will remind you if you simply try pressing the Home button once. That's because Guided Access disables that button—along with the volume and sleep/wake controls. (You can still adjust volume within your app, if it offers in-app controls to do so.)
When you're ready to quit your app, triple-press the Home button again to re-enter the Guided Access setup screen. You'll be prompted for your passcode first. Then, you can tap End and then the Home button again. Or, to save a little movement, you can to the triple-press of the Home button, then press the Home button again from the Guided Access setup screen, and then a fifth time to exit the app.
Guided Access isn't any more of an ideal solution than the hardware mute switch: It locks out buttons, requires a passcode, and makes you issue a lot more taps when you're ready to move on from the app you were using. But, as I said at the outset, though, both options are better than nothing. And we can keep hoping Apple will implement a real solution sometime soon.