Popular microblogging site Tumblr jumped into the business of sharing photos from your mobile phone a few months back when the company released Photoset for iOS. The app—available for the iPhone, iPad, and iPod touch—doesn't require any type of Tumblr account, and instead uploads your photosets to photoset.com and provides a shortened link for sharing. You can, of course, post your photoset directly to Tumblr as well.
The app's concept comes from a feature of the same name, added to Tumblr three years ago.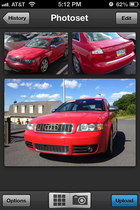 "Photosets have been one of our favorite additions to Tumblr. You've surprised us a thousand times over with your creativity," Tumblr's Justin Ouellete wrote on the staff page. "It's hard to imagine Tumblr without photos, and we love the power a set of photos has to tell a story."
Tumblr user or not, navigating the app is pretty straightforward. You are given the option to capture new pictures or use those already in your photo gallery. That said, each picture taken or selected has to be one at a time, making large photosets cumbersome.
Once you have the pictures selected, the app will allow you to move the photos to adjust the layout. I have a bone to pick here: while you can organize these photos horizontally—say, for example, creating a row of two photos on top, one big picture in the middle, and two more below it—Photoset does not allow you to organize them by columns, like placing one big picture on the left with two vertical columns of pictures on the right. That makes layout design a tad limited.
After designing your layout, your work is nearly done. You can click upload from the layout screen, which will upload the photoset to the web, or you can continue to add additional data, including captions and location information. Whichever way you choose, the next step will give you a shortened link that you can share with your friends, or buttons to Tweet or share the photoset via e-mail and Tumblr.
Would more options be nice? Of course. I'd personally like to see options to share to Facebook as well – which thanks to the social sharing features in iOS 6 should be pretty easy to do. Then again, this is a first release, so certainly there will be improvements on the way.
The web version of the Photoset album looks nearly identical to what you see on your iOS device screen. Curiously, from here you can also share to your Tumblr or Facebook – making the omission within the app all the more strange. Clicking on each picture will pop up an enlarged version of that photo, although I noticed this appears to move quite slowly at times.
All in all, Photoset is a fairly solid app with a fairly small learning curve. That said, some of the omissions and glitches here in the first release prevent it from being truly great.