At a Glance
Expert's Rating
Pros
Combines all scan management into a single app
Offers unique features, such as Expense Reports
Can take photos with mobile devices and transfer them as PDFs to Mac
Cons
Scanner slower and more likely to jam than ScanSnap
Software can be confusing, especially for basic tasks
NeatCloud requires a monthly fee
Our Verdict
If your total experience with scanners is with the flatbed type that sits atop all-in-one printers, you may be excused for thinking scanners are not all that exciting. Given the slow, awkward, one-sheet-at-a-time way these devices perform, it's hard to imagine using them to convert a stack of documents into scanned images.
That's why we have document scanners. These devices can dispense with paper at speeds of around 25 pages per minute. While they can't scan intact pages from a book, they are otherwise the perfect solution for getting rid of the clutter in your office.
The two most popular lines of document scanners are from Neat and Fujitsu. Their top-of-the-line desktop machines are Neat's NeatDesk for Mac ($400) and Fujitsu's ScanSnap iX500 ($495). Both feature new mobile scanning options.
The hardware weigh-in
The ScanSnap iX500 and NeatDesk both claim similar specs. They scan at up to 600 dpi resolution, duplex and in color, with speeds of up to 25 pages per minute. Both automatically adjust to different sized papers in a single stack.
However, in my testing, the iX500 consistently out-performed the NeatDesk. The iX500 often scanned at a spectacular 30 ppm, while NeatDesk handled the same paper stacks at only 11 ppm. NeatDesk also had more frequent problems with paper jamming or twisting in the feeder. In contrast, the iX500 did not fail even once. Fujitsu explains this success is due to hardware improvements in the iX500, notably a gear-driven spring-loaded roller and an "ultrasonic multi-feed" sensor.
Scanning goes wireless
The newest and "hottest" features for both scanners deal with wireless communication to mobile devices. The approach each scanner takes, however, could hardly be less similar.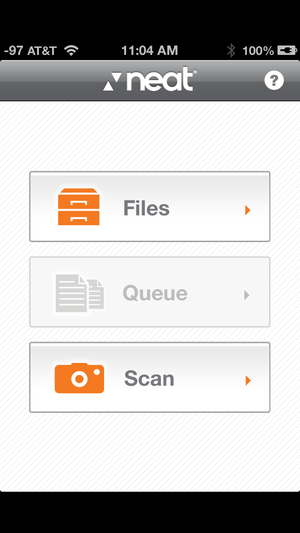 NeatDesk With the NeatMobile iOS app, you can take a photo and wirelessly send it to your Mac. If the photo is of a text document, Neat's OCR processing software kicks in and analyzes it. Going in the other direction, scans stored on your Mac sync to NeatMobile on all your iOS devices. NeatMobile accomplishes all of this by shunting your data through its new NeatCloud service. The service requires that you open an account and pay a minimum of $6 per month.
In my testing, transferring a photo from an iPhone to a Mac worked well. However, I could not get the camera to focus in the Neat app, which sometimes resulted in photos too blurry for OCR processing. Going the other way, the mobile app's ability to view scans from a Mac was inconsistent. Sometimes a selected scan loaded quickly. Other times, loading stalled with a persistent spinning sundial. Even if everything worked perfectly, the service doesn't seem worth paying a monthly fee—unless you use it very frequently. For example, iCloud users can almost as conveniently transfer photos from their iPhone to their Mac via Photo Stream, and import them to Neat if desired.
Neat plans to add more features to NeatMobile later this year, including editing on an iOS device of data extracted from documents "scanned" with the camera.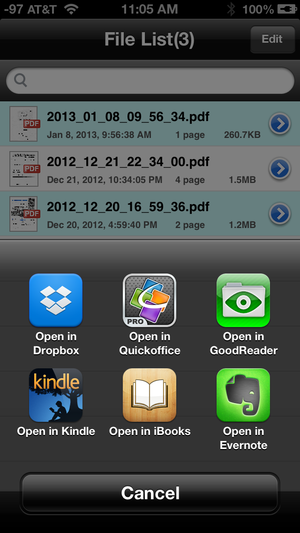 ScanSnap iX500 Via the Scan to Mobile option in the ScanSnap software, you can send scans from a Mac to the ScanSnap Connect iOS app. This is not new; you can already do this with the software that comes with older ScanSnap machines. What's new with the iX500 is its built-in Wi-Fi GI processor. After a simple set-up, you can send a scan directly from the iX500 to the Connect app on any mobile device. Yes, cord-cutters, this means there is no intervening step that requires a Mac or PC. Just tap the Scan button in the mobile app and you're off and running.
You can view the scans from the Connect app itself or send them to other iOS apps, such as Dropbox. The latter option can be helpful because, unlike NeatCloud, ScanSnap Connect doesn't sync scans across iOS devices. ScanSnap Connect also has no option comparable to NeatMobile's photo-to-scan.
While impressive to see it in action, cordless scanning has only limited value for now; avoiding the Mac doesn't save much time in this situation. More practical would be a ScanSnap S1100 mobile scanner connectable to an iPad via Bluetooth—usable even when a Mac is nowhere in sight.
The software face-off
The two competing scanners each come with their own custom software. Once again, they take distinctly different approaches.
NeatDesk Neat for Mac is an all-in-one application for storing and manipulating your scans. Neat for Mac can also import documents not originating from a scan—adding them either from the Finder or via Add to Neat commands in the PDF menu of Print dialogs.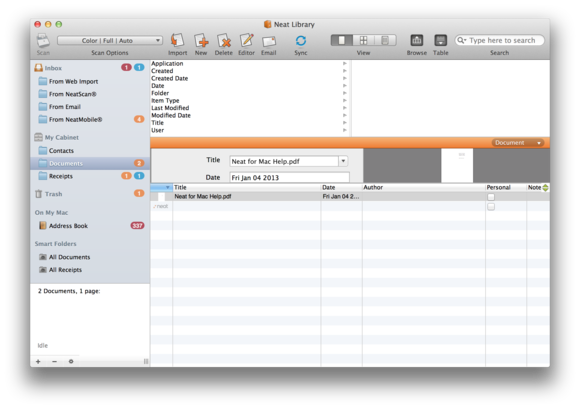 If you're familiar with Evernote, you already know the general idea of how Neat for Mac functions. Use Neat to organize files into different built-in categories (documents, receipts, business cards) as well as your own user-defined folders. The app creates searchable PDFs, doing so automatically during a scan or separately at any later time. However, search results only list file names, not where in a file the selected text is located.
While Neat can extract text from a document, such as for filling in receipt or business card text boxes, don't expect anything close to 100 percent accuracy (to be fair, I don't know any software that does this well). You can also copy/paste text from a scanned image to a word processing app.
If you like the sound of Neat for Mac software, but not the NeatDesk hardware, you can purchase Neat ($80) as a stand-alone software product. It can be configured to work with a variety of other scanners, including ScanSnaps. Alternatively, if you bought a Neat scanner, but prefer to bypass its software, the hardware works with OS X's Image Capture. In fact, when I scanned a document, without first launching Neat for Mac, Image Capture opened by default.
Neat for Mac would benefit from interface tweaks. Too often, I had trouble figuring out how certain features work. For example, I'm still not exactly sure what From Web Import does and could find no mention of it in the manual. I was also unable to get a usable result from the Expense Report options, despite several attempts.
ScanSnap iX500 The ScanSnap Manager's Quick Menu offers an array of potential actions for a scan. You can select to print a scan, configure it as an email attachment, or just save it to a folder in the Finder. Additionally, you can send scans to various cloud services, such as Dropbox and Evernote. Other options include converting scans to searchable PDFs (which ScanSnap can optionally do during a scan and do so much faster than Neat), creating fully editable text opened in Microsoft Office apps (via bundled Abbyy FineReader OCR software) and extracting business card data (to CardMinder).
In contrast to Neat for Mac, there is no single ScanSnap container for storing and managing scans. Everything in Quick Menu is handled via separate (often third-party) destinations. New in the latest update to the software, you can add your own preferred apps to Quick Menu. For example, I added Preview, allowing me to immediately view the results of a scan.
A minor downside of the ScanSnap software is that you cannot revert back to Quick Menu after making a selection. For example, after sending a scan to Preview, I might want to return to Quick Menu to choose Scan to Word. There is no way to do this. Instead, I would need to launch the Abbyy software to locate and load the scan file.
ScanSnap Manager provides further fine-tuning via its advanced Settings. These also serve as an introduction to ScanSnap's impressive range of scan-manipulation features. Using the default settings, the Manager offers automatic deletion of blank pages, automatic determination of whether a document is color or black-and-white (and scanning accordingly), automatic increase of scan resolution when detecting small text, and auto-straightening of crooked scans. The result is a nearly optimal scan the first time almost every time.
One more thing: Using the included carrier sheet, you can fold and insert a page that would otherwise be too large to fit through the scanner. ScanSnap not only scans both halves in one pass, but it stitches the two images together, creating the illusion that the entire super-large page was scanned unfolded!
And the winner is…
Neat is essentially a software company that offers a hardware scanner as an option. The core of the company is its Neat software. You can even purchase the software by itself and use it with some other company's scanner.
Fujitsu is the opposite: a hardware company that provides software as a required accessory. Fujitsu doesn't even make several of the applications in its software package, depending on third parties instead. Fujitsu's ScanSnap Manager is free but only available if you buy their scanner.
The result is what you might expect. Fujitsu expends considerable energy on updating its hardware on a regular basis. Further, almost everything new about the iX500 package is linked to hardware, most notably the scanner's built-in Wi-Fi capability. In contrast, the current NeatDesk scanner has changed very little over the past several years. What is new about the current package is primarily the upgraded Neat software, designed to work with the NeatCloud service.
Not surprisingly, given these different approaches, the ScanSnap iX500 hardware outshines NeatDesk. The ScanSnap is faster, less prone to jams and produces superior scan quality.
A software comparison is a closer call. Neat's solution, one app to take care of all of your scanning tasks, might seem the preferred way to go. However, in practice, Neat's software too often makes simple tasks unnecessarily complicated. While Fujitsu's ScanSnap Manager is more fragmented, this actually makes it easier to focus on a single task. Just want to print a scan? Click Scan to Print and you're done. And if you do want something more like Neat, ScanSnap can send scans to Evernote.
Neither company's new wireless options have compelling practical value as yet. But at least ScanSnap's Wi-Fi feature is free. With NeatCloud, you have to pay a monthly fee. In my view, Neat should offer a minimal level of NeatCloud usage at no cost, similar to how Dropbox works.
Bottom line
The ScanSnap iX500 is the clear winner in this face off, outdistancing Neat in hardware, software and wireless features. If you're in the market for a desktop scanner, look no further.
Updated 3:25 PT 1/21/13 to correct misspellings of model name.