Even in the age of YouTube, shooting and sharing on-the-spot video can be a challenge. Unless you have a genuine vision of what you want your movie to look like, it's often an overwhelming chore to decide what to include and what to trim, what music to use or not, what transitions look best, and whether to use artistic filters. The decision-making can be baffling and discouraging—and despite your best efforts, the end product can still look cheesy.
A new video creation and sharing app called Montaj, due to arrive in Apple's App Store next week, seeks to both remove the creative complexity from the process and at the same time deliver high quality video that crackles with originality and creative spark. You can use Montaj to make anything from wedding videos, documentaries, instructional videos, news reports, travelogues, or just whatever your dogs are up to this afternoon.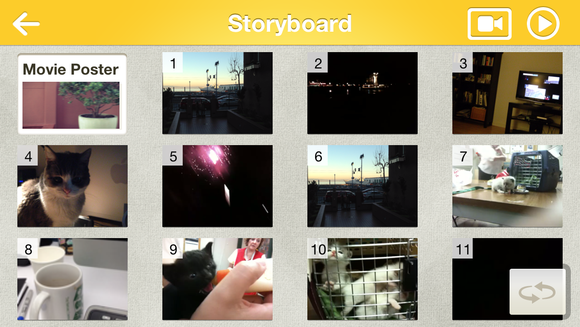 Montaj is the result of a collaboration between longtime friends Damir Gjokaj and Dan Long. It's the iPhone's newest anti-linear digital video editing tool, demoed at a press event in San Francisco on Thursday. Montaj, which will be free, lets you shoot clips in five-second intervals and then arrange them to create a short video. You can share that video on Montaj's own network, or on Facebook, YouTube, and Twitter. Montaj videos are actually hosted via YouTube, and when you upload to that service, your videos are unlisted so that the app maintains your privacy until you choose to make your video public or share it with specific people.
You can also intergrate Montaj videos into your camera roll or export them to your computer for further editing on programs like iMovie or Final Cut Pro.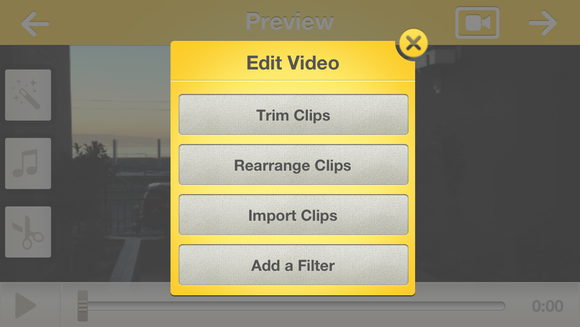 Why another video shooting, editing, and sharing app for the iPhone? What's wrong with Google's new YouTube Capture, Viddy, or even the iPhone's own Camera app, for that matter? "We wanted to make everyone a videographer the way Instagram has made everyone a photographer," Gjokaj said, "by addressing the issue of why many people still find video creation so hard."
Indeed, Montaj is designed to be dead easy: You shoot clips at five-second intervals—the app will not let you shoot any single clip longer than that; at five seconds, it stops and resets. You have to tap the record button to shoot another clip. You can continue shooting at five second intervals until you have assembled the clips you want (the limit is 40). A pane lets you look at all of the clips, storyboard style, and remove or rearrange the clips in the order you want. You don't have to actually rearrange the clips though, because the app operates by letting you simply shake the phone to automatically edit and assemble the clips.
This shaking action gives you a new song, a new edit, and a new filter every time you shake. Keep shaking until you see a composition you want to keep. With access to the songs in your iTunes library and the app's filters, there are a huge number of potential movie versions.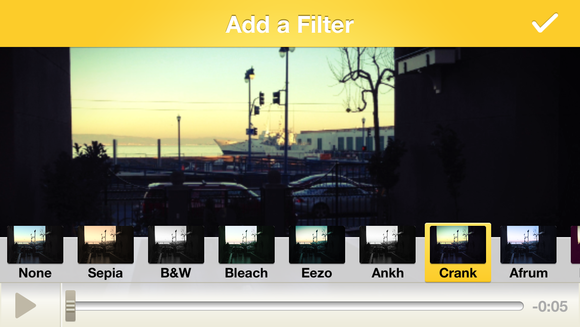 But that doesn't mean everything has to be random. You can choose the songs you want and lock them into specific sequences. You can do the same for filters and clip order too. Just experiment with the effects you're not sure of until you see what you like. Then, adjust the volume, add voice overs, and edit clip length if you wish.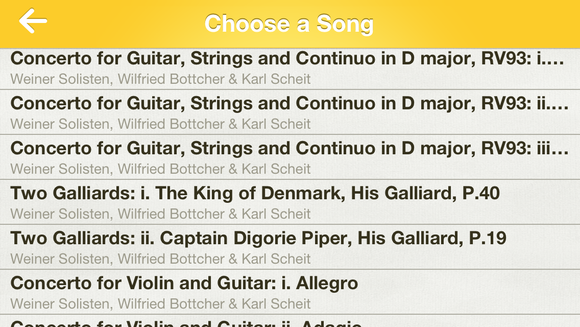 The idea behind the Montaj interface is to shoot like a Hollywood movie—just enough to tell the story. No longer should you have to shoot 20 minutes of footage to get 60 seconds of usable content. "It had to be easy enough to learn on the first try, but robust enough to grow into—and it had to be shorter," Gjokaj said. Shorter is better because longer video just doesn't look good and lacks excitement. "There's no story in a 15-second clip," Gjokaj added. "There's just nothing. It's like content purgatory." Montaj, on the other hand, is structured to let you shoot less and hasten the pace.
When you're satisfied that you have enough clips to tell the story, you advance to the next screen, which is designed to look like a storyboard. And that's it. From there you can rearrange the clips with your finger, and get rid of any you don't want. What about all that video you've spent years shooting on your iPhone? No problem. You can use anything you want in a Montaj video by importing any video on your phone into a Montaj, and Montaj works well with other apps, too.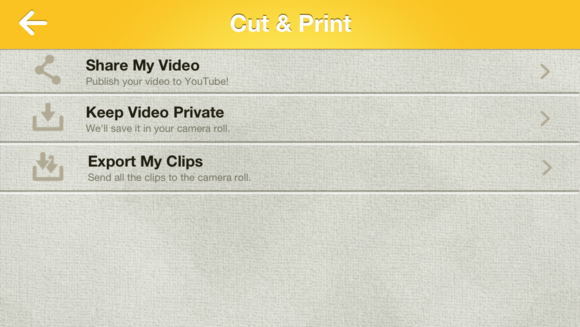 Montaj runs on iOS 6 and is compatible with the iPhone 3GS and later, and the iPad. An Android version is planned for the second quarter of 2013.
The app, which should hit the app store on or around January 22, will be demoed on the floor of Macworld/iWorld in the Olloclip booth.