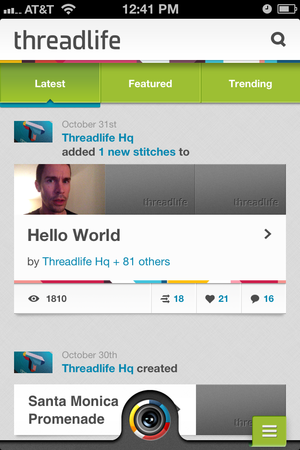 Threadlife, a video-making app for iPhone from app developer Seedbar, does the thing it does very well. The question is whether anybody will be interested in the thing it does.
Threadlife lets you create a collage of your life in three-second bursts of video the developers call "stitches." The idea isn't to create a home movie, but more of an impressionistic thread of the events of your life. You can do this by creating one, ever-lengthening thread of video that you add to (in those aforementioned three-second bursts) in perpetuity, or by creating a new thread for individual, distinct events that you wish to document. Given the three-second limit on video, however, the effect can occasionally seem quite disjointed.
You can also invite friends to collaborate on threads, which reduces the awkward nature of the solo clips by at least providing a sort of call-and-response conversational rhythm to the video.
Like Instagram, other Threadlife users can choose to follow your feed or individual threads, and videos can be shared via Facebook, Twitter, email, or text message.
Unlike some other video-sharing apps, Threadlife is relatively easy to figure out and use without a lot of instruction. But I wasn't looking for a three-second video collage before the app came out; the Threadlife experience hasn't changed my mind.