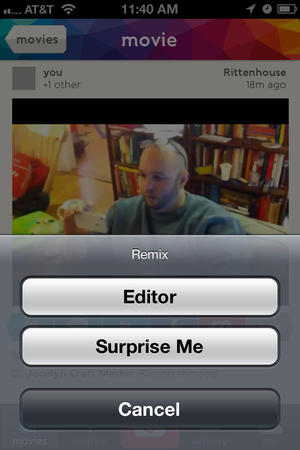 Vyclone is a nice little collaborative video-making app for iPhone that suffers from one fatal flaw—you have almost zero control over who you collaborate with.
The app lets users capture about a minute of video at the same time. If multiple people film the same event at the same location, Vyclone automatically edits those videos together to create an edited, multi-camera short documentary of your event. Despite any qualms you may have, the automatic editing doesn't look too much different from a product edited by novice videographers; you can, however, tweak the edits on your own or have the app "remix" the edit for you.
Anybody within 100 meters of you who is using the app at the same time is considered your collaborator, which I found to be a major problem. Yes, you can choose friends to follow on Vyclone, but you can't choose to partner with them in the making of a specific video. Instead, the app signals to you when somebody else nearby is also recording—they may be filming their picnic while you record your child swinging in the park. It doesn't matter that there are two events going on in a small space: Vyclone counts it as one.
Vyclone doesn't have enough users yet for this to be a common problem. But it's odd that an app premised on collaboration gives users so little control over how that collaboration comes together.