At a Glance
Expert's Rating
Our Verdict
The Retro's two layer design makes this case pretty bulky, so if you're looking for something a bit more minimal, you might want to look elsewhere.
When I first saw the $35 Musubo Retro case for the iPhone 5, I didn't immediately associate the design with that of an old retro microphone, which I realized was the intended look after checking out Musubo's website. It seemed more like some sort of skeletal rib cage that hugs my iPhone with a dual layer of silicon and hard polycarbonate for protection.
The Retro case comes in a diverse range of colors for you to choose from, including solid black or white if you're trying to match the case to your iPhone. However, the inner silicon casing is the same gray color regardless of the outer shell you choose. The outer polycarbonate shell is both hard and smooth, making it fairly easy to slip in and out of your pocket even with its ribbed—er, retro—microphone design.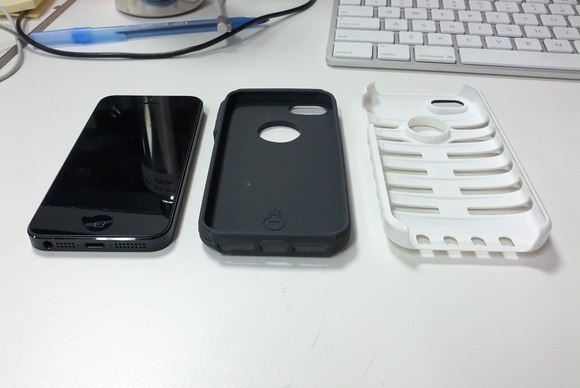 The purpose of the case seems to be a proverbial two scoops of protection for your iPhone, providing both a soft shock absorbent inner membrane as well as a hard exterior. The outer polycarbonate and inner silicone materials aren't fused together in any way, which I found to be a little odd. You put the silicone cover on the iPhone first, then place your now semi-shielded iPhone inside the plastic outer shell to complete the transformation. It feels like you have two cases on your iPhone, and technically you kind of do. This setup seems like it would be good at offering a wide range of protection, though it feels like a hard drop might pop the iPhone out of either the floppy silicone case or the hard plastic exterior.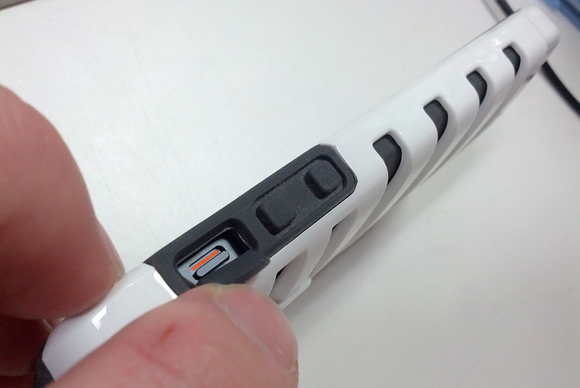 The silicone phone wrapper has press-through button overlays for the Sleep/Wake and volume buttons on the iPhone, but since the inner case is so squishy I found them a bit more difficult to press that I would have liked. Also, there seemed to be some sort of ambiguous flap for the toggle switch, and I couldn't tell if I should just use the toggle with the flap over it or if I should tear it off. I left it on, but I have a feeling it wasn't supposed to be there in the first place.
Musubo decided to leave a big hole in the back of both of the Retro's layers, perhaps so you don't forget that you're using an iPhone, as the cutout reveals the Apple logo. However, what I found it most useful for was letting dirt under the case, as well as a finger hole for popping the iPhone out.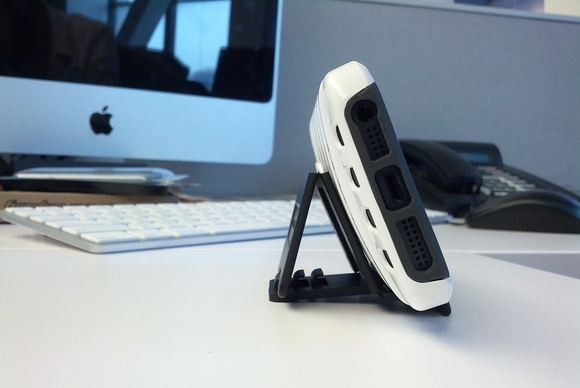 The case also comes with a little plastic stand, similar to a lawn chair in the way it's adjustable, and offers three slightly different angles for propping your iPhone up in landscape orientation. This stand is convenient when you want to watch something on your iPhone for more than a few minutes, but they're not convenient to carry with you all the time.
Bottom line
I didn't get a chance to do a large drop-test with the Musubo Retro, so telling what kind of protection the dual layers offer is something I can't comment on. However, it certainly should keep your iPhone protected against minor bumps and drops. If you like squishy hardware buttons, this case is for you, but if you're looking for something a bit more minimal, you might want to look elsewhere.