iPhone and iPad sales pushed Apple to quarterly records for both sales and profit during the just-completed holiday season, the company announced Wednesday. But Mac sales dropped from last year's numbers.
For the company's first fiscal quarter of 2013, Apple posted revenue of $54.5 billion and net profit of $13.1 billion. Revenue rose 17.7 percent from the 2012 first quarter, while profit was flat year-over-year. Apple earned $13.81 per share, down half-a-percentage point from the $13.87 it earned in the year-ago quarter.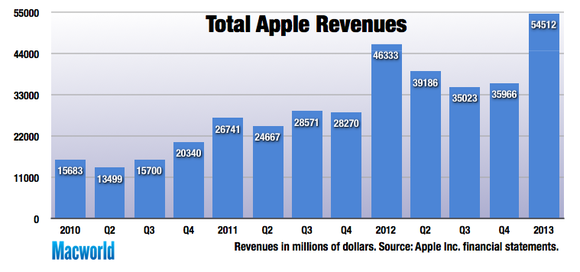 Note that Apple's figures for 2013 came in a 13-week first quarter; the 2012 first quarter ran 14 weeks. Chief financial officer Peter Oppenheimer noted that Apple's average weekly revenue was $4.2 billion for the just-completed quarter, compared to $3.3 billion per week last year. Oppenheimer also pointed out that the holiday quarter included major transitions in Apple's iPhone, iPad, and Mac businesses, as new products hit the market.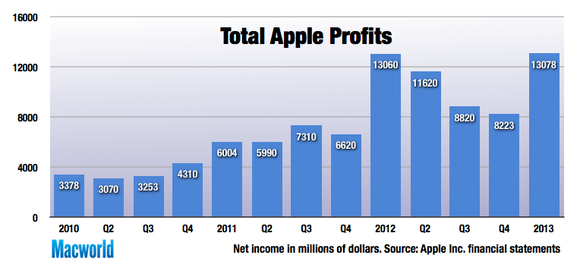 "No technology company has ever reported these kind of results," Apple CEO Tim Cook told analysts during a Wednesday conference call.
Apple's quarterly performance was in line with Wall Street expectations. Analysts were looking for sales of around $54.7 billion for the quarter and earnings per share of $13.42.
iPhone and iPads soar
iPhone sales hit a record for the quarter ended Dec. 29, 2012, up 29 percent year over year to 47.8 million phones. That was within the 46 to 47 million range analysts were looking for. Apple says it sold 3.7 million phones a week during the quarter, compared to weekly sales of 2.6 million during the 2012 quarter.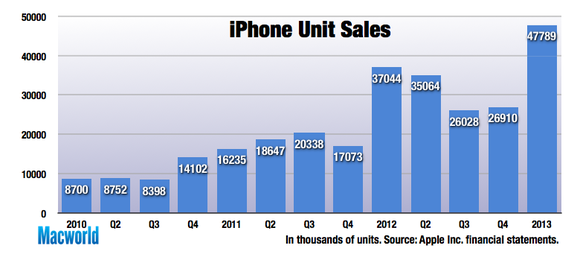 iPhone sales growth was strong in all sales regions, Oppenheimer said, but particularly in Greater China, which includes China, Taiwan, and Hong Kong. Sales doubled year over year in that region.
Oppenheimer credited the "tremendous popularity" of iPhone 5 for driving Apple's phone business—a not so subtle slap at rumors of sluggish iPhone 5 sales. Breaking with Apple's typical practice of not addressing rumors, Cook did dismiss reports of iPhone order cuts.
"It's good to question the accuracy of any rumors of that sort," Cook told analysts. "Even if a particular data point were factual, it's impossible to interpret what it means for overall business. The supply chain is complex, we have multiple sources, yields can vary, supplier performance can vary, and so on."
iPad sales also set a new high-water mark, with 22.9 million tablets sold, compared to 15.4 million last year. That translates to more than 1.7 million iPads sold per week, a 60 percent increase from the year-ago quarter, according to Oppenheimer.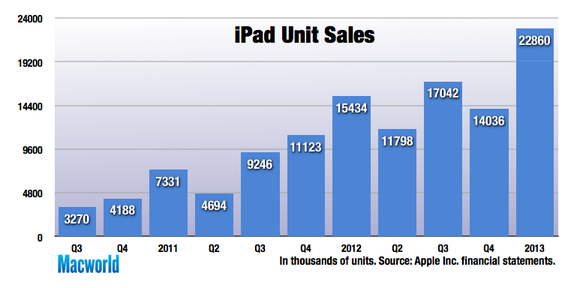 As is its custom, Apple didn't break out sales figures between iPad models—it currently offers the iPad 2, a fourth-generation model of its full-sized iPad, and the iPad mini. Oppenheimer called the smaller version of Apple's tablet a "tremendous hit."
"We couldn't make enough," Oppenheimer said of the mini. "Customers love it, and we wish we could have made more."
Apple executives touted the iPad's use by businesses and government agency. Specifically, Oppenheimer noted that Barclays, the financial services provider, had rolled out 8,000 iPads to its workforce during the quarter, "making it the most successful IT deployment in Barclays history." State, local, and even international governments are also deploying the iPad, he said, including 10,000 iPads by the Swedish government and 5,000 in the port system of the Netherlands.
For the quarter, Apple sold more than 75 million iOS devices.
Mac sales and cannibalization
Mac sales dropped for the quarter, the first quarter where sales contracted in nearly four years. Apple sold 4.1 million Macs in 2013's first quarter, compared to 5.2 million for the same period in 2012. Apple blamed the shortfall on inventory constraints that kept the company from shipping the new iMac until the final month of the quarter. Cook noted that channel inventory was down from the beginning of the quarter by more than 100,000 units "because we didn't have the iMacs."
"We believe our Mac sales would have been much higher" without those constraints, Oppenheimer told analysts.
Cook and Oppenheimer downplayed analyst concerns that the lower Mac numbers reflected increased cannibalization of sales by tablets like the iPad. In addition to the iMac supply constraints—which Cook noted that he highlighted during the company's fourth-quarter conference call with analyst—the entire PC market contracted 6 percent during the quarter, according to figures from market-research firm IDC. Even so, Cook added "we've always said there's some cannibalization in there."
Not that it concerns Apple's executives. "I see cannibalization as a huge opportunity for us," Cook said. "Our philosophy is to never fear cannibalization; if we do, somebody else will cannibalize us."
Specifically, Cook noted the iPad line continues to provide "the mother of all opportunities" for Apple: Research suggests that people who buy an iOS product as their first product will be more likely to buy other Apple products going forward. The iPad mini builds on that trend, Cook added.
"I've said for three years, I believe the tablet market will be larger than the PC market at some point, and I still believe that," Cook said. "You can see that the points are starting to converge."
iPod down, iTunes and retail up
The company sold 12.7 million iPods, down about 21 percent compared to the year before. The iPod touch was (as always) popular during the holidays, and still accounts for more than half of all iPods sold. The company claims that the iPod owns more then 70 percent of the market for MP3 players.
iTunes generated $2.1 billion in revenue, and the company established new all-time quarterly sales records for music, movies, and apps. The company added music stores in 56 countries, for a total of 119 around the world. The App Store sold 2 billion downloads in December; cumulative downloads have surpassed 40 billion, generating $7 billion in payments to developers.
Apple made brief mention of its Apple TV offering, noting that it sold more than 2 million settop boxes during the holiday season quarter. That's a 60 percent increase from the prior year.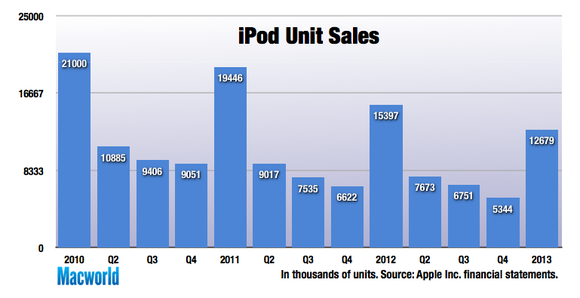 Revenue from Apple's retail effort was $6.4 billion—an all-time high and a 5 percent increase over the 2012 first quarter. The company says that revenue is largely due to iPad and iPhone sales.
Apple opened 11 new stores, including four in its Greater China region. It expects to invest a bit less than $1 billion in its retail stores this fiscal year.
Apple once again noted that the cumulative downloads have now surpassed 40 billion for the App Store, generating $7 billion for developers. There were 2 billion downloads in the month of December alone.
Unusually, Apple did not break out the percentage of customers who purchased Macs at Apple Stores who were new to the platform. (In the past, that company has hovered consistently around 50 percent.) That omission could be a byproduct of the dip in Mac sales during the quarter.
Forecasting the future
For the second quarter ending in March, Apple expects sales to come in between $41 and $43 billion. That number would be slightly ahead of the $39.2 billion in revenue the company logged in the 2012 second quarter. Apple is no longer giving analysts a forecast on earnings per share for the quarter, instead providing its expectations for gross margin and operating expenses in addition to revenue. (Apple expects gross margin to be between 37.5 and 38.5 percent for the upcoming quarter while operating expenses will come in at $3.8 and $3.9 billion.)
Updated at 2 p.m. PT with Apple's guidance for the second quarter of 2013 and to correct the percentage growth in iPhone sales. Updated at 2:05 p.m. with comments from Tim Cook. Updated at 2:09 p.m. PT with comments from Peter Oppenheimer. Updated at 2:20 p.m. PT with more Mac sales information. Updated at 2:28 p.m. PT with more iPad information. Updated at 2:37 p.m. PT with iPhone data. Updated at 2:50 p.m. with more information throughout the article. Updated at 3:05 p.m. PT with retail store information. Updated at 3:08 p.m. PT with Tim Cook comments on cannibalization. Updated at 3:42 p.m. PT to include Apple TV sales figures.
Joel Mathis and Dan Miller contributed to this report.