Do you wonder why you may have both an iTunes Music and iTunes Media folder on your computer? Are you curious where the Column Browser went in iTunes 11? Have you ever wondered how to make a smart playlist that that picks out music from other playlists? And have you ever wanted to copy music files from one computer to another? All this and more in this week's Ask the iTunes Guy.
Q: I use iTunes 11 on an iMac, and my library resides on a networked Mac Pro. In my iTunes folder, I have a folder named iTunes Music that contains most of my iTunes library, but there is also an iTunes Media folder that contains some recent content. Is this normal?
There was a time when the folder containing the files in your iTunes library was called iTunes Music. When Apple released iTunes 9, in the fall of 2009, the company changed the name of the folder to iTunes Media, to more correctly reflect the fact that it didn't only contain music.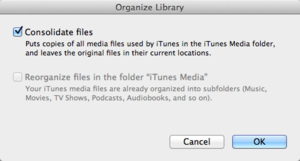 If you have just the iTunes Music folder, iTunes should work correctly, but in your case, it somehow decided to also create the newer folder. If you want to get all your content in the iTunes Media folder, you can do this.
First, back up all your content, just in case. Then, choose File > Library > Organize Library. In the window that displays, check Consolidate Files, then click OK. iTunes will copy all of your files to the correct folder—iTunes Media—and the appropriate sub-folders. If you have a lot of content, this could take a long time.
When this is finished, you should find that your iTunes Music folder is empty, but if you find any files still there, check in your iTunes Media folder to see if there are copies. If not, add them to your library.
Q: In iTunes 10, there used to be an Artists column next to the sidebar at the left of the window, but it's no longer there in iTunes 11. How can I get it back?
It sounds like you're talking about the Column Browser, which, in iTunes 10, let you choose to display it either above your content or at the left. In iTunes 11, the Column Browser is only visible in certain views—Songs view, or playlists in List view—and only at the top of the window.
You can view artists at the left by clicking Artists in the iTunes header bar when you're in your Music library.
Q: Is it possible to create a smart playlist using music from several playlists? I tried, and it would only work if I added just one playlist. As soon as I add a second one it doesn't work.
This is possible, and you probably got snagged by a little option that often trips people up. Set up your smart playlist where Playlist Is name of playlist, then click the plus (+) icon to the right of that line to add another line. Do the same thing for the second playlist. But make sure that you've selected the little pop-up menu at the top of the window so it read Match any of the following rules. If you don't, it will match all of the rules, and will look for songs in both playlists, rather than either one.

Q: Can you have more that one Apple ID? Both my children's iPods are linked to my iTunes account. Can they each have their own FaceTime address? At the moment both devices are receiving the same calls.
Yes, you can do this. Go to Settings > FaceTime on each of the iPods. In the section that says You can be reached by FaceTime at:, tap your Apple ID to uncheck it. Next, tap Add Another Email, and add a new email address. This will take precedence over the Apple ID, which will no longer be active for that device.
Q: I have my iTunes library on an iMac that I fear is getting ready to crash. What is the easiest way to move it to my MacBook Pro?
The easiest way would be to use an external hard drive, if you have one. Find the iTunes Media folder on the iMac, copy it to the external drive, then connect the drive to the MacBook Pro, launch iTunes, and drag that folder onto the iTunes window.
If you don't have a hard drive available, iTunes has a Home Sharing feature that can do exactly what you want, though it will be much slower. In iTunes on each of the Macs, choose File > Home Sharing > Turn On Home Sharing. You'll be asked to enter your Apple ID on each computer.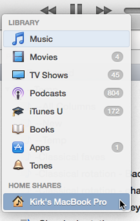 Next, make sure both computers are on the same network. From iTunes on the MacBook Pro, click on the source pop-up menu at the top-left of the iTunes window—or if you have the sidebar displayed, look under the Shared section—and choose the name of the library on your iMac. After the library has loaded, you should see Music, followed by the name of the library, in the source pop-up menu, and the Music library should be selected (or, if you have the sidebar displayed, you'll see all the various libraries listen under the Home Sharing icon for your iMac).
To select everything in the library, click a track and press Command-A. Then click the Import button at the bottom-right of the iTunes window. Depending on how much music you have, and how fast your network is, this may take a while.
For the content of other libraries, do the same thing: Select a library in the source pop-up menu, select all the content, then click Import.
When you've finished the Home Sharing transfer, you'll want to copy other files over your network. Look inside your iTunes folder and copy everything other than the iTunes Media folder, making sure to put these files in the same location on the MacBook Pro.
[Ask the iTunes Guy is a regular column in which we answer your questions on everything iTunes related. If there's something you'd like to know, send an email to the iTunes Guy for consideration.]
Note: When you purchase something after clicking links in our articles, we may earn a small commission. Read our affiliate link policy for more details.