Facing unprecedented scrutiny over its manufacturing and labor practices, Apple in 2012 nearly doubled the number of audits it conducted in its worldwide supply chain, cracking down on excessive overtime and the use of underage workers in its factories. That's according to the company's annual Supplier Responsibility Progress Report, released this week.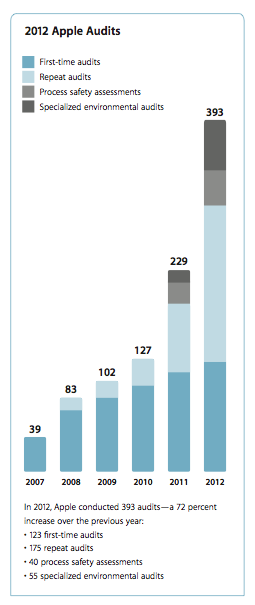 The company conducted 392 audits of its suppliers in 2012, the report said, a 72 percent increase over the year before—and more than triple the 127 audits it conducted just two years ago, in 2010. The audits covered facilities where more than 1.5 million workers churn out Apple's iPads, iPhones, Macs, and other products. And as it did last year, the company provided a full list of its suppliers to the public.
"We're going deeper into the supply chain than any other company we know of," the company said in an overview of its report, "and we're reporting at a level of detail that is unparalleled in our industry."
The 37-page report covers four areas regarding Apple suppliers: labor and human rights, worker health and safety, environmental impact, and ethics. The report additionally looks at suppliers' efforts to set up management systems to keep themselves in compliance with Apple's code of conduct and their efforts to educate and develop workers.
Some points of interest from the report:
• Most prominently, Apple said it fired one company—Guangdong Real Faith Pingzhou Electronics Co—for using 74 workers under the age of 16, and furthermore alerted provincial governments to the actions of a third-party labor agent that knowingly provided the child labor to the company, working with their families to forge work documents.
• Apple said its suppliers achieved a 92 percent compliance rate of its worldwide standard of a maximum 60-hour workweek, adding that the average hours worked per week was actually under 50.
• The company, however, found gaps at a number of facilities between what workers were owed and what they were paid: 102 suppliers failed to pay the appropriate holiday pay for night-shift workers, for example, and more than 90 facilities deducted pay as a disciplinary measure. The latter practice is a violation of the Apple Supplier Code of Conduct. However, during the year, the company required its suppliers to repay their employees $2.3 million in wage shortfalls.
• Apple found relatively low compliance with its rules on juvenile workers, finding 63 facilities that failed to offer required free health examinations to young workers, and 29 where juveniles were assigned to unsuitable jobs involving heavy lifting.
• Overall compliance with health and safety measures was relatively strong, though Apple did find 177 facilities without proper emergency exit procedures, 88 that failed to provide adequate protective gear to workers, and 72 that failed to properly monitor the risks from workplace hazards.
• Apple found 78 percent of its suppliers in overall compliance with its environmental rules, though it did find that 147 facilities were not properly storing, moving, or handling hazardous chemicals. One supplier, found dumping oil into a "wasteroom receptacle"—presumably a toilet—was placed on probation by Apple.
• Finally, Apple found that 97 percent of its suppliers complied with its ethics standards, though four facilities were found to have falsified payroll and attendance records; they too were put on probation.
Future audits should be more thorough, Apple suggested: 158 facilities were found to lack procedures to examine their own suppliers. They're being required to upgrade their reporting capabilities.
Apple in 2012 became the first tech company to join the Fair Labor Association, which in turn audited the 178,000 manufacturing employees working for Apple's biggest subcontractor, Foxconn. The initial examination, last March, found "significant issues" at Foxconn, but later reported progress at those sites.
Apple's Supplier Responsibility reports date back to 2007, prompted by allegations of worker abuse at supplier factories. In subsequent years, the company has increased the level of scrutiny it places on its suppliers to ensure that they follow Apple's Supplier Code of Conduct.