Facebook is making a habit of blocking access to its data, particularly when it comes to apps from would-be competitors. In the past week, the social-networking giant has revoked three apps' access to Facebook's API.
On Thursday, Twitter launched a new video-sharing app called Vine. The app initially allowed users to find friends in their Facebook network that also use the app, but within hours of Vine's launch, Facebook cut off the app's access to that data.
TechCrunch also reports that Wonder, a voice-activated social search app, got similar treatment from Facebook. The iOS app from Russian search engine Yandex lets you see which shops your friends visited, music they listened to, or articles they've been reading. Wonder pulls data from other social networks in addition to Facebook, but Wonder's access to Facebook data was blocked within hours of the app's launch on Thursday.
The third example is Voxer, a walkie-talkie-like voice-messaging app. According to TechCrunch, it also got the boot from Facebook late last week. Just like Vine, Facebook blocked the app's ability to find friends via a user's Facebook network.
Why block the data?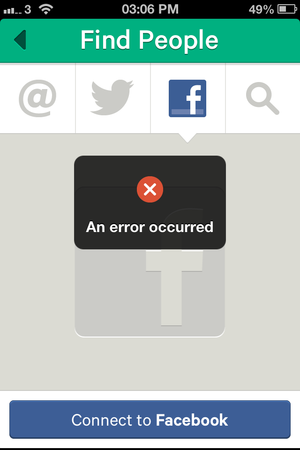 Facebook is not keen to talk about the specifics of why it has revoked access to its data from these apps. Instead, a company spokesperson pointed me to the company's platform policy about competing social networks, which reads: "(a) You may not use Facebook Platform to export user data into a competing social network without our permission; (b) Apps on Facebook may not integrate, link to, promote, distribute, or redirect to any app on any other competing social network."
Arguably, Facebook could have a point here. Twitter's Vine app lets you post videos to Twitter and Facebook, but it also acts as a standalone social network. Similar to Facebook-owned Instagram, Vine lets you follow users and view posts that are outside your Facebook friend list.
In the case of Voxer, the app could be seen as a competitor to Facebook's Messenger app—especially now that Messenger offers free voice-call capabilities.
In Wonder's case, the app uses data from social networks other than Facebook, but it also acts as a recommendation engine driven in part by Facebook data. Facebook could certainly consider the app to be a threat to its recently announced Graph Search feature.
Facebook's gain is the user's loss
Facebook is looking after its own interests by blocking would-be competitors, but the real losers in this debacle are the users. The usability of each app takes a hit, too, in varying degrees.
For apps like Vine or Voxer, you lose the ability to easily find which of your Facebook friends use the app. That's more of an annoyance than a deal-breaker, as it makes it more time-consuming to find who you know when you first install the app.
The data-block could be much more severe for Wonder. The app uses Facebook user data as an integral part of the service, so it's still unclear where Facebook's block will lead.
In the long run, this also poses a bigger question: Does Facebook own the right to your friend list? And should Facebook be allowed to block apps when you specifically allow those apps to use your data from the social network?