It's been a long time since anyone got excited about the Flickr app for iPhone. Its longevity, its association with a tired, clunky website, its inherent weaknesses and limitations, and the rise of powerful competitors heavily depressed its initial "wow" factor. It did not help that the free iOS program languished for years under Yahoo's neglect.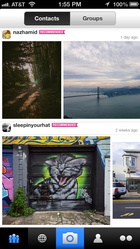 With new management shaking the Yahoo foundations, the company recently released Version 2 of Flickr for the iPhone, and suddenly—almost miraculously—Flickr was once again cool. And for good reason. A refreshed, modernized interface optimized for the iPhone 5 has reset the focus on good, old Flickr just as the public expressed deep skepticism about its more recent and newly Facebooked darling, Instagram.
The new Flickr, for the very most part, is a delight, and it's on its way toward fulfilling its long-ago promise to let users integrate, access, and share their photos between nearly all platforms. The renewed push toward sharing and, to a lesser extent, creative effects is Flickr 2.0's opportunity to advance the old and introduce the new. At the same time, Flickr continues to cater to its loyal following. With this new release, Flickr is sure to attract an army of new adherents.
Overall, I was impressed. Flickr 2.0 is quick, efficient, and intuitive. But it comes with drawbacks: it still has some quirks and glitches, it is not a universal app for the iPad (you have to work in 2X mode on the tablet), it's not video friendly, and it otherwise does not stun with unique new features.
Interface overhaul
Flickr on the iPhone opens to a pane with two tabs—Contacts and Groups—the first of a set of five controls at the bottom of the portrait-oriented screen.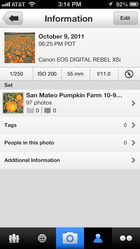 The Contacts tab offers one horizontal line of photos for each person in your contacts, which you can swipe sideways to view. Swipe up to reveal new contacts and sideways again to view their images. The pictures are revealed in different sizes imparting an interesting, collage-like look to the screen. If you didn't spend a lot of time making friends on Flickr in its last incarnation, the app immediately recommends new contacts and groups.
Social networking is, of course, built into every shot. As you swipe through the images, you can tap the star to indicate a favorite, and comment. But you don't have to star something as a favorite to comment, as a thought bubble icon also lets you leave a message. A Share button lets you place that photo on Facebook, Twitter, or Tumblr, or simply email it. Tap the photo again to see it against a black background or view it as part of a slideshow, which you can view in landscape orientation. Another tap lets you see the photo's annotations, such as the name of the group, the photographer, and how many have set it as a favorite.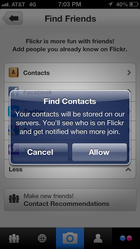 An info button at the top right gives you metadata from the original photo as well as its licensing and privacy specs, though what you see for contact photos depends on the photographer, and thus may vary.
For your own images, there's a space to add information like tags and the names of people in the shot. You can perform the same operations on uploaded video as you can on still shots.
The new version of Flickr emphasizes sharing, but it taught me that there is such a thing as oversharing: the app made it all too easy to connect to every Flickr member in your address book, even if you marked just one person.
Conversely, I was surprised that Flickr 2.0 did not automatically hook into my email contacts, as I had to type out my entire email address in order to send myself an image. However, when that image comes through, it links directly to the photographer's photostream, so that you can pick the size of the image you want to save.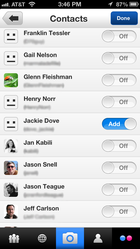 The second icon, a Globe, takes you to another tab duo—Interesting and Nearby, which uses the iPhone's GPS function. Under most circumstances, Interesting is the better set photographically, but Nearby lets you see what people are shooting in your neighborhood. If there's an event in your city, for example, you may be able to tap into it directly from Flickr as opposed to looking at the limited online photos and videos from your local newspaper's website.
The person icon (which still has that Microsoft look of the old Flickr) contains everything pertaining to your account: photo sets, groups you belong to, favorites, photos of specific people, and contacts. While you can view images and video you've uploaded from your computer or from your iPhone, you can't share images directly from Flickr's camera to the iPhone's camera roll. You can, however, access the camera roll from the shooting pane and bring images into Flickr for editing. Once you import an image, you can work with it in the same way as any other Flickr image.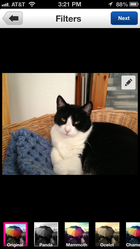 Shooting pictures
Flickr is not only a photo storing and sharing service; It is also in many ways a new camera app with flexible shooting and photo editing functionality. Everyone's buzzing (sometimes disparagingly) about Flickr's new Instagram-like filters. I'm not a huge filter fan, but I'm not offended by their presence in Flickr. If you never want to use them, you can turn them off in the preferences. That said, there's nothing special about these particular filters, unfortunately—unlike Alien Skin's Alt Photo filters, which I'm quite fond of.
Hitting the Next button at the top sends you to a pane where you can annotate the photo, add a title and a description, set permissions, and determine where you will share the image. Right now, Facebook, Twitter, Tumblr, and email are built in. An Add Venue button brings up a Google map whose location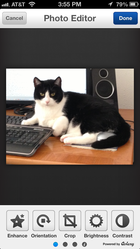 services call up nearby neighborhoods or business services in the vicinity. You can choose any of these to attach to your picture. An Advanced tab offers more choices, such as adding your photo to sets and groups, identifying people, adding tags, safety levels, and location privacy. The fifth button, called More, contains functions such as Search, Find Friends, Settings and more, each with additional preferences.
You can change your mind about any of these items at any point. An Info button at the top of a photo turns into an Edit button when you access the image, and from there you can add or remove information, change permissions for that photo, and so forth.
Shooting pictures is a breeze. There are a very limited number of in-camera shooting features, but you can adjust the zoom, composition, focus, and flash, and use either the iPhone's front or rear camera—which are all major features. There are numerous easy-to-use editing options, such as enhance, sharpen, adjust white balance, crop, straighten, adjust brightness and contrast, remove red eye, add text, and even cover facial imperfections.
If you have it enabled in the settings, you can also swap between Flickr and your camera roll so that images shot and uploaded with the Flickr app on your phone also appear in the camera roll and are available for editing or sharing.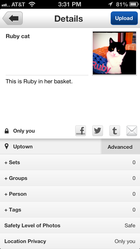 Bottom line
There is much to admire about the Flickr 2.0 makeover, and previous users will no doubt rejoice over its fresh new look. However, there are still glitches, interface eccentricities, and missing components.
One big disappointment is that Flickr, for all intents and purposes, is for the iPhone only. While the app works on the iPad in iPhone format, it is not full-size on the tablet. At this point in iOS history, not having a native iPad version makes no sense, especially when it comes to editing and viewing photos.
Further, having the app work with still shots only is bound to irritate people who got accustomed to using Flickr with both photos and videos.
Flickr 2.0 for iPhone is a respectable update that offers a range of new features and excellent performance without overwhelming users with a learning curve. It's not long on innovation, but catches up to some other apps that have been around for awhile. Now Yahoo needs to turn its attention to improving the Flickr website to make the service really shine.