I never meant to ditch Flickr for Instagram. From some time in 2005 until a year or so after the iPhone got a truly decent camera, Flickr was where I shared photos. (Remember, not so long ago, it was preferable to own a completely separate device for taking pictures, and yet another for videos! What a crazy time that was.)
Over the next few years, I fell in love with Flickr's community, where my friends didn't mind that I shared 17 photos of the same thing from slightly different angles, and where I could join a group focused on mid-century architecture as a mere spectator.
Flickr, buoyed by its kaleidoscopic tribes, continues to be a great resource for hosting and discovering photos. But until a major update to its iOS app six weeks ago, I had let my Pro account lapse and had all but stopped sharing photos there. Though the decline was steady, I can pinpoint Flickr's displacement by Instagram as my photo-sharing app-of-choice to June 2011.
Flickers of life
The reason for that displacement is simple and a little sad: Flickr stagnated while iOS-based photo-sharing startups flourished. The basic design of the Flickr website, with its annoying lightbox interface and aggravating navigation, hasn't changed in years. Not many of the service's other essential features have changed in years, beyond a few sparse offerings in 2008-09, including support for short videos and unlimited uploads for Pro users. Given the quality of Flickr's user base, the service may well have remained tolerable, were it not for the arrival of other major innovations on the photo-sharing scene.
But Flickr's loss of momentum coincided with the rise of the iPhone, and Flickr's long-running failure to make a great mobile app contributed to the slow and quiet exodus of many longtime users. The company's first iOS app, released nearly two years after the iPhone's debut, went from exciting to disappointing in about five minutes, proving unstable and annoying to use. And just as the best camera is the one you have with you, the best photo-sharing app is the one that's the easiest and most fun to use on your phone.
Of the many apps/sites/platforms that could've usurped Flickr's dominance in my life, why did Instagram win my attention? Well, I have daily access to two perennial Internet staples—a baby and a cat—so it follows that I need to share photos of them frequently, and as conveniently as possible.
Insta-grabbed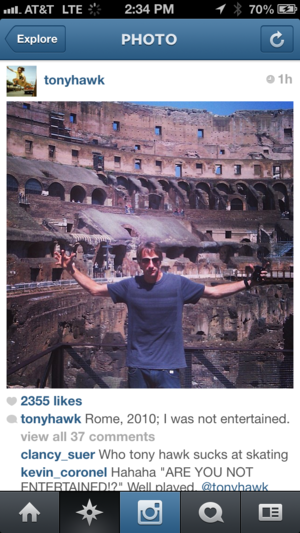 I'd say I have an eye for design (I am, after all, a designer) but only a passing interest in photography. Though Instagram was goofy in its early days—remember that big, bubbly center tab for the camera? And how you couldn't turn off photo borders? And how awkward the UI for applying filters was?—it did what the Flickr iOS app introduced in 2009 failed to do: It made editing, posting, and viewing photos quick and fun. Plus, my friends started using it—and not just my Flickr and Twitter friends, either. I mean, my real-world, Facebook-ing, I-just-got-an-iPhone-what-apps-should-I-get friends started using it, too. And that was huge.
In fact, the easiest way to get a feel for the intrinsic difference between the Flickr and Instagram communities-at-large is to hit the "Explore" tab in either app. On Flickr, you'll see mind-blowingly beautiful shots lovingly edited. On Instagram, you'll see Justin Bieber and asinine quotes via screen shots from iPhone's Notes app. Flickr has evolved into personal photo curation; Instagram is the detritus of the masses.
Like most people who've used it, I'm really impressed with the new, completely-overhauled Flickr app released in December. It's beautiful and responsive and handles the inherent complexity of the Flickr website with elegance and ingenuity. With Instagram's Facebook acquisition, recent TOS kerfuffle, and continuing outright creepiness, I thought perhaps the time had come to make the switch back to Flickr, as a lot of my friends are doing. But after using the new Flickr app for a few days, I found that, even with all of its beauty and attention to detail, it really just isn't great for doing what I want to do, which is view photos.
A tale of two home tabs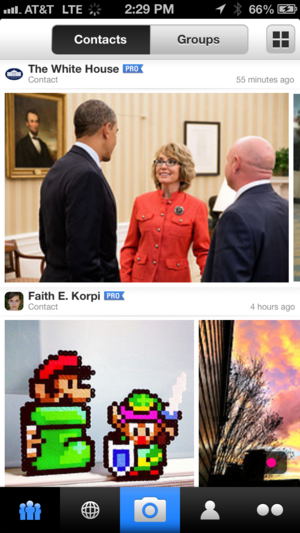 I could discuss the delightful interface of the new Flickr app at length, but I'll focus on what, for me, is the emphasis: the main Stream tab. Now, this view is thoughtful and well-organized: The navigation bar contains a Contacts/Groups segmented button, and a View button that lets me toggle between recent posts arranged by day or by user. (Contrast that with the navigation bar in Instagram's "Feed" view: 88 pixels of wasted space, it holds the name of the app and a refresh button. The entire thing could be replaced by implementing pull-to-refresh.)
So at first blush, Flickr's approach is great. But: The photos are tiny! And blurry. Yes, in the main view of an app built around a solid, photo-sharing service that's been around for nearly a decade, the photos are small and poorly compressed. And though the "by user" mode is very clever, in that I can scroll horizontally to see more of an individual contact's photos, a ton of vertical viewing space is wasted by showing too many rows of contacts at once. I concede that viewing photos on such a small screen has to be a compromise, no matter how well an app is designed. But to see a photo in an optimized-for-iPhone state using the Flickr app, I have to tap through. Twice. Here, for better and for worse, the app accurately distills the Flickr desktop experience. Contrasted with Instagram, the Flickr app's feed view feels awkward and clumsy, despite its initial appearance of grace.
Of course, Instagram's interface is a bit homelier, and limited: You get one crop (square) and one group (all of your contacts), with no way to make sets or view your stats (beyond "News" and on a per-photo basis), or batch-upload several photos at once. But when it comes down to it, Instagram is just better for actually sharing photos with my friends.
Like Twitter, Instagram has become something I check frequently, while waiting in line or taking a work break. I post about one photo per day, but mostly I view and comment on my friends' photos. Despite Flickr's influx of returning, disgruntled Instagram-ers and my own earnest attempts to rekindle my account, after six weeks, the Flickr app hasn't come close to replacing Instagram for me, and it's largely because, using the Flickr app, viewing and commenting on my friends' photos is a pain (though the uploading and editing experience is superior to Instagram's). Instagram is where my photos get "likes" and comments. And it's still, for the most part, where my friends are. For now.
Anyway, check out my Vine! I just posted the CUTEST scene of my baby and/or cat.