Comic book artists have long depended on Smith Micro's Manga software to draw, lay out, illustrate, and publish Japanese-style manga comics and similar artwork. Manga Studio 5, a new upgrade, promises an even greater degree of creativity and functionality.
Users can scan existing artwork or they can draw from scratch using a mouse or (preferably) a pen and tablet. Manga Studio 5's screen tones enable users to add styles and effects to their projects and create backgrounds with the pattern brush. Artists can customize projects with the program's large collection of special effects.
Manga Studio 5 is a 64-bit application with multi-core CPU support, which means it can handle high-definition and multi-layered art projects more smoothly than previous versions. Its interface overhaul and new graphics engine lets artists draw and paint more naturally, the company says.
A new, customizeable interface lets artists set up a personal workflow that best fits their projects. Users can set their own brush shapes, canvas textures, and paint expressions, and save them as personal settings.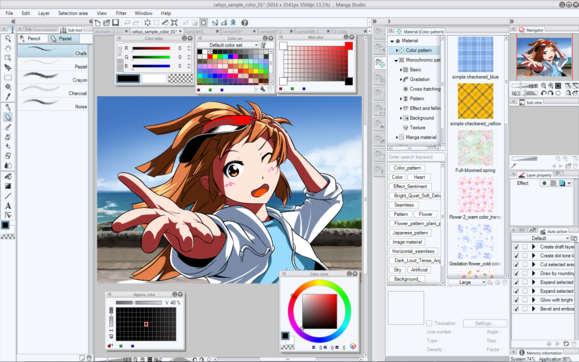 With this new version, and for the first time, users can incorporate color into their projects, so they no longer need to rely on other drawing and painting programs to professionally color their work. Within Manga Studio 5, you can choose from an assortment of preset colors or create custom colors and color sets. Users can quickly switch back and forth between colors or blend them. The update also sports new vector, vector-snapping, and antialiasing tools.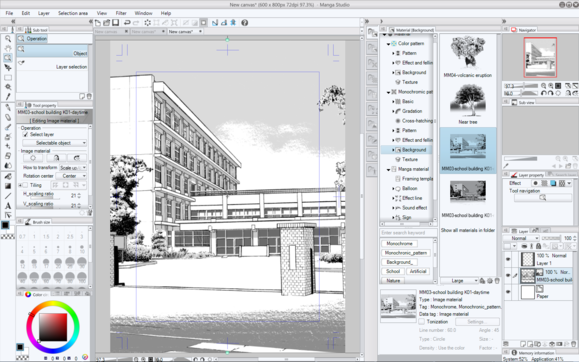 A new dedicated air brush facilitates multiple effects. The tone brush creates a wide array of visual effects, and it's easy to create and share brush patterns.
While the program is 2D, new support for 3D objects lets users manipulate 3D figures and objects directly on the screen, use preset poses, or drag and drop 3D objects onto the canvas.
Manga Studio is $80; upgrades from the previous version are $50. A free trial version will be available soon. Manga Studio 5 runs on both Mac and Windows. Mac users need at least an Intel Core 2 Duo running OS X 10.6, 10.7, or 10.8. Windows users need a 2GHz Intel Pentium 4 or equivalent running XP, Vista, 7, or 8.
To mark this launch, Smith Micro is offering a limited edition Axe Cop image created by Manga Studio artist and Axe Cop creator, Ethan Nicolle. You can enter an online contest for a chance to win one of 25 signed copies of the print or a Wacom Cintiq tablet. Visit the Manga Studio 5 Launch Sweepstakes contest page for details. The contest will run February 1 through February 28, 2013, and is open to anyone in the United States, with no purchase required.