For more than two decades, Mindwrap has been in the business of organizing and sorting documents for big corporations and other businesses buried in paperwork. With its newest product— FiledRight, which is on display this week at Macworld/iWorld—the company is taking aim at smaller businesses with a new Mac app to help them digitize their records.
Thom Vagt, Mindwrap's vice president of sales said FiledRight is aimed mostly at law firms with five to 25 employees—outfits where the lead attorney may also act as the de facto IT administrator. "These guys deal with tens of thousands of pages of documents," he said, but small organizations often rely on their own ad hoc sense of organization to keep those documents straight.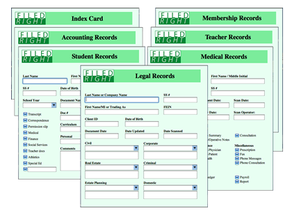 With FiledRight, users can scan in their legal documents, and with a few button presses, digitize and organize that paperwork according to client, case number, type of document, and so forth—making each document easy to find and examine during later queries. The documents themselves are saved as either TIFFs or PDFs, and can even be organized using "smart versioning" if multiple editions of the same document are stored in the system. Though aimed at the legal profession, Vagt said, FiledRight is also adaptable for medical, educational, and other uses.
The full FiledRight package includes a server application, admin utility, and two hours of tech support during installation—with prices starting at $2,000 for a five-user license. (Scanners are sold separately.) Mindwrap's products aimed at larger organizations, Vagt said, usually start in the $25,000 range. "There's been enormous interest in this type of technology," for smaller organizations, he said, "but it has to be affordable.