If you're outdoors with your iPhone, a gorgeous bright, sunny day can turn into a trying challenge if you want to shoot photos or video. Often the sun is not only in your eyes, but worse, obscures your view of the screen. A washed-out view is no fun, but Sig Innovations' Daylight Viewfinder ($30) offers a quick remedy.
Daylight Viewfinder, a small device that sits on the iPhone screen, both blocks the rays and facilitates touch controls for photo and video capture.
Yes, it's another iPhone photography gadget. But it's a supremely useful one that actually solves a problem nearly everyone encounters.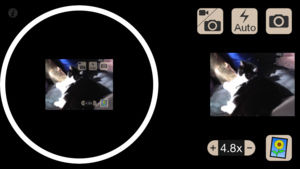 The device works with a free iPhone app—of course. After you download and launch the app (or tell Siri to do it for you), it tells you exactly where to place the eyepiece and gives you a simple interface to guide shooting both stills and video, and for reviewing your shots.
Don't worry about the eyepiece scratching the surface of your phone. Its suction ring is gentle on the glass. It also works with any protective coating you may have placed over the glass.
When you have the eyepiece secured, extend it and use it to view your scene. Slide the lens in or out to adjust the device to your eyesight. The viewfinder shrinks the image down to a size that fits under the viewfinder, but it also magnifies and focuses the image while blocking out the light. The product takes advantage of the high resolution of the Retina display to give you a good visual of your scene.
In either Photo or Video mode, you operate the camera by a drag-and-lift motion. Wherever you touch your finger on the screen, you see a round touch indicator through the eyepiece. Drag your finger onto any of the controls you see, and lift your finger to activate that control. A focus region lets you pinch to zoom or touch to refocus. You never have to remove your eye from the eyepiece. It works in portrait or landscape orientation.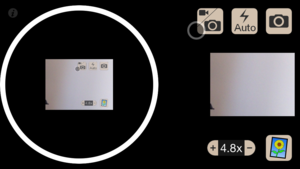 Daylight Viewfinder works with the iPhone 4, 4S, and 5, the 4th and 5th generation iPod touch, and the 3rd and 4th generation iPad. Small and light, the viewfinder—which has its own carrying case—slips right into your pocket.
Check this out at the show in iPhoneography Lounge on the second floor of Moscone Center.