A gang of artists at Macworld/iWorld's ArtRage booth have been putting on a display with the demo version of the soon-to-be-released ArtRage 4. The updated painting program is getting a sneak peek at this week's show.
In some ways, the new features in ArtRage 4 allow the program to catch up to some of the more advanced tools of Painter and Photoshop. Others improvements are unique to ArtRage, promising to make the application even easier to use. Overall, the interface has been restructured and tweaked to improve workflow and clarity.
The new Paint Symmetry feature offers on-canvas mirroring that automatically applies reflected strokes as you paint, much like the latest version of Painter. You can set different axes and paint live with multiple axes.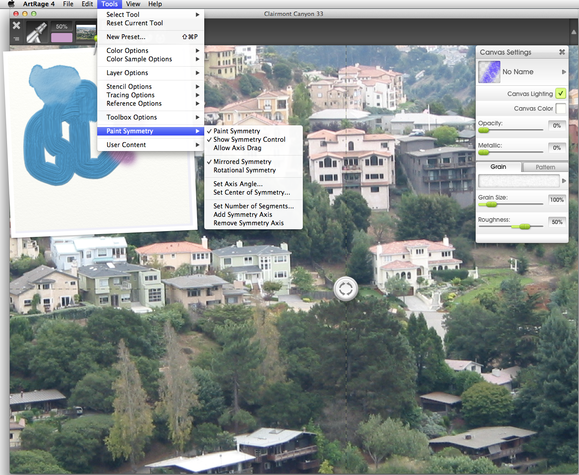 ArtRage's new Toolbox lets you gather together colors, presets, and other items related to the painting you're working on into a single interface panel.
Canvas Views give you floating references that display close-up views of part or all of your canvas while you work. The Scraps feature—reminiscent of many drawing and painting programs—lets you paint on independent, floating scraps of canvas. These work like mixing palettes or test sheets that you can experiment with before actually commiting to a stroke.
The Workbench lets you collapse the entire interface into a single toolbar with customizable space for items you are working with now. A new Clone Tool—familiar to Photoshop users and standard on many painting programs—lets you clone paint with all of its properties across the canvas and throughout multiple layers. New Fill Tool modes allow the creation of gradations and tiled pattern fills.
The upgrade also offers incremental backups, stylus property control, perspective transforms, and more.
Catch an ArtRage demo while you still can on the second floor of Moscone Center West near the iPhoneography Lounge and the Live Stage. ArtRage 4 is expected to arrive later this month.