The MyFC PowerTrekk is a novel accessory for powering your iPhone. Just add water.
The company's booth on the Macworld/iWorld show floor was one of a very few where visitors could expect a science lesson along with the product demonstration. The product in question? It's for charging your iPhone or other USB-connecting device, with a special focus on clean technology: hydrogen fuel cells.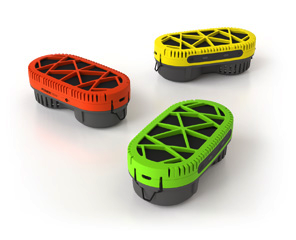 The approximately $200 charging unit, available in green, yellow, and orange versions, uses a disposable power pack on one side; on the other side, you add about a tablespoon of water. As the water runs through the material inside the power pack, the H2O breaks down into its component parts: hydrogen and oxygen. The hydrogen is what's needed for the MyFC to generate power—enough power, the company says, to charge up an empty iPhone twice. The charger can output five watts.
You get three power packs when you buy the PowerTrekk; each is one-time-use only. You can pick up additional three-packs for $10.