One of the booths I was eager to see at this year's Macworld/iWorld was that of a company I'd never heard of and a product I'd never seen. I first learned of Starfish from the company's advertisement in the current issue of Macworld magazine; that ad touts: "The next biggest thing is the next smallest thing: The world's first ever interactive iPhone and iPad mirroring device on your wrist."
Depicted in the ad is a square-shaped wristwatch with a blue band; the screen displays an incoming iOS phone call, with the familiar Decline and Answer buttons.
It was certainly an eye-catching ad. But it also raised more than a few questions.
Namely, how could the device mirror an iOS screen? Did it work via Apple's own AirPlay mirroring? I know of a few Mac apps (such as Reflector) that can pull that off, and I know that the Apple TV can do it, but how could one possibly fit AirPlay video capabilities into a watch form-factor? And wouldn't AirPlay require an omnipresent Wi-Fi connection between your iOS device and the watch?
What's more, the photo in the advertisement appears to defy my own understanding of how such a wristwatch could work: The interface is clearly not just scaled but resized to fit the watch's square display; it doesn't match the aspect ratio of either the iPhone 5's display or that of earlier iPhone models—it looks closer to the sixth-generation iPod nano than anything else. And assuming the AirPlay connection did work and the interface could be resized as shown in the ad, how could the watch be interactive?
I wanted to believe, to understand. So I went to see the device in person on the Macworld/iWorld show floor last week. The visit didn't produce many answers; instead, I just wound up with even more questions.
This booth ain't made for talkin'
On Thursday morning when the show floor opened, Starfish's booth was completely empty—no product, no marketing materials, not even any people. That's rarely a good sign. Empty booths are not uncommon toward the end of the show, as one-person development teams decide they've spent enough time at trade shows and need to get back to programming. But this is the first time I can recall seeing an empty booth as Macworld/iWorld opened its doors.
Come Friday, various permutations of representatives appeared at the booth intermittently. The folks who staffed the booth—and occasionally abandoned it—told visitors, including Macworld editors, that the watches were on a truck headed toward Moscone West and Macworld/iWorld, and that a demo unit would be available at the show on Saturday. I asked how the thing worked, and was told that I could talk to the company's CEO about that on Saturday.
Saturday arrived, but the watch didn't, at least not at first. After hourly promises of its imminent arrival, a single prototype of the Starfish watch appeared sometime before 1 p.m.
My colleague Dan Moren got to the booth before I did, and the Starfish device wasn't working then. It had apparently worked, briefly, in some sense of the word "worked," when a reporter for TUAW visited the booth. Megan Lavey-Heaton wrote "[t]he prototype that I saw today didn't do that much; it just accepts incoming calls." The company's CEO, Jason Buzi, told Lavey-Heaton that a Kickstarter campaign for the watch, originally scheduled for last fall, would kick off soon, and that the watch would cost $169.
My colleague Dan Moren visited the booth again and met Buzi. When Moren asked to see the watch, Buzi walked back to the prototype—which he described as "primitive"—pushed a button on it, left it where it was, and returned to Moren at the booth without offering any further information.
Moren told me that Buzi's interactions with other booth visitors seemed equally strange. "He seemed totally unengaged with other customers," Moren said. "He'd stare over their heads and answer monosyllabically."
By the time I got back to the booth, Buzi was gone, and the watch was dead.
On my watch list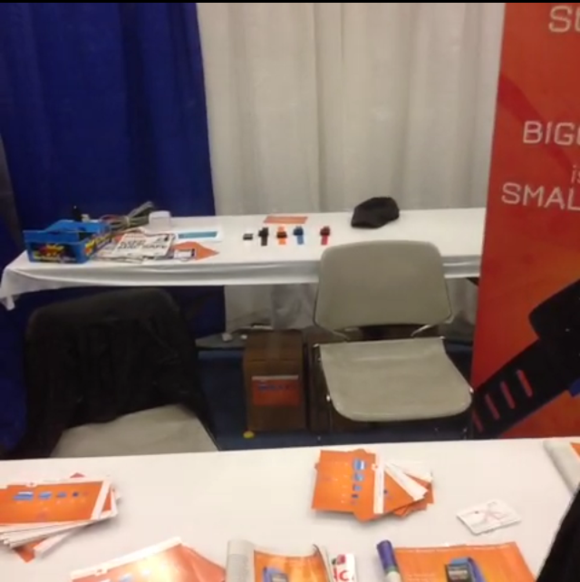 The sole representative at the booth when I returned wouldn't give his name. What information he did give me didn't mesh with what Buzi had told TUAW. The rep told me, repeatedly, that the product had already been funded on Kickstarter. At the time, we couldn't find any record of it on the crowdfunding site—and no surprise, since the company's CEO later confirmed to Macworld that that information was incorrect.
That rep also claimed that the watch would start shipping in two weeks. And he told me that the watch would get 24 hours of battery life. But he couldn't answer my questions about how it worked, how it resized mirrored screen displays to fit its aspect ratio, how it handled touch input, what sort of connections it required, or any other technical details.
"What do you do for the company?" I asked.
"I watch the booth for my friend, the CEO, who asked me to," he responded.
"Will the CEO be back at the booth to answer questions later?" I asked.
"He'll be back when the show floor is closing," was the response.
I returned to the booth a couple hours later, with a few minutes left before the show floor would close. The same rep remained. He indicated that, in fact, Buzi wouldn't be coming back at all.
"Why did he send you to man the booth if you can't answer questions about the watch?" I asked the rep.
"I'm done talking to you," he said, as he moved to position himself directly in front of my face. His expression had gone from brusque to combative. "Did you hear me? I'm done talking to you."
My accompanying colleagues and I took the unsubtle hint. We left the booth.
Feature lust
Buzi's own reputation isn't buoyed by press reports of his involvement in a real estate dispute in Northern California. Nor does it help that an ardent defender of Starfish, who joined in a Twitter conversation I was having about the company, failed to disclose that he's also friends—at least on Facebook—with the CEO.
"I can tell you a lot more about building houses than I can about building watches," Buzi told me when I eventually reached him by phone this week.
During that phone interview, he acknowledged that the watch isn't actually designed or built by him or his company. Rather, he's starting from an Android-based watch from a Chinese equipment manufacturer which he hopes to customize via software. "We're working with a couple manufacturers in China, and then customizing it to make our own unique watch," he said. On his public Facebook page, Buzi posted late Friday: "Good news: The prototype is here. Bad news: No instructions included and the screen commands are mostly in Chinese. Looks like it would take a Chinese engineer to figure it out. Luckily that's exactly who I'm going to meet with now."
Buzi explained to me that he indeed did use a local San Francisco engineer who was able to tweak the Chinese watch's settings to get it to use English. But the watch that Buzi had shipped from China doesn't offer the Starfish's marquee feature: It's incapable of mirroring an iOS display.
Buzi claims that he showed Mashable a working prototype of a watch that does do AirPlay mirroring—though that prototype requires the use of a separate third piece of hardware, essentially a Wi-Fi base station that the phone and watch both connect to. There's the obvious downside to that prototype, which is the need to lug around a powered base station at all times. What's worse, though, is that connecting the watch and your iPhone to a portable shared Wi-Fi network would seem to effectively prevent your iPhone from accessing the Internet.
"What we focused on originally is AirPlay technology, mirroring technology," Buzi said. "Our initial proof of concept requires that piece of hardware. The plan for the actual watch is sort of to condense that [other hardware] onto the watch." When I asked Buzi about the Internet access issues that would inevitably arise, he stressed that he's not a technical guy—"my background is in real estate development"—and gave me the number of Bob Fullerton, whom he described as his "manufacturing liaison." Fullerton contacted me after this story was first published, to provide further information.
Fullerton—in direct opposition to what Buzi had told me—said that Starfish was abandoning its goal of offering AirPlay mirroring on the watch. "There are space and other technical constraints that make it impossible," along with licensing fees, he said. He also referenced the fact that fully mirroring an iPhone's display on a tiny watch face would offer a subpar user experience. "But," he added, "we will offer full mirroring for Android."
But even if the streaming works beautifully, Buzi acknowledged, "the limitation of that is that it's not interactive, so it's only one-way. We didn't realize how much demand there would be for more interactivity, so we kind of changed direction. We need to make it more interactive, because people want to do all these things with it and not just have it mirror, so it kind of evolved into basically a more interactive device."
The watch Buzi now hopes to make would offer both modes: a standalone mirroring option that isn't interactive, and a more traditional interface that could handle interactive touch. "The number one feature request is that people want to speak into the watch, so we want to add a microphone and speaker, too," he added.
"We want it to still be a mirroring device," Buzi said. "We haven't sold any yet, and we haven't taken anybody's money yet, but we want to be consistent with [what we said the watch could do]." He maintains that the entire iPhone screen will fit mirrored on the watch's display, despite the very different aspect ratios.
But it sounds like Buzi is realizing that offering such features may be somewhere between impossible and unmanageable. "The mirroring technology that we developed requires that separate box, and it doesn't have interactive features, and people really want interactive."
To explain his understaffed booth, Buzi described himself as feeling "dispirited and depressed" when the nonfunctional prototype watch arrived from China, after shipping delays and customs problems with the package, which he says related to the watch's lithium ion battery. "I wasn't as available as I should have been" he said about his presence on the show floor. He tried to train his friends on the answers to what he anticipated as the most common questions, and attributes the misinformation that reporters and customers may have received to his friends' misunderstandings.
Buzi says the watches aren't shipping any time soon; the plan is to try to get on Kickstarter in the near future, but the broken prototypes will likely delay that attempt.
Whither Starfish
Renting booth space for a nonexistent product takes a certain degree of gumption, optimism, and, of course, cash. Buzi's company isn't the first to possess all three, but his is the first booth at Macworld/iWorld in recent memory with nothing in the way of concrete products to show.
Perhaps the real surprise is that wantrepreneurs aren't a more regular occurrence at expos like Macworld/iWorld. It's easier than ever to come up with and publicize an idea on the Internet, but it's as hard as ever to turn an idea—particularly a hardware-based idea—from a concept into a reality.
It's possible that Buzi can indeed take an OEM watch and enhance it with all the features Starfish has promised. My guess, however, is that he—and any potential Kickstarter backers—will find themselves disappointed by what the company finds it's actually able to do. As Buzi stressed to me repeatedly, he lacks the technical expertise one might expect for the person behind a company like his.
Still, the nonexistent watch did score some positive press: The Examiner expressed surprise that the Starfish wasn't given a "best of show" award.
The lesson here, for entrepreneurs, customers, and potential Kickstarter backers alike, is to exercise caution. Building products is hard. Building products with amazing feature sets is harder still. And, as the old saw says, if something looks too good to be true, it probably is.
Top image via Martin Reisch, safesolvent.com
Updated 12 p.m. ET with comments from Fullerton.
Updated 2:54 p.m. ET to clarify that Fullerton is not and was never a member of the Pebble smartwatch team.