This week's column looks at some common problems with iTunes, some quirks with iTunes Match, and explains how to update smart playlists, among other subjects.
Q: I have a number of smart playlists but, after a month or so, they get stale. Is there any way to get them to refresh periodically and automatically with all new songs that fit the playlist criteria?
I don't know of any way to do so automatically, but it's easy to do so manually. Just select all the tracks in a playlist—click one track, then press Command-A—and press the Delete key. They tracks will be removed from the playlist, and iTunes will repopulate it using the conditions you set for it.
However, perhaps you want to use live updating, so playlists change as you play them. If you select the Live updating option in the smart playlist window, iTunes will constantly update the playlist according to the tracks' metadata. You'd generally use this for playlists that have a "Plays" or "Last Played" condition; it doesn't work for metadata that doesn't change, such as artist, genre, and so on. For example, you might want to create a playlist of your favorite songs by a certain artist, or from a specific genre, but only those you haven't listened to in the past month.
The screen shot below shows a smart playlist of mine for music by Bob Dylan. I have lots of Dylan—all of his albums—and this playlist looks for tracks that I haven't listened to in the past three months. Every time a track is played, it gets removed from the playlist—because its Last Played date is now less than three months ago—and another track gets added.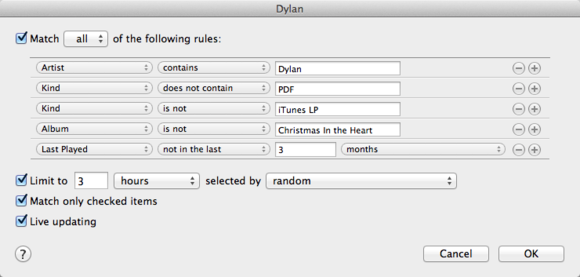 Q: Since upgrading to iTunes 11, I find that Plays and Last Played date don't change when I play songs. I've gone through the preferences, but can't find anything to change to make this work correctly. Do you have any ideas?
We've gotten lots of emails about this. Many users have encountered this problem, though it hasn't happened to me. This is especially annoying if you create smart playlists based on the Plays or Last Played date, as I explained above. I have to assume it's a bug, and hope it will be fixed soon. In any case, there are no settings or preferences to alter that affect this.
Q: I believe I used to see at the bottom of the iTunes window the number of songs and combined play time of all those songs, and now I don't. Is there a way to get this back?

What you're talking about is called the status bar. iTunes 11 turned off the status bar by default, but you can turn it on again by choosing View > Show Status Bar. This displays the total number of files, time, and size for the items displayed or, if you have selected one or more items, for the selection.
Q: My husband, my children, and I all use the same iTunes account. I have a me.com email address. I would like to know if it's possible to have a different password for my email so that I can keep my emails private.
Alas, no. While you could create an iTunes account with a different Apple ID, since you already have one, that would create problems when your children want to access the iTunes Store, update apps, and so on. This is one of the problems with Apple's ID system: You use your Apple ID for many things, from the iTunes Store, to purchases from Apple's online store, to your email and iCloud account.
The best thing you can do is change your password and not give the new one to your children, and enter it whenever they need to get something from the iTunes Store. That way they won't be able to access your email.
Q: I have a question about iTunes Match. Let's say I have a compilation or greatest hits album. When matching, does iTunes Match match the song on the compilation/greatest hits album, or on the album the song originally came from?
iTunes Match matches the song, but doesn't change your tags. So if you have a song on a greatest hits album, and the Album tag says so—such as Alvin and the Chipmunks' Greatest Hits—the song will be matched and will retain those tags.
However, you may notice that if you have two copies of a song—one from an original album and one on a greatest hits album—iTunes tells you that one of these is a duplicate, and won't be matched. The first one iTunes encounters will be matched, but the second won't. For this reason, you may find that certain songs are not in the cloud, even though most songs on an album have been matched. This makes it a bit of a bother to try and play an album, if not all of its songs are available in the cloud.
However, some greatest hits albums seem to match on their own as well. It's not very consistent. It also seems that iTunes Match is matching duplicates now, something it wasn't doing in the early days. So you may have some tracks that show as duplicates, but new matches might not specify when files are duplicates (in my recent tests, duplicates got matched).