Perhaps you are already an iOS master. Or maybe you consider yourself more of a novice. Either way, we feel confident that at least some of the tips and tricks for iOS 6 that we present below will be new to you. What's more, we hope you love them—and benefit from them—as much as we do.
Spread the word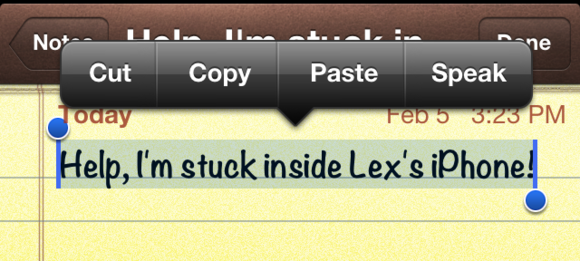 Your iPhone or iPad can read to you. Enabling the Speak option makes it possible for your iOS device to read aloud any selectable text. Launch the Settings app, tap on General, and then choose Accessibility. Scroll down to Speak Selection, and tap to turn it on.
Now, go into any app where you can highlight text. Your options include Mail, Safari, Notes, and many others. Select some text, and you'll see a new option appear in the contextual menu (you may have to tap the right arrow to view more options). Tap the Speak command, and your iOS device will start reading the text aloud.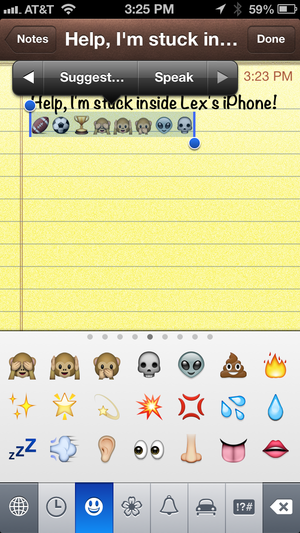 Enable the Emoji keyboard. Perhaps you've seen these iconographic symbols in emails, iMessages, and tweets, and wondered how the heck people managed to type them. Maybe you've mistakenly assumed that you need to purchase a third-party app to gain access to those special symbols.
You don't: Apple treats those symbols, called Emoji, as an international keyboard. Launch Settings, and tap General, International, Keyboards. Then tap Add New Keyboard and find Emoji. Now open an app where you can type some text.
Next to the spacebar, you'll see a little globe icon. Tap it to switch between your regular keyboard and the Emoji one, which contains many tabs full of different characters. Tap on those characters to insert them wherever you'd like. (If you have many international keyboards, tap and hold the globe to bring up a menu of all your options.)
Spoken Emoji. For real fun, type in a bunch of Emoji symbols, select them all, and then tap the Speak button. You'll hear the often-entertaining names of each symbol read in sequence.
A series of Siri tips
Use the "in transit" cue. Ask Siri to help you find an address with a couple extra words at the end, as in: "give me directions to San Francisco International Airport via transit." iOS will open up the Maps app and display the routing pane, which lets you choose which third-party app you'd like to supply your directions.
Attentive readers will know that Google Maps is included among these routing apps, which means that you can actually use this trick to get directions via Google Maps using Siri.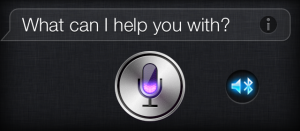 Siri audio output. If your car has a built-in speakerphone, or if you have a Bluetooth accessory that has a microphone and speakers, you can choose which one Siri listens to for commands. When you click and hold the iPhone's Home button, you'll see a speaker icon to the right of the main Siri button. Tap it, and you'll get a menu of all the various sound inputs your iPhone can use; select the one you want, and Siri will listen using that microphone and, if possible, give its feedback via those speakers.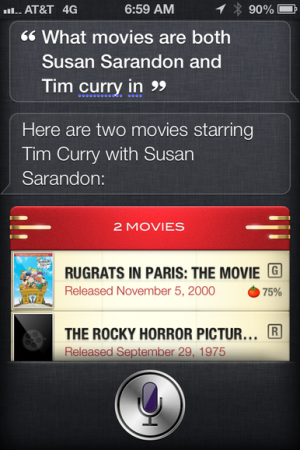 Your own private IMDb. You probably already know that you can use Siri to get information about what's playing at movie theaters near you. But Siri's also in expert in pretty much every motion picture ever made. That means you can ask questions about your favorite films, but you can also make Siri do more of the legwork for you when, say, you're curious about which films specific actors have appeared in together. You might ask, "What movies star both Susan Sarandon and Tim Curry?" And Siri will, in turn, reply with both The Rocky Horror Picture Show and Rugrats In Paris.
Get movie reviews. Not sure if a given movie is worth your time? Just ask Siri: "Is Rugrats In Paris any good?" Siri replies with a review from Rotten Tomatoes.
Editing Siri. Sometimes Siri doesn't understand you quite right. Maybe you told it to call your friend "Aaron" and it thought you said "Erin." Fortunately, you can fix Siri's mistake; after Siri reports that she doesn't know what you're talking about, scroll up and find the speech bubble where Siri records what it thinks you said. Then tap that bubble, and you'll find that you can now edit what Siri heard and resubmit your request.
If you don't want to bother typing out a long correction, you can also use iOS's built-in dictation feature to enter your corrected text. Just tap the microphone in the keyboard and speak your text aloud. We'll give you time to make your own Inception joke about using Siri to fix Siri.
Note: When you purchase something after clicking links in our articles, we may earn a small commission. Read our affiliate link policy for more details.