Siri can help you post to your favorite social network. If you use Facebook and/or Twitter, Siri offers a bunch of helpful options. You can say "Post to Facebook I love reading Lex and Dan's stuff at Macworld.com," or "Write on my Wall I love Siri," or even, "Post I'm an over-sharer to Facebook." With Twitter, you can say "Tweet I'm eating breakfast" or "Post I'm still eating breakfast to Twitter," along with other, similar variations.
Fun with Settings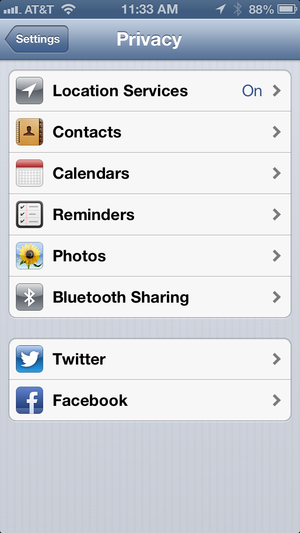 Privacy. You don't necessarily want your personal data accessible to every app that asks, and iOS is here to give you the kind of fine-grained control that you crave. Under the Privacy section of Settings you can not only adjust which apps have access to your location, but also prevent them from accessing your contacts, calendars, reminders, photos, and Bluetooth sharing. Plus, if you use Twitter or Facebook, you can decide which of your apps can log in with your credentials. Just tap the appropriate section for any of these and slide the switch for the selected app to Off.
Restrictions. Go to General and then to Restrictions. You'll be prompted to enter a passcode. You can then select which features you would like to lock down on your iOS device. If you're planning to hand the iPhone off to Junior, and Junior has a habit of unintentionally deleting your apps, you can specifically disable that capability from the Restrictions screen. You can also prevent access to the iTunes Store, the iBookstore, Safari, Camera, FaceTime, and more.
Guided Access. While we're talking about limiting what your iOS device can do, now's a good time to mention Guided Access, which you turn on under General > Accessibility. Once you've enabled the feature, go into any other app and triple-click the Home button. That enters Guided Access.
Now, if you want, you can black out certain regions of the current app's interface. Say, for example, that the game your kid will play has an omnipresent Settings button. You can trace a circle around that button, and that section of the app will ignore any taps. The other key feature of Guided Access is that it disables the Home button, so your kid won't accidentally quit the app prematurely. To exit an app in Guided Access mode, you triple-click the Home button again, and provide your passcode.
One added benefit of Guided Access is that it can serve as a better Do Not Disturb, since it silences banner notifications and alert sounds while enabled.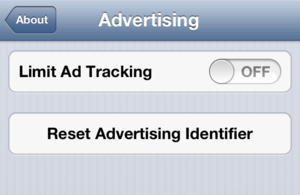 Limit advertiser tracking. If you're going to restrict your children's access, you might as well restrict what marketers can do too, right? Under General, tap on About, and then tap on Advertising way down at the bottom. On the screen that appears, you'll find two options. The first one, Limit Ad Tracking, provides an indicator to Internet advertisers that you don't want them to track which ads you've viewed and engaged with, so they can show you ads that they think may be better suited to you.
The second option on this screen is a button to reset your advertising identifier—a new creation of Apple's in iOS 6; it's meant to be an anonymized tracker that advertisers can use to recognize your interest when showing their ads in apps. Apple doesn't yet require that in-app ads use the identifier, but says that one day it will. If you start seeing in-app ads that seem to know you too well, you can reset your advertising identifier here to start from scratch.
Manage storage on your device. Maybe your iPhone won't let you snap another photo. Perhaps your iPad refuses to let you download one more app. Because iOS storage space isn't expandable, it's important to monitor what's gobbling up the available gigabytes on your device. Here's how. Go to General > Usage in Settings, and wait for a moment or three as iOS calculates which apps are using the most space.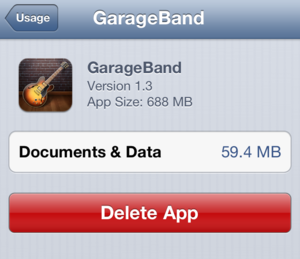 Often, Music and Photos & Camera are the two biggest offenders. If you use a service like iTunes Match, you can safely delete the Music cache on your device to free up space. If you sync your device with your Mac to back up photos and videos, you can delete those photos and videos, too.
Elsewhere on the list, you'll spot the apps you use, sorted with the most storage-intensive ones at the top. If you see apps that you rarely use but that take up a ton of space, tap on them in the list, and then tap Delete App to remove them in an instant.
Note: When you purchase something after clicking links in our articles, we may earn a small commission. Read our affiliate link policy for more details.