Manually manage iCloud backup space. While we're saving space, don't forget that you can control what iCloud stores for you in your online backup—especially if you're just using the free 5GB allotment that Apple offers. Find instructions here.
Picture perfect
Snap photos while shooting videos. You're using your iPhone 5 to film a magical moment, and you wish you could snap a photo at the same time. Don't stop recording! Just tap the camera button, which appears on-screen in addition to the shutter button as you film. You aren't using the iPhone's true photo sensor; you're getting the slightly less impressive video sensors instead, but the photos should still turn out pretty nicely. Note that this tip doesn't work on older iPhones.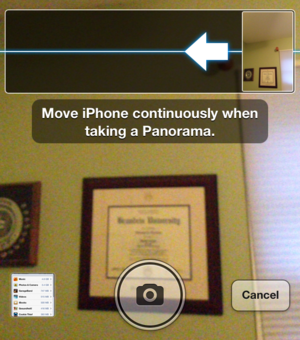 Reverse panorama. While we're sharing tips that work only with certain iPhones, here's one that matters just to folks with the iPhone 4S or newer—that is, iPhones that support taking panoramic photos. Normally, the Camera app prompts you to take those photos from left to right. To reverse that, tap once on the panorama guide to flip it to the opposite side of your screen.
In the Mail
Quickly add photos and videos to messages. Suppose you snapped the perfect panorama and want to email it to your friend. You needn't start from the Camera or Photos app. Instead, head over to the Mail app and start composing your new message. Tap once in a blank section of the message to bring up the contextual menu, and then tap on Insert Photo or Video. You'll get the familiar photo selecting screen.
Get back to drafts in a snap. Maybe you abandoned that message before you tapped to send it. You needn't navigate deep into the Mail app's mailbox hierarchy to find your Drafts folder. Rather, you can tap and hold on the New Message button to bring up a menu listing all your saved drafts.
Archiving messages. You probably already know that you can archive messages from your Gmail account on iOS. But you can also add an archive option for messages to your iCloud email address. To do so, navigate to Settings > Mail, Contacts, Calendar and tap on your iCloud account. Tap on the Account entry at the top, scroll down to the Advanced section, and tap on your email address; swipe down until you find the Archive Messages switch. Slide it to On, and then make sure to tap the Done button in the upper right corner twice to save the change.
Now, all instances of the Delete command in Mail will be replaced by an Archive button.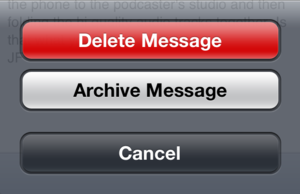 Deleting messages. If you do enable archiving as an option for your messages, that doesn't mean you're no longer able to delete messages outright from your iPhone or iPad. Just tap and hold on the Archive button, and you'll get a second option: Delete Message.
Surf's our turf
Quickly access your recent browsing history. In Mobile Safari, tap and hold on the Back button to see a list of your recently visited pages. On the iPad, tap and hold on the browser's New Tab Plus (+) button to get a list of recently closed tabs.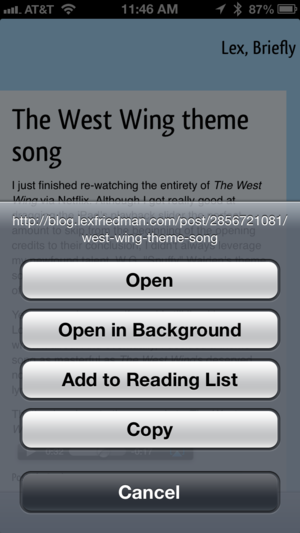 Open webpages in the background. Safari on the Mac makes it easy to open linked webpages in a new tab, so that you needn't interrupt what you're reading just because you also want to check out a few linked items. You get that same perk on iOS—though you need to enable it first. Visit Settings > Safari > Open Links and choose the In Background option. Now, tap and hold on links in Safari to choose to open them in the background instead.
Full screen mode. New in iOS 6 is an option to browse the Web in full-screen mode—at least when you're using your iPhone in landscape orientation. This frees up the pixels otherwise occupied by Safari's location bar and tab bar. Rotate your phone to landscape mode, and then press the full-screen double-arrows at the bottom right corner.
Stream of photo consciousness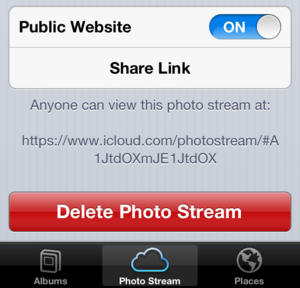 Shared Photo Streams. You probably already know about your own Photo Stream, which shares devices between your iOS devices and Macs. But if you want to share photos with your friends, family, or colleagues you can also create Shared Photo Streams.
To create such a stream, open Photos and tap on the Photo Stream button in the toolbar. In the upper left corner is a Plus (+) button; tap that and enter a name for your shared stream along with a list of people you'd like to invite. Photos can be added from your existing photo albums or Camera Roll by tapping on the Share button and selecting Photo Stream or by tapping Edit while viewing your shared stream and tapping the Add button that appears at the bottom. While the people you've shared the photo stream with can write comments on or "like" your photos, they cannot add their own photos to the stream.
Note: When you purchase something after clicking links in our articles, we may earn a small commission. Read our affiliate link policy for more details.