Public websites for Shared Photo Streams. One downside to Shared Photo Streams is that they're really accessible only to users on iOS devices running iOS 6 or later or on Macs running Mountain Lion. So if you want to share those photos with Mom, who's using an original iPad, or Dad, who's still using his PC laptop, you'll want, instead, to make your stream available via a public website.
You can do this when you create a Shared Photo Stream by tapping the Public Website slider; after you've made a stream, you can find that same option by tapping the blue arrow next to the Shared Photo Stream in the Photos app. An icloud.com link to the stream will be generated; be aware that it is public, so anyone who has the URL can access it, though it's not something that people are likely to stumble across. You can tap the Share Link button to send the link via email, an iMessage, or a Twitter or Facebook post, or just copy it to the clipboard.
Phones, texts, and such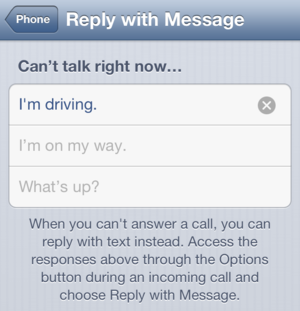 Customize iMessage auto-replies for rejected calls. Sometimes it's not the right time for a phone call; while you could just let calls you don't want to take go to voicemail, sometimes you want to explain why you're not picking up. iOS 6 lets you quickly respond to a call with a text message. Just swipe upward on the phone icon that appears next to the unlock slider and choose Reply with Message.
By default, you'll get three pre-canned options, along with a button that lets you enter a custom text. However, you can also customize those pre-canned messages under Settings > Phone > Reply with Message.
Create custom ringtones and alert tones in GarageBand. It's true, you can create custom ringtones for your iPhone—on your iPhone. Here's how.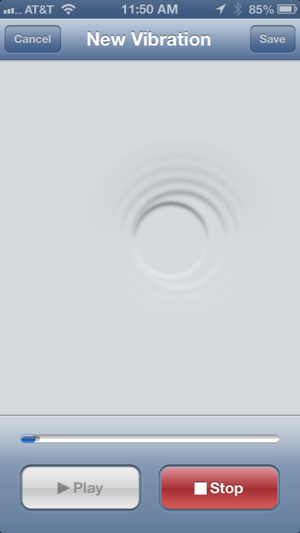 Custom vibrations for text and ringtones. Want to know who's calling you without ever taking your phone out of your pocket? Not only can you assign a custom ringtone or text tone to a contact, you can even give them a custom vibration pattern.
Open Phone or Contacts; select a contact, then tap the Edit button in the top right corner. Scroll down to find the ringtone field; below it is a vibration field. Tap that, and you'll see an assortment of built-in vibration patterns you can choose from. Further down, though, is the ability to add a custom pattern: Tap Create New Vibration, and you can just tap on the screen to create your own rhythm. When you're satisfied (tap the Play button to see what it will feel like), tap Save to set the pattern.
If that's not enough, go back to the contact record and also assign a custom vibration pattern for text messages.
But wait, there's more
Swipeable Map directions. We've all run into problems with iOS 6 Maps taking us places that we weren't sure we wanted to go to. But if you simply get directions for a route by tapping the Quick Route button in Maps, you can't always tell what route Maps has in mind.
If you'd like to get a preview of your route, tap your destination on the map and choose Directions to Here. Then, instead of using the Current Location option for your starting point, enter your address manually and tap Route. Once you've chosen your route and tapped Start, you'll be able to swipe through the instructions at the top and see exactly which turns Maps wants you to take. (It's the same way you got directions back in iOS 5.)
Location-based reminders for specific locations. If you want to be reminded to do something when you leave your home, work, current location, or any address in your address book, that's pretty easy to get with iOS's Reminders app. But what if you want to remember to buy something when you're at the grocery store or pharmacy? You probably don't want to add their locations in your address book just to get that feature.
Fortunately, you don't have to. When you create a reminder, tap on it and turn on Remind Me At a Location. By default, Reminders will populate your current address—tap that and you'll get a host of options, including, at the bottom, a text box to enter a custom address.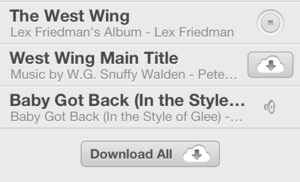 Download a single track from iTunes Match. As of iOS 6.1, Apple has once again restored the ability for iTunes Match users to download any individual track from the cloud onto your iOS device—just tap the cloud download icon next to the entry. In addition, if you decide you want to free up space on your device, you can delete a downloaded track by swiping your finger across it and tapping Delete.
Easier music controls over USB. Perhaps you've abandoned the notion of hooking your iPhone up in your car over USB, because you're so sick of the Accessory Connected screen that dominates the Music app in that setup. Good news! iOS 6.1 improved matters, and—finally—the Music app now remains accessible even when you've plugged your iPhone into a USB playthrough device that lacks the Made for iPhone distinction. It's a delight.
Note: When you purchase something after clicking links in our articles, we may earn a small commission. Read our affiliate link policy for more details.