Between Google Hangout video conferences for work, Skype videos and calls for podcasts, and FaceTime chats with family and friends, I use AV-chat apps several times each week. But I'm not always an active audio participant: I'm a heavy user of the Mute button in every one of those apps and services. Sometimes it's because I'm typing and I don't want the clickety-clack of my keyboard to be audible on a podcast recording or to others in a meeting. Other times the maintenance folks are performing the day's noisiest tasks at the same time as my chat, right outside my office window. And it's not uncommon for family members to come into my home office while I'm chatting or recording.
The problem with using so many different apps for chats and recordings is that each of those apps has a different way to mute the microphone. Which isn't a huge hassle, but it does mean that whenever I want to mute my mic, I need to stop and think about which app I'm using, and then remember where the mute control is. And if for some reason I use a different microphone-enabled app—for example, GarageBand for a podcast recording—I have to learn a new mic-mute control.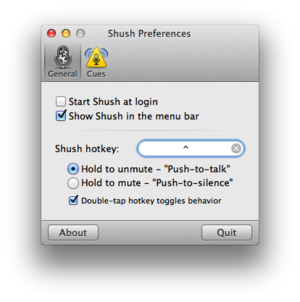 At least, that's how it used to be. But I recently started using Shush ($3; Mac App Store link), and muting is now much simpler. When Shush is running, I can mute and unmute my mic using a systemwide hotkey—no matter which app or service I'm using, the mute action is the same. (Hotkey choices are currently limited to modifier keys. I've chosen Shift+Control, but I'd like to be able to assign any key combination.)
By default, Shush mutes your microphone unless you press and hold your hotkey(s). In other words, Shush gives you a push-to-talk microphone. But you can reverse this behavior so that your mic is generally live; you hold down your keyboard shortcut only when you want to mute. A useful option lets you quickly double-press your shortcut to toggle mute without having to hold down any keys—this is the way I end up using Shush most of the time.

If you like, Shush can display an icon in the menu bar that displays the current microphone status: When your microphone is muted, you see a little X graphic, and when the microphone is unmuted, you see a little sound-wave graphic. There's also an option to play simple audio cues whenever you mute or unmute. I find these cues useful for confirming whichever action I've taken.
I tested Shush with a variety of apps and services, including FaceTime, iChat/Messages, Skype, GarageBand, and even Google Hangouts in both Safari and Chrome. In each instance, Shush worked as promised, letting me easily mute my USB microphone or webcam, or my Bluetooth headset, with a press of my shortcut. The developer claims Shush should work with any audio input—it mutes whichever audio source is selected as the current input device in the Sound pane of System Preferences. As long as an app uses OS X's standard audio APIs, Shush should be able to mute it.
I didn't expect to like Shush as much as I do. It's a handy little utility that I keep running whenever I'm using my Mac.
Want to stay up to date with the latest Gems? You can follow Mac Gems on Twitter.