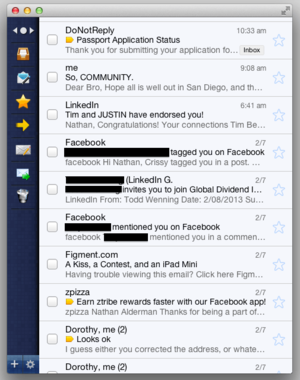 The only clunky thing about Email Pro for Gmail 2.1 ( Mac App Store only) is its name. This slender app provides a convenient way to get to your Gmail messages directly from your desktop.
Essentially a site-specific-browser, Email Pro leans on the mobile version of Gmail's website for its main interface, though you have the option to use Gmail's desktop layout instead. Though this Web-view approach can occasionally make retrieving mail slow, it also has several distinct advantages. Since you're using Gmail directly, rather than importing its mail into an app, you don't have to create an application-specific password, even if you've heightened your Gmail security settings. (Indeed, setting up Email Pro proved painless; after entering my Gmail username and password, I was off to the proverbial races.) And you can start working with your mail instantly, rather than waiting for a POP or IMAP client to download hundreds or thousands of messages.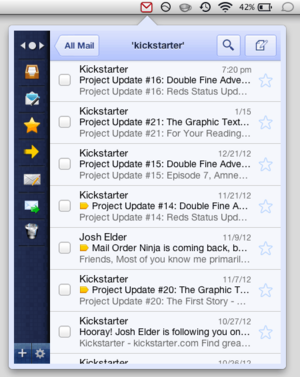 You can use Email Pro either in a standard window, as a more-convenient popover (accessed by clicking a systemwide menu-bar item), or as an app that replaces your desktop background and sits behind your other open windows. While I preferred the discreet functionality of the popover, the desktop option may prove preferable if you can't bear to be separated from your email for even an instant. It's also an option that many of Email Pro's rivals in the Gmail-front-end market lack.
Email Pro gets additional points for its friendly, colorful interface. While the icons that run down the left-hand toolbar may not be immediately comprehensible, the program includes explanatory help tags, which appear when you hover the pointer over interface elements, to quickly orient you. The search works just fine and dandy on both the desktop and popup mode.
Using those icons, you can navigate to the different Gmail-standard views of your mail, including drafts, important mail, and sent mail. Other buttons open the simple, well-crafted Preference window, with its iOS-style toggle switches, or spawn a new window, should you require multiple views of your mailboxes. An option in Email Pro's preferences lets you auto-hide the left-hand sidebar when it's not in use.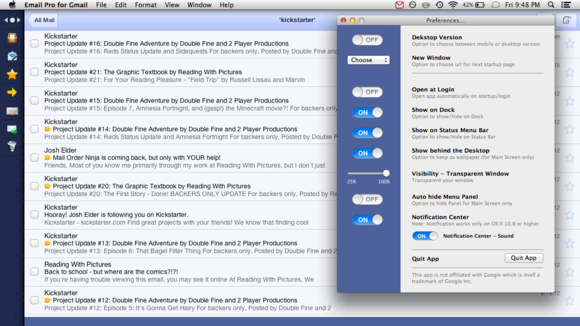 Email Pro isn't flawless. Though its main features worked fine, I couldn't get Gmail mobile's sketching feature to work, though this is admittedly not a dealbreaker. And its preference window, shown in the screenshot above, curiously misspells desktop.
Still, thanks to its solid interface and useful display-as-desktop feature, Email Pro is worth a look if you're a Gmail user.
Want to stay up to date with the latest Gems? You can follow Mac Gems on Twitter.