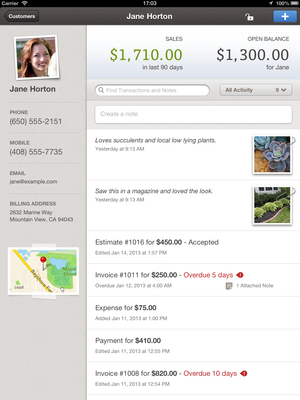 A vast majority of Intuit's new customers are using the company's services and software on mobile devices. With that in mind, Intuit's release on Thursday of QuickBooks Online for iPad seems like the sensible thing to do.
"Last year, our mobile base grew 300 percent," said Will Lynes, Intuit QuickBooks Online Senior Manager, during a demonstration. "Twenty-five percent of those customers are actually accessing our services on an iPad." Those iPad users, however, are using QuickBooks Mobile for iPhone. Switching to QuickBooks Online for iPad should give users a better tablet experience.
As the name implies, QuickBooks Online for iPad draws from QuickBooks Online, a service that launched in 2004 (Safari support for QuickBooks Online came in 2009). The main benefit of the iPad app is that it can work with the iPad's camera, use features such as notifications and location services, and provide an iPad-native interface.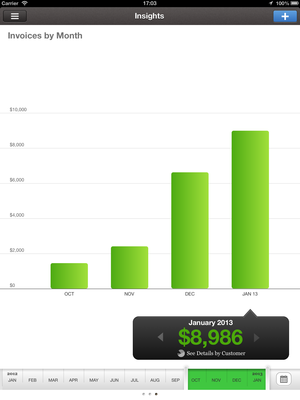 On the iPad app, when you create invoices and customer notes, or organize expenses, the information is saved to a QuickBooks Online account and automatically synced between devices. Customer information can be imported from the iPad's Contacts app, or from Gmail, Yahoo, or LinkedIn. Photos can be added to QuickBooks, but the images are limited to use in the iPad app; the photos are not uploaded to your QuickBooks Online account. Available charts and graphs are based on the Mint.com library.
Unfortunately, QuickBooks Online has no integration with QuickBooks for Mac. Intuit says that Windows users of QuickBooks can transfer customers, vendors, and transactions to QuickBooks Online Plus or QuickBooks Online Essentials.
The QuickBooks Online for iPad app is a free download from the App Store. You'll need a QuickBooks Online account, which is free for 30 days. Plans start at $13 per month ($125 per year).