Editor's Note: The following article is reprinted from Macworld UK. Visit Macworld UK's blog page for the latest Mac news from across the Atlantic.
Storm Raiders is the second air combat game in the Sky Gamblers series, following Sky Gamblers: Air Supremacy. But rather than the modern setting of Air Supremacy, the action of Storm Raiders takes place during World War II.
The main single-player campaign has two parts. You can earn your wings in the Battle of Britain or to head out into the Asia-Pacific War. In the Battle of Britain you start by defending the Dover coast and the skies over Kent from the invading Luftwaffe, and then strike back by taking fight into enemy territory. The Asia-Pacific campaign takes place in locations such as Pearl Harbor and also includes missions where you attack the Japanese fleet at sea as well as in the air.
Flight simulation games can be pretty tricky, but Storm Raiders does a good job of catering to casual players who are just looking for a bit of shooting action. A casual controls option helps to stabilize your plane during tricky maneuvers, and your radar can help during combat by automatically locking on to the nearest enemy. However, more experienced pilots who want a real challenge can switch into simulator mode, which provides more realistic movement and controls.
For your missions, there are several different planes that you can choose, each with different weapons, speed, and maneuverability. Machine guns fire quickly and are easy to target but don't do a lot of damage, or you can opt for slower- moving rockets that do heavy damage but are more difficult to aim.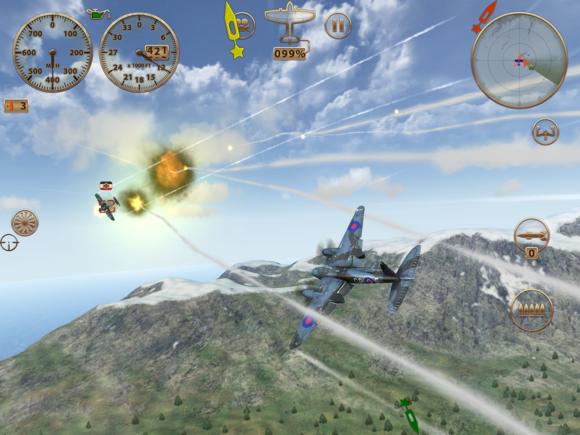 Points are given for completing missions and downing enemy planes, and you can unlock more planes and weapons so you can customize your plane to suit your personal flying and fighting style. A number of in-app purchases for additional planes are available, so you might want to keep the kids away just in case they decide to go on a spending spree with your App Store account.
In addition to the main WWII campaign, there are a number of other single-player options, including dogfight missions against specific enemy planes, a survival mode where you have to withstand multiple waves of enemy fighters, and free-for-all where you just blast everything in sight.
The game's multiplayer mode is good, which allows you to play against other Mac gamers online, or against friends with iOS devices on a local Wi-Fi network.
Bottom line
You don't have to be a flight-sim buff to enjoy Storm Raiders, as it very much puts its emphasis on action and aerial warfare. The mix of single-player and multiplayer modes provide enough variety to keep you flying for weeks on end.
Note: When you purchase something after clicking links in our articles, we may earn a small commission. Read our affiliate link policy for more details.