Jailbreaking—the process that enables you to install unauthorized-by-Apple third-party apps and additional features on your iPhone, iPod touch, and iPad—has been in a largely dormant state since the release of iOS 6. In that version of the mobile operating system, Apple closed many of the avenues jailbreakers had once used to crack it open.
Tethered jailbreaks had been developed for iOS 6, but they were clumsy. Such jailbreaks require you to attach your iOS device to your computer (thus, the tether) and run an application to jailbreak it. If you later power off the device and then restart it, the jailbreak is wiped out, and you must repeat the entire tether-and-jailbreak process.
What those who desired to jailbreak iOS 6 wanted was an untethered method—one in which the hack would remain in effect even after the device was powered down and then powered up again.
That untethered jailbreak recently arrived in the form of evasi0n, a jailbreak designed for devices running iOS 6.0 through 6.1. Like jailbreaks before it, evasi0n doesn't unlock an iPhone (which would allow you to use the device with multiple carriers—and which has also been deemed by the U.S. Librarian of Congress to be illegal). Rather, it allows you to install third-party apps not approved by Apple via the Cydia store.
Before I explain how it's done, you should be aware of Apple's advice on the subject of jailbreaking. In this tech note Apple suggests that doing that to your iOS device may lead to security vulnerabilities, instability, shortened battery life, unreliable voice and data, disruption of voice and data, disruption of services, inability to apply future software updates; it may result in Apple denying service for your device.
That said, I've been jailbreaking iOS devices for years and have not encountered these issues. But once I've jailbroken such a device, I understand that I should expect no help from Apple if it causes me trouble in the future. With choice comes responsibility.
You should also be aware that the Librarian of Congress has deemed that, while it's legal to jailbreak a phone, doing the same thing to a tablet is a different matter. For reasons best known to those who create such arbitrary distinctions, tablets are to be treated differently. So while the operation I describe works with all iOS devices, you risk incurring the wrath of the law if you undertake to jailbreak an iPad.
Breaking it down
With the warnings out of the way, let's get started.
To begin, back up your device. You do this by plugging it into your computer, launching iTunes, and choosing File > Devices > Back Up. This helps ensure that any data you have on your device can be later restored.
Now download a copy of evasi0n from one of the mirror sites listed on the evasi0n site (it's a download of just over 10MB). Double-click the .dmg file to decompress it and an evasi0n window will appear on your desktop. Drag the evasi0n application out of the window to the desktop and launch it.
Connect your iOS device and click the Jailbreak button. evasi0n will retrieve some information from your device. The device will then reboot and prepare itself for the jailbreak. Don't do anything with your device during this stage.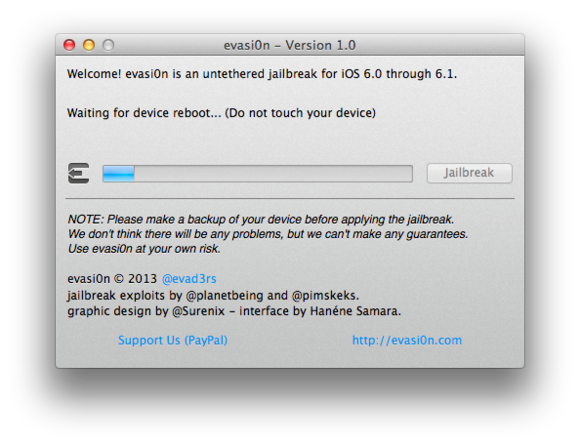 evasi0n will now install Cydia—the application that provides access to third-party apps—on your device. When instructed to by evasi0n, unlock your device by pressing the Home button and swiping the Slide to Unlock switch to the right. You should see a new Jailbreak icon on your Home screen. Tap it and evasi0n will carry on with the final stage of the jailbreak. You can now quit evasi0n by clicking the Exit button.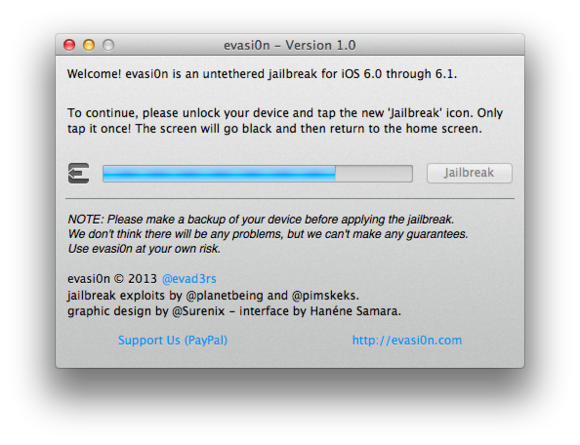 Your device will reboot, briefly display the evasi0n screen, show the Apple logo, and then show the evasi0n screen again, which details the progress of the jailbreak installation. Finally, your device is ready for you to use in the normal way.
The one difference you'll see is a Cydia icon on the home screen. Tap it and Cydia launches, prepares its file system, and then quits. To then use Cydia as intended, tap its icon once again, choose your user type (User, Hacker, or Developer), tap Done, and the Cydia interface loads.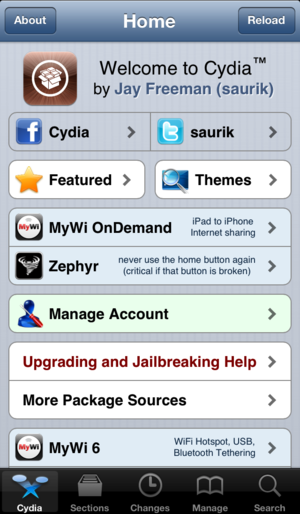 The version of Cydia you're using may need updating; older versions of Cydia may not support Cydia's newer third-party apps. To do that, tap the Changes icon at the bottom of the screen and then tap Refresh in the top left corner. If any updates are available (as evidenced by green check marks) tap the Update button in the top-right corner of the display. Cydia will download the latest updates and reboot the device.
What you choose to install is entirely up to you. Some people choose to install OpenSSH so that they can remotely access the device's file system via a standard FTP client. However, if you enable this feature, be sure to change your device's root password from the default "alpine," which is used by all iOS devices. Fail to do so and others around you could hack into your device. To learn how to change the password, tap the Root Password How-To link on Cydia's About screen.