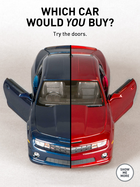 Just how much does your brain functionality affect what you hear? Your gut reaction to that question might be "not a lot," but the staff at the Exploratorium, a hands-on science museum in San Francisco, asks you to reconsider that position with its new Sound Uncovered app for iPad. According to the Exploratorium, you ultimately owe your sense of hearing "not so much to your two ears as to what's between them."
But the Exploratorium team doesn't want you to just take their word for it—they want you to discover this for yourself, which is why they've released a fun, interactive app that digs deeper into the world of sound.
Sound Uncovered is a free app available for the iPad and iPad mini running iOS 6 or later. It's designed like an interactive magazine, similar in style to the Exploratorium's previous iPad app, Color Uncovered. This app features articles, videos, sounds (of course), and interactive experiments to help users of all ages engage with sound, science, and how the two intersect. The app isn't meant to be a museum companion app, so science enthusiasts everywhere can enjoy what the app has to offer.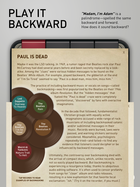 The app is gorgeous, easy to navigate, and fun to play with. Even though it's a sound app, it's very visually interesting, with lots of high-res photography and interactive images. Getting started is very easy—just open it up, and you'll see a table of contents. You can jump directly to any one chapter by tapping its link in the table of contents, or you can swipe through the app page-by-page. If you want to jump around while you're on a specific page, just double-tap anywhere on the page and you'll see a navigation layer at the bottom of the screen (a swipe-able list of the pages).
At launch, Sound Uncovered comes with 12 chapters, but the Exploratorium plans to add more in the future (Color Uncovered started with 12 chapters, and has since grown to 17). Each chapter consists of one nicely laid-out page with several interactive elements. For example, the first chapter features a circular keyboard that you can play with your finger. Another chapter has an audio recorder that lets you record your voice and play it backward or forward. There are lots of things to tap in this app, but you won't get lost—each chapter has instructions and labels.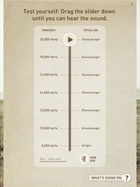 In the bottom left corner of each chapter, there's a link that brings up more information on what's going on in each experiment, video, or article. The app explains the science behind each chapter in museum-style language—it's easy to read and it gives you a good general overview, but for more in-depth information you'll probably want to go online and do some of your own research. And that's exactly what the Exploratorium wants, of course—to pique your interest just enough that you're spurred into action.
Bottom line
I don't want to give too much away, since the fun of Sound Uncovered is discovering things for yourself, but I will leave you with some questions: how much does what you see affect what you hear? How old are your ears—really? Can blind people ride bikes? Why does your co-worker's clicking pen annoy you? Sound Uncovered will answer all of these questions, and more.