Reader Mike Sadowski finds something amiss in Safari and Mail's relationship. He writes
In Safari 5 I was able to view a web page and, with a keyboard shortcut, insert a web link to that page in a new Mail message. Mail now places the link below my default signature. In previous versions of OSX, I distinctly remember the link being placed at the top line or the second line of the new email. For the life of me I can't find a setting to change this. Is there a way?
There is. But before I reveal that answer, allow me to fill in some blanks for readers hearing about this feature for the first time.
In Safari 5, you could visit a web page, choose File > Mail Link to this Page (Shift-Command-I), and your default email client would pop open, create a new message, and place the link in that message.
That command has a new name in Safari 6. You'll find it by choosing File > Share > Mail Link to this Page. Alternatively, you can choose View > Customize Toolbar, drag the Share button from the sheet that appears into the toolbar, click the Done button to dismiss the sheet, and then click on Share > Email this Page.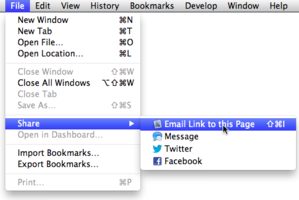 Where you're having problems is with an improperly configured Mail setting. Do this:
Launch Mail and open its preferences. Select the Signatures tab and ensure that the Place Signature Above Quoted Text option is disabled. As you have that option currently configured, Mail is treating that link as quoted text and so it places the signature above it.