One of the best benefits of using iCloud is Safari syncing because it syncs all of your Safari bookmarks across all your Mac and iOS devices. As if that wasn't enough, if you're running Mountain Lion and iOS 6, each synced device can view and open Safari tabs from any other device.
For me, the only downside of this feature is that it doesn't always work. I've especially had problems getting my MacBook Pro (13-inch Retina display) to sync with changes I make on my Mac Pro. I am not alone. If you search Apple Support Communities, you find at least a half-dozen threads describing the same general issue.
If this happens to you, my first recommendation is to quit and relaunch Safari. If that has no effect, log into your iCloud account (at www.icloud.com) from Safari. Doing so may jog iCloud into taking the appropriate syncing action. If there is still no success, restart your Mac.
Assuming you've tried and failed with those routine fixes, here's a remedy that's pretty much guaranteed to work:
1. From the Mac with the syncing problem, quit Safari.
2. Launch System Preferences and select the iCloud pane. Before doing anything else, select Account Details and confirm that you are logged in to the same account as on your other Mac.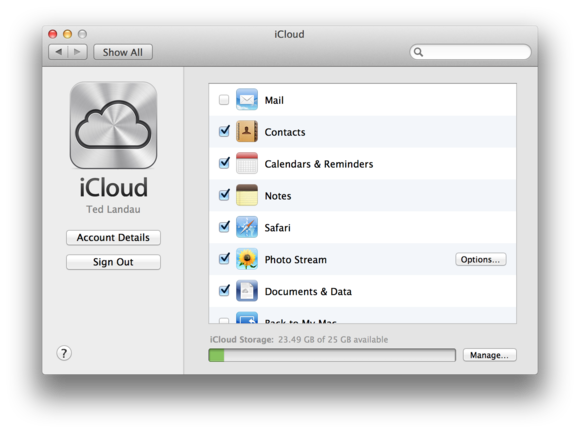 3. From the list of items on the right, deselect the checkmark next to Safari. Wait 30 seconds or so.
4. Reselect the Safari option. When a message appears asking if you want to merge your bookmarks, click the Merge button.

5. Launch Safari. Your bookmarks should now be properly synced.
Unfortunately, success may not last. Whenever I have done this, syncing almost always stops again within a few weeks. I haven't found a permanent solution. Still, it's not too much trouble for me to do this fix every month or so.
There is one other variation where things can go astray. Recently, I decided to clean up the bookmarks on my Mac Pro. I deleted dozens of out-of-date links and changed the locations of dozens more. When I was at last satisfied with my handiwork, I turned to my MacBook Pro to confirm that syncing had occurred and that the changes were reflected there. They were not.
So I followed the above steps until I reached the point where I was supposed to click the Merge button. I stopped. I wasn't entirely certain what merging would do here, but I didn't want it to undo all the changes I had just made on my Mac Pro. Remember, the MacBook Pro still retained all the bookmarks I had deleted from my Mac Pro. I would have preferred if the dialog had an option to replace the existing bookmarks, but it did not.
Undeterred, I found a way to accomplish the desired replacement:
1. From the Mac with the syncing problem, quit Safari.
2. Go to the Library folder in your Home directory. In OS X 10.7 and 10.8, Apple keeps this folder hidden. One way to access it is to hold down the Option key while selecting the Finder's Go menu. You'll see a Library option listed; select it.
3. From within the Library folder, locate the Safari folder. Open it.
4. Drag the bookmarks.plist file out of the folder to your Desktop. Once you're done with the remaining steps, and everything seems in order, you can trash the file.
5. Relaunch Safari. Confirm that all your prior bookmarks are gone. Don't panic. They're still all in iCloud.
6. Now follow the initial steps 1 through 5 above. This time, when you get to the Merge option, it's okay to click the button. As there are no active bookmarks on the Mac at the moment, there is nothing to incorrectly merge.
After relaunching Safari, all the bookmarks that are stored in iCloud should now be showing. Success!
For more troubleshooting advice regarding Safari syncing, including how to solve similar issues on iOS devices, read this Apple support article.