Looking for the way to join tracks when you rip CDs with iTunes 11? Need to know how to get tracks into playlists quickly? What about iTunes Store device limits and gifting apps? All this and more in this week's column.
Q: I am unable to join CD tracks as I did in previous versions of iTunes. The menu command to join tracks is no longer in the Advanced menu. How can I do it?
The command has been moved from the Advanced menu to the Options button, near the top-right of the iTunes window, which you see when you insert and click on a CD. If you click the Options button, you'll see the Join CD Tracks command.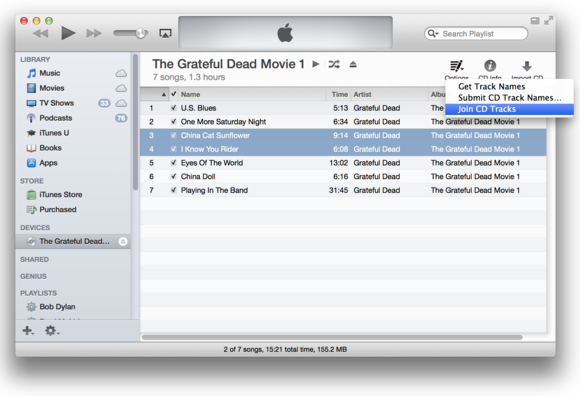 Note that the command only shows up if you've selected tracks to join. This is a bit confusing, and would probably be more helpful if iTunes showed the command dimmed than hide it when it's not available.
Also, it only works if tracks on the CD are sorted by the leftmost column, as you can see in the screenshot. In other words, when you insert a CD, don't change the sort order.
Q: Is it possible to convert existing 720p videos in iTunes to a lower resolution? Previously when importing videos, I would choose the highest resolution available. However, my video library is getting pretty large and I don't really notice a difference in video quality.
I assume you're talking about videos that you've ripped or downloaded from the Web, not videos purchased from the iTunes Store. For any ripped videos, you can always convert them using an application such as HandBrake, but you'll be more likely to notice video artifacts if you transcode your videos than, say, audio artifacts when you downsample music files. If space is an issue, I'd suggest moving some of your videos to an external hard disk, or a network disk. If you really want to use a lower resolution, try converting a couple of videos with HandBrake, and, if the quality is good enough, use that.
Q: I am a musician and I use playlists as gig setlists and other ordered band-related playlists. When I get a new song, I like to add it to multiple playlists at once, sometimes five or more. It's a real pain to right-click and choose Add to Playlist one at a time. Is there a way to select multiple playlists and add the song to all of them with one click?
No, but you can make this action a bit easier. Try using the iTunes sidebar, which displays your playlists no matter what you're viewing in your iTunes library. To show the sidebar, choose View > Show Sidebar, or press Command-Option-S. Find the track you want in your library, then drag it to a playlist; drag it to another; and so on.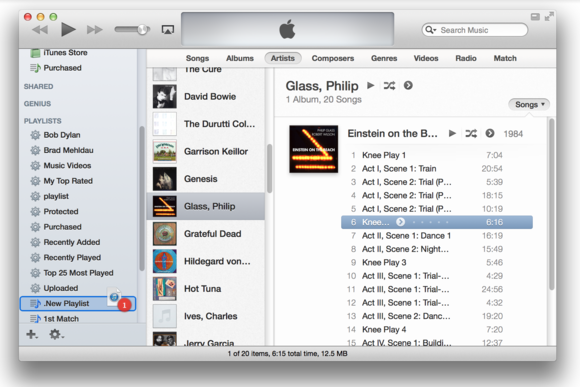 Q: Recently I ran into a wall regarding the five machine limit on iTunes account authorizations. At home I've got (1) a MacBook Pro that I travel with, (2) a MacPro and (3) an iMac, both of which are on my desk in my home office. I also have (4) an iMac at my work office. And my wife has (5) a Mac mini that we would like to share my Library on. That's my five authorizations. Now I want to set up a media server on a Mac mini at home to stream content to several Apple TVs, and I can't authorize it to share my library. I don't think I'm all that unusual, especially given that many people have kids at home too who add to the total count. Do you know of any way to get more than five authorizations?
Unfortunately, that limit seems to be set in stone. And you're not alone; I have four computers authorized, and I know many people like you who are using all five of their authorizations. Apple really needs to address this issue if it want to keep enticing people to set up digital hubs based on iTunes accounts. For now, I can only suggest that you deauthorize one of the two computers in your home office.
Q: Can I purchase an app for another iPad using my iTunes account? I already have the app but would like to purchase it for my grandchild on her iPad.
The iTunes account you have is linked to your iPad and your computer. While you could log into your account on your grandchild's iPad, he or she wouldn't be able to update any apps you buy without having your password.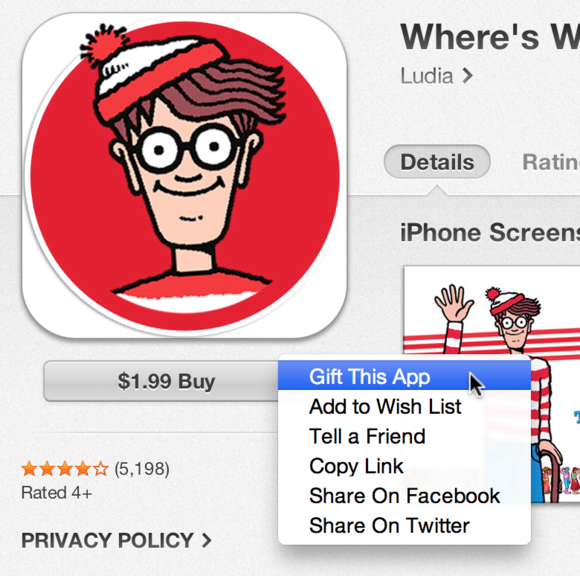 What you should do is "gift" the app to your grandchild. When you find the app you want to buy, click on the arrow button next to its price; you'll see a Gift This App option in the pop-up menu. Follow the instructions after that.