At a Glance
Expert's Rating
Our Verdict
The ChillTab 2 is made of high-quality materials, and it has a reliable and sturdy feel, but it's limited to a single angle.
ChillBed's $35 ChillTab 2 is a muscular little stand (roughly 4.8 inches wide and 6.5 inches tall) with an attractive exterior designed for home or office use. Approximately two inches above the stand's base are two heavily padded brackets to hold your tablet in place. The bracket spacing can accommodate a range of tablet models, and even some smartphones, and the stand's open design is compatible with most tablet cases and coverings.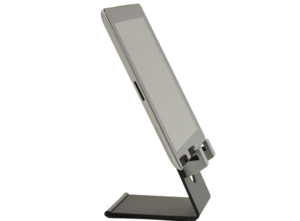 The ChillTab 2 lets you view your tablet's screen in both portrait and landscape orientations, but for either, the stand is limited to a single angle of about 60 degrees—unlike with many tablet stands, you can't adjust that angle. Consequently, the company recommends the stand especially for video conferencing, watching videos, reading, or recipe-viewing use in the kitchen.
For those uses, the stand does an admirable job: It's steady and sturdy enough to let you tap the screen for, say, editing photos; and positioning your tablet a few inches off the kitchen counter helps keep liquids away. The ChillTab 2 is also handy for using an external Bluetooth keyboard, elevating the tablet to a better viewing height. The stand has less utility, however, for onscreen typing. (The company makes a different stand, the ChillTab 4, with a 30-degree angle that's designed more for onscreen typing and tapping.)
The stand itself has a black, powder-coated finish, and it looks attractive on your desk or around the house. An added convenience is that, unlike with some tablet stands, the ChillTab 2's brackets leave most of the bottom edge of your tablet exposed, so you can connect your charge/sync cable while using the stand. A circular cutout on the front of the stand, just below the brackets, lets you run that cable to a power source or computer without the usual cable clutter.
The ChillTab 2 isn't portable—it doesn't fold up for travel—but it's fairly light, so you could conceivably put it in a bag or suitcase, assuming you can arrange your bag to accommodate the stand's shape.
Bottom line
The limited angle of the ChillTab 2 is disappointing, especially given its $35 price, but the stand is made from high-quality materials, and it has a reliable and sturdy feel. If you're looking for a tasteful, well constructed iPad stand for your home or office, and you'll be using it primarily for screen viewing, the ChillTab 2 could be a good option.