Marvel Comics was an innovator when it launched its Digital Comics Unlimited subscription service in 2007. But sometimes being an innovator can burn: The company built that initiative on top of Adobe Flash just as the iPhone arrived on the scene and made Flash irrelevant to a new generation of mobile devices.
With Saturday's release of the new Marvel Unlimited iOS app (an Android app is forthcoming), Marvel's subscription service has a new name and a home on mobile devices at last.
Marvel Senior Vice President and General Manager of Digital, Peter Phillips, admits that his team has been anxious to get the service off of Flash for some time. "We wish we could've done it a little bit faster," Phillips said. "This app offers a much better user experience and provides access to a lot more digital comics."
Marvel, like most comics publishers, has been selling a la carte issues via its own app and Comixology's Comics app. But the new Marvel Unlimited app gives fans of the publisher of such characters as Spider-Man, X-Men, and Avengers access to a Netflix-style library of more than 13,000 comics. Like Netflix, subscribers to Marvel's service (it's $10 per month or $60 for a year) can read as many comics as they want—but also like Netflix, the offerings don't include the latest issues. Instead, Marvel Unlimited offers a catalog of classic issues (dating back as far as the 1960s) as well as issues from the recent past, roughly six months to a year ago. For example, in early March Marvel posted the first issue of AvX, which was originally published in April 2012.
Native app, plus HTML
In late 2012 Marvel launched a beta version of the Unlimited service that used HTML instead of Flash, and I took it for a spin on my iPad. The new Marvel Unlimited app uses that HTML reader as its reading engine, so the experience is quite similar.
At the time, I lamented the clunky Web interface required to browse issues in order to choose what to read next. The new app addresses this, putting a speedy, native app interface on top of that database of thousands of back issues. It's much easier to pop around through the catalog, browsing by series, event, or even character. (If you've got a favorite minor Marvel character, that last option is a treat—you never know where Captain Universe or Nova will pop up next.)
However, Marvel does still have some database clean-up to do: I found several examples of issues appearing out of order or with the wrong publication date, which makes it much harder to read an entire storyline in order. There were also quite a few examples of missing cover art.
And of course, there are holes in the archive itself: In browsing the issues of my youth, I found long runs of issues, followed by strange gaps.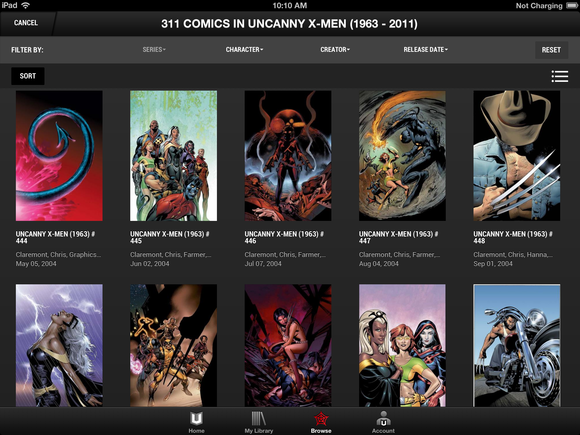 Phillips admits that there are gaps, and says it's a top priority for Marvel. "In an average week, we add a hybrid of newer and back-issue content," he said. "We're constantly building that up. Filling gaps is a huge priority."
Once you're reading an issue, the native app interface falls away and you're in Marvel's HTML-based reader. (This will undoubtedly make it easier for Marvel to deploy Unlimited across iOS, Android, and other platforms, since the comics-reading part is essentially a webpage.) It works well enough, though it's not as responsive as the reader in the Marvel and Comixology apps. When you swipe to move to the next page, there's no animation, for example. Pinching to zoom can be laggy, and two-page spreads appear awkwardly on the top half of the screen.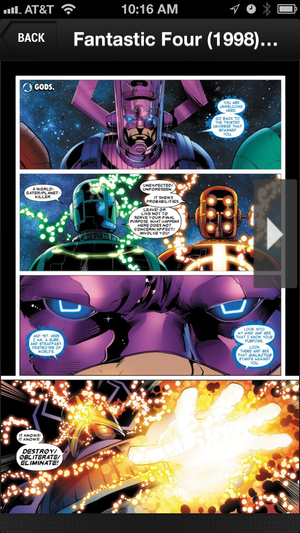 There are some bugs, too. If you tap on the left or right side of the screen to change pages, an arrow button appears—and won't go away until you tap once to bring up all the navigation buttons, and then tap again to dismiss them. Even more annoying is the presence of a title bar above the issue, telling you which issue you're currently reading. Any tablet-based comic reader should have a full-screen mode—every extra pixel you can devote to reading the comic page, the better the reading experience is—and Marvel Unlimited fails this test.
There's a nifty offline-reading feature, though. Though I keep comparing Marvel Unlimited to Netflix, that video service doesn't let me cache movies to watch when I'm on an airplane. But Marvel Unlimited lets you save up to six issues at a time for offline reading. That's a little bit skimpy for an flight, but it's more than enough for a morning commute.
Subscription or single issues?
So if you're a Marvel comics fan, which should you use, the Marvel (or Comixology) apps, or the new Marvel Unlimited app. Marvel's Phillips unsurprisingly "encourages the comics fan to have both." In reality, though, it's not an either-or proposition. Here comes that Netflix analogy again: I subscribe to Netflix for its deep catalog, but I also rent hot new releases on iTunes and buy Blu-Rays.
If you want the latest stuff—say Marvel's "Age of Ultron," which debuted last week—you'll be paying $3 or $4 per issue via the Marvel or Comixology apps. If you can wait a month or two, those apps will usually offer you the same comic for $2.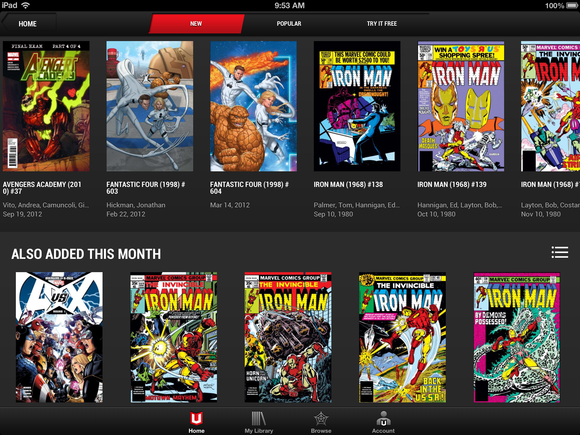 If you don't care about the present day stuff—say you're a comics fan from way back, but haven't bought comics in years—Unlimited may actually be a better deal. You won't be able to participate in breathless discussions about this week's revelations, but you'll have access to a nearly endless supply of older comics, including Marvel events such as House of M, Civil War, Secret Invasion, and World War Hulk.
More from Marvel
The Marvel Unlimited app release, set to coincide with the annual South by Southwest Interactive conference, wasn't Marvel's only news of the weekend. The company also announced a weekly regular series of Infinite Comics (its brand-name for comics designed specifically for tablets, not paper), kicking off with a Wolverine miniseries. And it offered 700 free first issues via the Marvel and Comixology apps, a move so popular it took down the Comixology server. There's also a new weekly YouTube show called "Earth's Mightiest Show."
And then there's one minor note that didn't go unnoticed by comics fans. The release of the Marvel Unlimited app coincides with the service's name change. Previously it was called Marvel Digital Comics Unlimited. Comic fans must be amused that after several years, Marvel has finally excised the "DC"—the name of its arch-competitor—from its product name.