In just the span of a few days last month, Real Racing 3 went from being one of the most-anticipated iOS games of the year to arguably one of the most-frustrating.
The latest edition of the hugely popular Real Racing franchise was the first launched since Electronic Arts bought out the game's original developer, Firemint, in 2011. While its predecessor originally cost $10 to download, Real Racing 3 runs on a "freemium" model—no cost to download, but packed with in-game "micropayment" options to upgrade the gaming experience, with payment options ranging from $2.60 for small upgrades to $25 for a "Silver Card" good for $700,000 of credit in the game's universe.
Two things happened: First, the game rocketed to the top of the charts, racking up "significantly more" downloads in its first week (according to EA) than the first two Real Racing games combined. But even as those downloads were accumulating, users began complaining that the game was difficult to play without purchasing enhancements. For example, "time outs" force free-playing users to wait for virtual car repairs. Want to skip those breaks? Make a micropayment.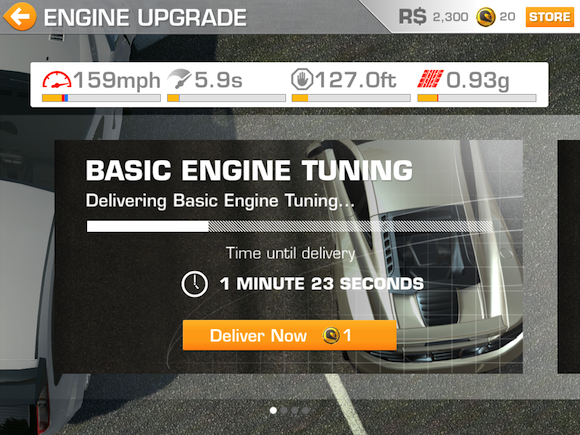 "The more you enjoy the game the more often you'll run into these enforced breaks," TechHive's Nate Ralph wrote in his review, "forcing you to choose between racing conservatively, cracking open your wallet, or simply finding something else to do."
The balancing act between payment and, well, playment is here to stay: iOS game developers and industry analysts say game-makers are expected to rely on the freemium model for the foreseeable future. And Electronic Arts certainly isn't the only game maker to experiment with using in-app purchases to unlock gameplay. Rival Gameloft, for example, uses in-game currency in both its NFL Pro and Real Soccer offerings. In the latter game, for example, to rest players or heal injuries, you can either wait for a specified amount of time or use in-game currency to speed up the process; you can always augment the in-game currency you slowly accrue through gameplay by spending real dollars to build up your bankroll.
And while EA says it is constantly working to refine that balance in its games—and will continue to do so—it also says that Real Racing 3 has already been a success.
"We think the market has spoken," said Nick Earl, EA's senior vice president.
"This game is as free-flowing as you want it to be," he said, but added: "The easiest way to do it is to spend money as you go."
Micropayments are here to stay
The appeal of "freemium" micropayment games is obvious to iOS game developers: Releasing a game for free makes it possible for every single potential customer to at least try the product. (Developers also like the the automatic community that can be created by a free download; the free-players add value to the game by making it more attractive to other players who will pay.) And unlike console games—which come with a high price tag, but also offer a one-time payment for the entire game experience—micropayments can become an ongoing source of income from a popular game.
"It's hard to get above the noise of the market," said Kevin Hogan, product strategy director at Mediatonic, a UK gamemaker who recently spoke at a European conference on the whys and hows of micropayment game production. "Increasingly, the best way to get in front of an audience is to release a product for free and hope it has enough value that people will pay for it."
That's also a boon for consumers.
"Consumers have come to like the in-app purchase model as it means they don't have to spend money unless they want to," said analyst Sian Rowlands, who documented the micropayments trend in mobile gaming in a recent report for Juniper Research.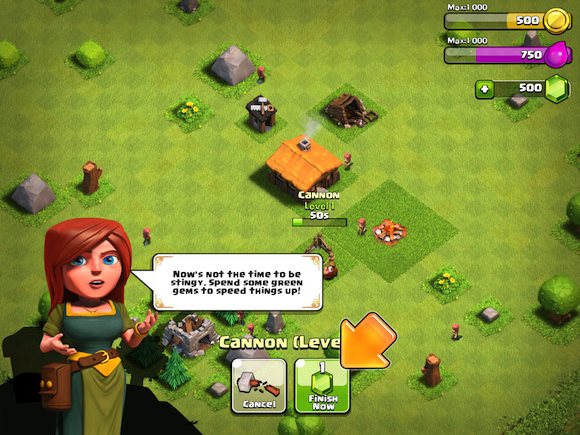 The problem, of course, comes in giving players enough game that they don't feel they've been tricked by the promise of a free offer—while at the same time encouraging enthusiastic fans of a game to translate that passion into payment. Across the industry, it's generally considered poor practice to start demanding payments before a user has begun actually playing the game—or to to make micropayment requests in games directed at small children, which has led to lawsuits.
After that, though, the consensus seems to be that micropayments should make a game better and easier to play—but the game should be playable without them. Developers say they watch gameplay closely, to see if micropayment demands drive players away instead of pulling them deeper into the experience.
Game makers "must of course think carefully about the amount of gameplay which they require users to make an in-app purchase to reach," Rowlands said, "as the app stores are fiercely competitive and offer consumers a vast number of alternatives when shopping for free games."
Success stories
One game that navigates the balance well, Rowlands said, is Clash of the Clans, a strategy game that routinely leads Apple's "top grossing" apps chart. Players can purchase "gems" in packs of $5 to $100 each, and use them to quickly build their armies and fortresses.
"The game is engaging for many users—not just casual gamers but also people who are keen strategy gamers," Rowlands said. "Users engage with it on an emotional level after investing time in raising their clan."
Another success? "Ironically [ Real Racing 2] offered a good balance of initial purchase cost, the ability to play through the game or upgrade through virtual currency as desired," Michael Gartenberg, an industry analyst for Gartner, told us via email. That game is still available for $5, with micropayment options ranging from $4 to $12.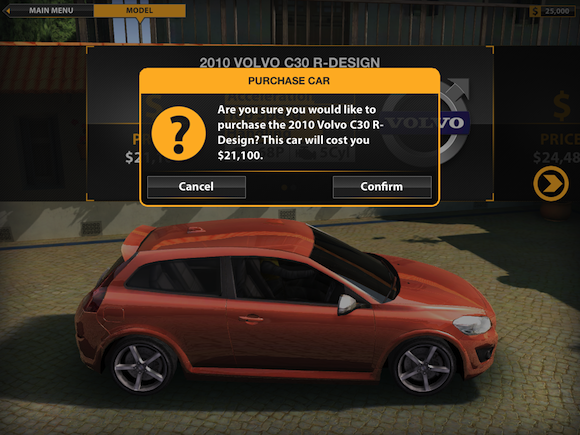 Real Racing 3, by contrast, has mechanics "that cause delays in play [you're actually penalized for playing] and fairly steep commitments of either time or money in order to make progress in the game," Gartenberg said.
EA's Earl, however, contested that notion, saying that Real Racing 3 players can participate in up to 950 racing events and choose from dozens of cars for free.
"You absolutely can spend a tremendous amount of time without spending anything," Earl said, adding that being smart about what cars one picks can reduce the amount of time waiting for that car's post-race repairs. "If you're going to be haphazard, [gameplay] might be disjointed."
Earl said he believes the game adheres to the best practices of micropayment gameplay.
"We believe you should be able to get through the entire game without spending [money]. There are games in the Top 10 you can't go any further unless you spend money," Earl said.
Real Racing 3, he said, lets free players get all the way through. "If you choose to spend," he said, "you're enhancing your experience and you're saving some time.
"By no means is it perfect, and we're going to work daily to understand what consumers like and don't like about the game," he said. "We're taking the long-term view of this [game], the mobile business, and this [pricing] model."