At a Glance
Expert's Rating
Our Verdict
The Magnus stand's magnetic attachment is clever and secure, and the stand looks great, but it's limited to landscape orientation and a single angle.
Ten One Design's $50 Magnus Low-Profile Magnetic Stand for iPad holds your tablet in place using magnets, and the nifty design of the stand means that with your iPad (2 or later) in the stand, the thin aluminum base of this low-profile stand is literally all you see from the front or side—it appears to any observer as if your iPad is standing up all by itself. The stand itself blends into the iPad so organically that unless you look very hard, there's no obvious point at which the tablet ends and the stand begins. It's minimalist design to the max.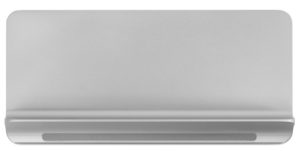 The Magnus is machined from recyclable aluminum, nickel-plated neodymium, and recyclable plastics. (The packaging is also made from recyclable materials.) Customized magnets are hidden in the base—these grab the iPad's Smart Cover magnets for a secure grip—and rubberized feet on the bottom keep the stand from sliding around. The whole thing is hand-finished.
Despite its small size, the Magnus is still a bit hefty and chunky, as it's designed to stay put rather than be transported. It works best with a bare iPad, but the magnets are strong enough that you can also use the stand with a very slim protective skin on your tablet.
It's easy to get caught up in the coolness factor of this stand. It works well and it's very stylish. But it's a one-note performance: There's only a single landscape-orientation viewing angle (roughly 80 degrees), and while you can prop up your iPad in portrait orientation, you forego the stability of the stand's magnets (since only the left-hand edge of the iPad has magnets). So for doing anything other than passively viewing the iPad's screen, you'll want to seat your iPad sideways.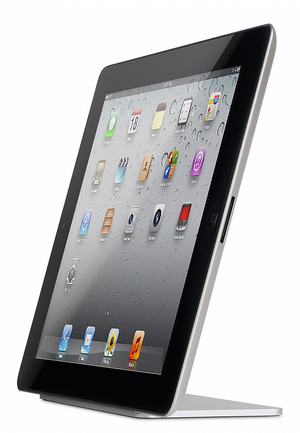 Bottom line
The Magnus stand is the coolest customer I've seen in awhile—I like the idea of securing the iPad using strong magnets, and removing all extraneous hardware froom sight makes for a sleek, elegant look. But I crave more functionality, as one position in one orientation just doesn't cut it for me, regardless of how smart it looks. That said, if viewing in landscape mode on your desk is the main way you use your iPad, and you have a designer office or living space, the dashingly handsome Magnus may just be your cup of tea.