If you make your living working on your computer, as I do, you probably look for ways to be more productive. If you use your Mac just for fun or for basic tasks, you still want to be more efficient. We use a lot of apps on our Macs, and one of the things that can slow us down is rooting through the many windows of multiple applications to find just the right one. Mountain Lion's Spaces can make your work more efficient and productive by letting you set up virtual desktops, each one clean and tidy, so that you can focus on what you want and not be distracted by windows from other apps.
Spaces are a part of Mission Control, your Mac's built-in feature for getting a visual on every currently open app and window on your computer. As a reminder, you can enter Mission Control in several ways: Click the Mission Control icon in the Dock to display all your spaces, or press Control-Up Arrow, or, if you prefer, perform a three-finger swipe straight up on a multitouch trackpad. I have a hot corner set to display Mission Control as well.
If you've never used Spaces, you first need to grasp exactly what this feature does. Look at your Mac's display: You may see a few windows, some overlapping others, and you may spot your Desktop behind them. Sometimes you may move a window here or there to get a better view of something: a website in Safari, a bunch of files on the Desktop, or your Twitter app. Little as those movements might be, they add up—and the sum total is your time.
A better way
With Spaces, you can organize your apps and windows so that they're all visible on separate desktops, instead of all on the same desktop. When you want to view a specific app, you can switch to that app, or to its space, and see it without obstructions. And, using Mission Control, you can get a bird's eye view of all your spaces, and all your windows. Here's what my Mac looks like in Mission Control: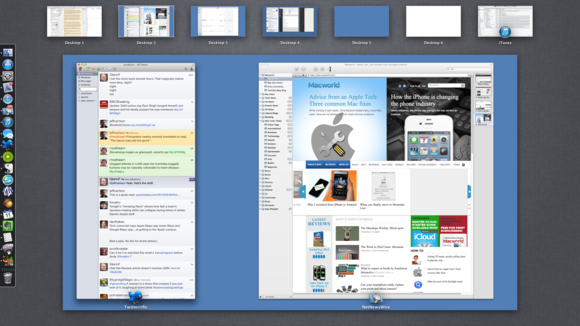 As you can see, I have six spaces, or Desktops, some of which have windows, and a couple of which don't. In addition, iTunes shows up at the right, as if it were in its own space, because I keep the program in full-screen mode: Any full-screen app gets its own space automatically.
In order to ensure that I can work efficiently, and without interruption, I have set up my apps in different spaces. For example, the first Desktop has some Finder windows, Mail, Safari, and Scrivener, which I use for most of my writing. The advantage is that, since I often need to see webpages when working, I can move Scrivener's window to one side and see both Safari and my writing at once on my 27-inch Thunderbolt Display.
I keep up with news via RSS and Twitter, so I keep NetNewsWire and Twitterific together in their own space. This has the advantage of not allowing those apps to distract me as they pull in new content while I'm focused elsewhere.
I've got one Desktop containing BusyCal, my calendar app. It's not full-screen, but it fills most of the screen, and I can switch to it whenever I need to see it. I don't often look at BusyCal, but when I want to, I can see its entire window easily.
Another space contains Evernote and Reminders, both of which I use to take notes and record appointments and things I need to do. Again, I don't need to see them often, so if they were part of my main Desktop, they'd just get in the way.
Finally, I have two empty spaces: one has a white background, and the other blue. I use these when I need to make screen shots for articles. If I need to shoot something, I move a window to one of them, and can use the uncluttered space to shoot windows and their backgrounds easily.
Pin apps to spaces
If you really want to be efficient with Spaces, you should pin apps to specific screens. Essentially, that locks a given app to the space where you assign it. (That's how I achieve my setup as I described above.) To do this, first invoke Mission Control. Move your cursor to the top-right of the screen until a ghostly version of your desktop image overlaid with a plus (+) appears, then click it to add a space. Drag a window from the main Desktop to your newly created space, and then click that space. That's the general process for creating a new space—but now we'll get more advanced and tell Mountain Lion that you want your app to live in the space you just created.
Click the app's icon in the Dock, and choose Options > Assign To > This Space if you want the app only in the current space, or select All Spaces if you want it to always display, no matter which space is visible. In this way, you control in which space or spaces a given app is visible.
Fast app switching
There are a few ways I switch from one space or app to another. The standard Command-Tab keyboard shortcut lets me switch apps: Press Command-Tab to bring up the application switcher, then keep holding the Command key and press Tab to cycle through the apps.

You can also switch spaces using a three-finger swipe on a trackpad. The Trackpad preferences (More Gestures tab) describe this as swiping between full-screen apps, but it also changes spaces.
Finally, you can use Mission Control to switch spaces. Launch it using whichever means you prefer, and then click the space you're after.
Focus on a single window
If you want to focus on a single application window, you can move it to a new space, where you'll see only that window (and the desktop behind it), and where you won't be distracted by other windows. To do this, switch to the space containing the window you want to isolate. Invoke Mission Control, in any of the ways I mentioned above. Then click the window you want to move and drag it to the space where you want it to be.
When you get the hang of Spaces, you'll find that you're more productive and less distracted by apps that want your attention. You'll also be able to more easily switch to different apps and view them without windows getting in the way. Try out Spaces and make your Mac easier to manage.