This week I answer a couple of questions about the iTunes Store, explain how to add comments to multiple tracks at once, and discuss the useful Skip when Shuffling tag. I also reveal a way to have iTunes announce what track is about to be played.
Q: Is there any way that iTunes can speak the name of a track and its artist before the song starts playing?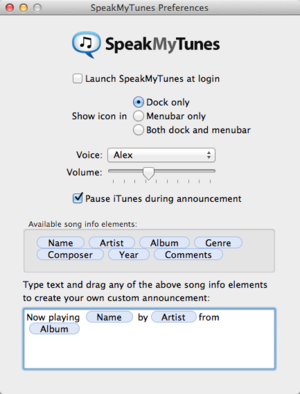 iTunes doesn't offer this feature, but there's a third-party Mac app that does. Riccardo Ettore's free SpeakMyTunes does what you want. You can choose which info you want the app to speak (track name, artist, album, and other such tags), and include your own text in between these tags. The voice quality is as you'd expect, if you're familiar with text-to-speech technology, and the voice pronounces foreign names oddly; but it's a useful tool if you want to know what's coming up when you're listening to music at random.
Q: One of the things I like about Amazon is the feature that remembers what you looked at during past visits. Can iTunes do the same thing? I may find something on iTunes I don't want to buy right away, such as a Christmas album. Is there a way to mark such items so that I can find them later?
The iTunes Store has a Wish List feature that, admittedly, is a bit hard to find. When you see an item you want to save, click the arrow next to its price, then choose Add to Wish List. When you want to see what's in your Wish List, scroll to the bottom of the window in the iTunes Store and look for the very small links in the footer. Under the Manage section, you'll see a link for My Wish List. Click that, and you'll see all the items you've saved.
Q: I have a bunch of random music in my library that I listen to occasionally but that I don't want to play when I listen to my playlist in shuffle mode. I made a playlist for that music and unchecked the music in my library, but when I go to the playlist, those songs are unchecked too. Is there any way I can keep songs checked in a playlist and uncheck them in my main library?
No, checking and unchecking tracks, which you do to tell iTunes either to not play them or to not sync them, applies to your entire library, as well as to your playlists. But I can think of two ways to accomplish what you want.
The first is to manually recheck them in the playlist. This is a bit annoying, but it's not that hard. If the playlist is in a List view, press the Command key, then click the checkbox for any track. If the playlist is not in List view, select all the tracks, Control- or right-click, then choose Check Selection.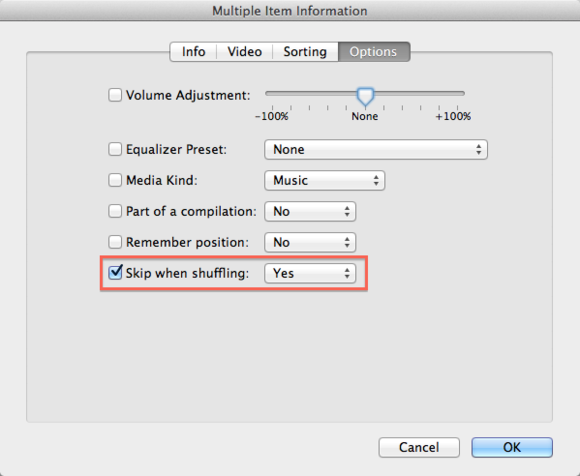 If the only reason you unchecked the tracks is so they don't play in shuffle mode, there's another way to do this. Select the tracks in question, press Command-I, then click the Options tab. For the Skip when shuffling setting, choose Yes. These tracks won't play in shuffle mode, either in iTunes or on an iOS device.
Q: Thanks to your column, I now have smart playlists set up based on track comments. Is there any way to add a comment to multiple tracks (or an entire playlist) at once?
Sure. Select all the tracks—such as all the tracks in a playlist—then press Command-I, and click the Info tab if it isn't already displayed. Type your comment in the Comments field, then click OK. The comment will be added to all the tracks you selected. Note that this will replace any existing comments in the selected tracks.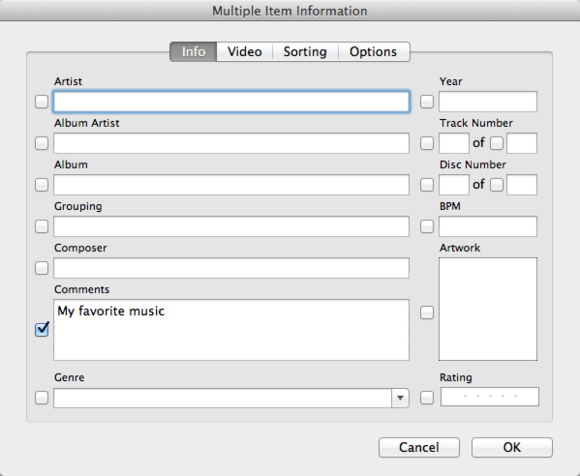 Q: In the iTunes Store, why are tracks longer than ten minutes not available for individual purchase?
This is presumably something that Apple had to agree to with the record labels. But it's not only on the iTunes Store. I browsed Amazon and saw that some tracks that are even shorter—eight or nine minutes—are not available individually, whereas on some albums, longer tracks can be purchased on their own. On one classical album I saw, which had six tracks, three of them (from 14 to 17 minutes) are available separately, but three others (from 19 to 22 minutes) are not. So on Amazon, the cut-off seems less rigid. If you find a track that's not sold individually on the iTunes Store, check on Amazon.
[Ask the iTunes Guy is a regular column in which we answer your questions on everything iTunes related. If there's something you'd like to know, send an email to the iTunes Guy for consideration.]