Recently, I realized it was time to replace my old iPad 2. It's probably the most perfect piece of technology I've ever owned—my e-reader, gaming console, word processor, music studio, camera-in-a-pinch, radio, emailer, calendar, and constant companion—but two years of heavy use have taken their toll: The bezel is cracked and broken in one corner, and the screen is covered in scratches. Time for a new tablet.
What surprised me upon making that decision, though, was the first question that popped into my head: Should that tablet be a Nexus 7?
It felt like heresy. Understand: Like most of you, I'm an Apple devotee. My phone is an iPhone, my laptop is a MacBook Air, and my house has more than its share of iPods, along with an original iPad, sitting around. I bought a Windows netbook a few years back, but ultimately discarded it in a fit of rage. My loyalties are pretty established.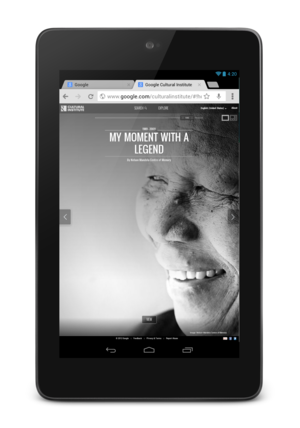 So why consider the Nexus 7? Well, for one thing, I'm cheap. Google's $200 asking price for the basic version of its tablet is a lot less money than the the $329 I'd pay for the cheapest new iPad mini available from Apple.
But there's also my growing sense that, for the first time in a long time, Apple isn't lapping the field. I can't help but notice that other Apple fans are increasingly open—if not entirely persuaded by—other options. My pal Lex Friedman has been testing out a Windows Phone, albeit with mixed results. And Macworld recently brought you the epic story of Andy Inhatko's conversion from the iPhone to Galaxy S III. The rest of the industry is catching up, right? One can't be too precious about one's loyalties.
Those loyalties do die hard, though. So I narrowed my choice of tablet down to two possibilities: The iPad mini and the Nexus 7. (For cost and ergonomic reasons, a full-sized iPad tablet was eliminated pretty quickly from my list of options.) And I was assisted by my Philadelphia friend—and Macworld contributor—Scott McNulty, who owns both devices and let me compare the two side-by-side.
Tight race
It's a tight race, but the Nexus 7 had a couple of advantages over its competitor.
One of those things, for this Apple user at least, is novelty: I've used iOS navigation—and its row after row of app icons—for so long that it now seems musty. (John Gruber argues, alternatively, that the simplicity of the design is a relief to users who are otherwise intimidated by computers.)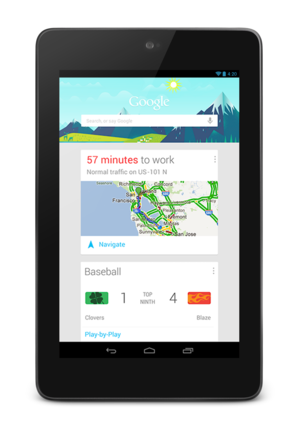 Nexus 7—with its Android 4.2 operating system—allows a level of customization that makes your tablet feel like your tablet, instead of Apple's. It allows you to create accounts for multiple users (handy in a family setting), and also offers the ability to adjust the experience through "quick settings" and the use of widgets on the lock screen. The Nexus 7 is also somewhat handier at quick communication, letting you respond directly to messages from within its version of Notification Center, instead of requiring you to open up your email or social networking app to tap out a reply.
For now, at least, Nexus 7 has something iPad can't match: Google Now, which functions as Android's better version of Siri—a personal assistant that alerts you to appointments, draws your attention to weather forecasts, and lets you know when the next bus is coming, among other things. Where you need to talk to Siri to ask explicitly for the information you need, Google Now is meant to offer up useful insights that you didn't necessarily request directly. It's a handy app that doesn't have an exact analogue in the iOS universe yet (though rumors suggest Google may well change that soon). We'll come back to that.
One other notable advantage, for the Nexus 7: A higher-resolution screen. If you spend hours reading magazines and books on your tablet, like I do, this might make a difference—but while somewhat noticeable, it doesn't feel like a huge difference.
On the other tablet-wielding hand
So where does the iPad mini win out? Well, for one thing, it simply feels like a sleeker machine. It has a wider screen than the Nexus 7, yes, but it's thin—the Nexus 7 is thicker and heavier in the hand (it weighs 0.75 pounds, compared to 0.68 for the iPad mini), more like a box of chocolates rather than the iPad's razor-like wedge. Apple's design prowess offers the company more than an aesthetic edge here; the iPad mini is simply a device I'd want to hold longer.
I also appreciate the iPad mini's wider array of camera options—one on the back and one on the front. The Nexus 7 has only a screen-side camera. This might not be a big deal to most people; I've found it makes family video chats more enjoyable if I can chase my 4-year-old son through the house, like a live TV show, rather than coax him to sit and face a screen. The iPad mini's backside camera makes that possible.
Which raises the wider question: Which tablet will best enable me to read, watch, write, play, and organize myself as much as I want and need to?
Google's strength = iPad mini win
The answer to that question, again, is closer than it would've been two years ago. Apple's App Store offers 800,000 apps; Google Play has 700,000. (Though that may undersell the disparity: Apple boasts 300,000 iPad apps; Google won't say how many tablet-optimized apps are available in Android.) In truth, you can find most of the best apps that I use on both platforms. That difference is narrowing all the time.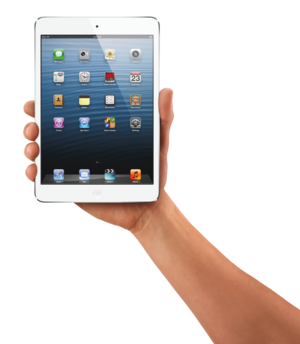 But for me, the iPad mini ultimately wins on this issue—and thus wins my purchase. Ironically, Google's legendary "openness" makes it easier for me to chose a "closed" system that Apple provides.
Here's how it works. In addition to my Apple fandom, I've been an active Googler for a long time—using the company's services for my email, my document composition, and other tasks for years. In the last year, though, several developments occurred to alter my habits. First, Google announced it was getting rid of iGoogle, the dashboard that let me track all my Google-related tasks in one place. Second, the advent of the Mountain Lion OS and its integration with iCloud allowed me to use more Apple products— the calendar and reminders, in particular—across both my Mac and iOS devices. In my computing life, then, I've created an Apple-Google hybrid that helps me be most efficient.
I can stick with that hybrid with the iPad mini. I can't on the Nexus 7.
That's to Google's credit, actually: I can still use Google Docs and Gmail on my iPad—heck, it seems like I'll soon be able to use Google Now on it. But Apple's go-it-alone approach means I can't use its reminders or calendar or play with GarageBand on the Nexus. Google's aggressiveness in disseminating its software, then, makes it easier to leave Google's hardware behind.
That may not always be the case: As noted, Google has greatly narrowed the gap between its best efforts and Apple's. Should Android and the Nexus someday greatly surpass the iPad and iOS, I may have to reconsider my computing arrangements. Apple still has the home-field advantage with me, but it's not the sure thing it used to be.